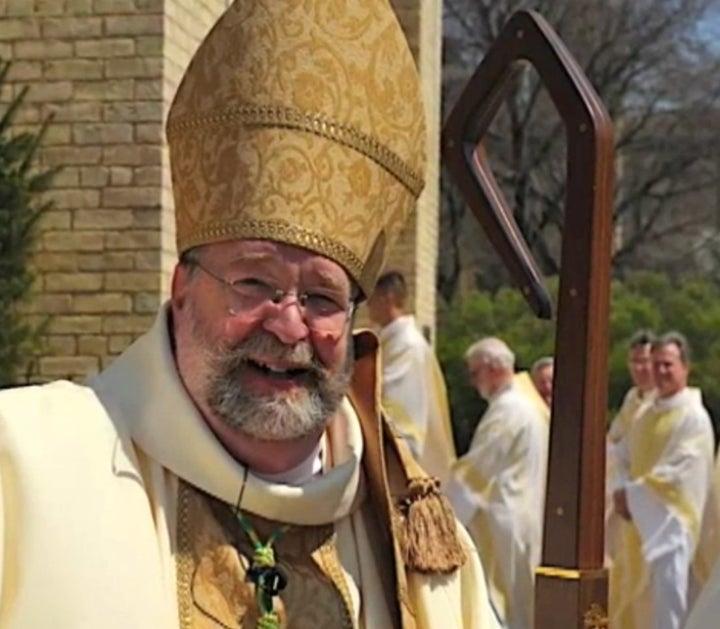 Catholic Bishop Daniel Jenky is continuing to feel the heat for a sermon in which he preached that President Obama's policies were following a 'similar path' to that of Hitler and Stalin.
A spokeswoman for the diocese attempted to explain that the comments were taken out of context, according to the Chicago Tribune:
"Based upon the current government's threatened infringement upon the Church's religious exercise of its ministry, Bishop Jenky offered historical context and comparisons as a means to prevent a repetition of historical attacks upon the Catholic Church and other religions," said Patricia Gibson, chancellor of the Peoria Diocese.
The explaination hasn't stopped Americans United for Separation of Church and State from filing a formal complaint, asking the Internal Revenue Service to investigate the diocese and claiming that the sermon was poltical at its core. As the group's executive director, Barry Lynn explained: "No rational person could believe the bishop was doing anything but saying vote against Obama."
And now members of the Notre Dame faculty have drawn up a petition asking for the resignation of Bishop Jenky from the University's Board of Fellows if he is unwilling to "renounce loudly and publicly' this destructive analogy."
The letter, addressed to the University President and the Chair of Board of Trustees is below:
Dear Father Jenkins and Mr Notebaert,
As you will be aware, the Most Reverend Daniel Jenky, a member of Notre Dame's Board of Fellows, has been widely quoted for a homily in which he described President Obama as "seem[ing] intent on following a similar path" to Hitler and Stalin. Bishop Jenky's comments demonstrate ignorance of history, insensitivity to victims of genocide, and absence of judgment. We accept that Bishop Jenky's comments are protected by the First Amendment, but we find it profoundly offensive that a member of our beloved university's highest authority, the Board of Fellows, should compare the President's actions with those whose genocidal policies murdered tens of millions of people, including the specific targeting of Catholics, Jews, and other minorities for their faith. We request that you issue a statement on behalf of the University that will definitively distance Notre Dame from Bishop Jenky's incendiary statement. Further, we feel that it would be in the best interest of Notre Dame if Bishop Jenky resigned from the University's Board of Fellows if he is unwilling to renounce loudly and publicly this destructive analogy.
Sincerely,
Katrina Barron, Mathematics
Laura Bayard, Library
Patricia Blanchette, Philosophy
Kevin Burke, IEI
Joseph Buttigieg, English
Robert Coleman, Art, Art History, and Design
Suzanne M. Coshow, Management
Mary Rose D'Angelo, Theology
Margaret Doody, English
Julia Douthwaite, Romance Languages and Literature
Kevin Dreyer, Film, Television, and Theater
John Duffy, English
Stephen M Fallon, Program of Liberal Studies & English
Carolina Arroyo, Political Science
Barbara J. Fick, Law School
Christopher Fox, English & Irish Studies
Stephen Fredman, English
Laura Fuderer, Library
Agustin Fuentes, Anthropology
Patrick Gaffney, Anthropology
Jill Godmilow, Film, Television, and Theater
Daniel Graff, History
Stuart Greene, English
David Hachen, Sociology
Richard Herbst, Law School
Peter Holland, Film, Television, and Theater
Raúl Jara, Institute for Latino Studies
Felicia Johnson-O'Brien, Center for Social Concerns
Janet A. Kourany, Philosophy
Sean T. O'Brien, Irish Studies
Julia Marvin, Program of Liberal Studies
Maria McKenna, Africana Studies
Mark McKenna, Law School
Sarah McKibben, Irish Studies
Dianne Pinderhughes, Africana Studies & Political Science
Ann Marie R. Power, Sociology
F. Clark Power, Program of Liberal Studies & IEI
Ava Preacher, College of Arts and Letters
David Ruccio, Economics
Valerie Sayers, English
Kristen Shrader-Frechette, Philosophy & Biological Sciences
Anne Simons, Psychology
John Sitter, English
Cheri Smith, Library
Donald Sniegowski, Emeritus-English
Laura Walls, English
Robert E. Walls, American Studies & Anthropology
Andrew Weigert, Sociology
Richard Williams, Sociology
Calling all HuffPost superfans!
Sign up for membership to become a founding member and help shape HuffPost's next chapter