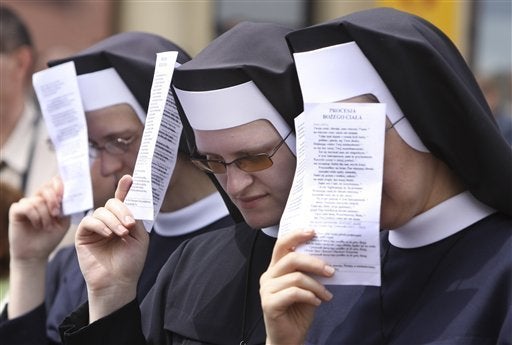 By Daniel Burke
Religion News Service
(RNS) A Roman Catholic bishop in Pennsylvania has barred local nuns from promoting their order in his diocese because they supported the health care bill Congress passed last month.
The Sisters of St. Joseph of Baden, Pa., "publicly repudiated" the U.S. bishops by supporting the bill, the Diocese of Greensburg said in a statement. Therefore, Bishop Lawrence Brandt has ordered diocesan newspapers, offices, and parishes not to promote the sisters' upcoming recruiting drive.
The Sisters of St. Joseph, who specialize in health care and social services, was one of nearly 60 Catholic women's congregations that signed a March 17 letter supporting a version of the health care bill that was denounced by the U.S. bishops.
After minor revisions and a promise from President Obama not to expand federal funding of abortion, that bill became law on March 23.
The sisters are located in the neighboring Diocese of Pittsburgh and wanted to advertise to area Catholics, including in Brandt's diocese.
Brandt "has a right to disapprove a request from a religious community that wants to host a recruitment event when that community has take a public stance in opposition to the church's teaching on human life," the diocese said in a statement dated April 15.
"Furthermore," the statement continued, "an environment of dissent from and public opposition to the positions of the U.S. Catholic bishops does not provide an appropriate seedbed for vocations."
In a similar move, the bishop of Providence, R.I., directed a diocesan-sponsored health care system earlier this month to withdraw from the Catholic Health Association, which also supported the health care bill.
Sister Simone Campbell, executive director of Network, the Catholic social-justice lobby that organized the March 17 letter, said she is saddened by Brandt's actions.
The bishops and the nuns "share one faith and one commitment," Campbell said. "We have a difference of opinion on how that commitment is carried out in legislation. And the fact that we can't have a difference of opinion really saddens me."
Related
Popular in the Community