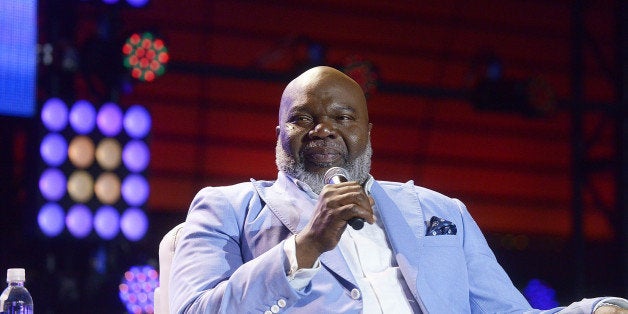 On Tuesday, Bishop TD Jakes sat down on HuffPost Live with host and Morehouse College Professor Marc Lamont Hill to talk about his new book Destiny. Step Into Your Purpose.
A viewer online sent in the following question: Do you think the LGBT community and the black church can co-exist?
Bishop Jakes replied: "Absolutely... I think it is going to be diverse from church to church. Every church has a different opinion on the issue and every gay person is different.... to think [each] are all the same is totally not true."
Marc Lamont Hill pushed Bishop Jakes a bit further, asking "Has your thinking evolved on this?"
Bishop Jakes revealed: "Evolved and evolving... where I am is to better understand. We (the church) bought... into the myth that this is a Christian nation... We no longer look to public policy to reflect Biblical ethics."
Hill kept up the line of questioning, bringing Bishop Jakes back to the conversation in the pews and in church Bible studies across the country:
So, that covers what happens outside the church. Inside the church, has your thinking Biblically, scripturally, hermeneutically shifted at all? Is there a way to approach Christian tradition [and] Christian scripture in light of a new understanding on LGBT? For example, [in the] 18th century, there might have been a particular understanding of what slavery meant -- in relation to Paul, to the New Testament, et cetera. That has shifted to the point that... irrespective of what text says literally, we don't support slavery as a body... Similarly, is there room for that same kind of shift?
Bishop Jakes responded: "I think that shift has to go on behind the closed doors of the church because I think in the mainstream America, we have a derogatory name to call you and I think it oversimplifies the complexity of the texts..."
Bishop -- we need this conversation in the public square. We need leaders like you to help take our faith outside the doors of the church and beyond our private Bible studies into the streets, college dorms and coffee shops. Fellow sisters and brothers in black, white and brown churches are longing for this kind of dialogue, too.
Bishop ,  I minister in Portland, Ore. -- one of the whitest, gayest, most non-religious cities in America, and I have to say, we need your leadership on this important conversation. Your humility on air with Marc Lamont Hill is an extraordinary demonstration of Christian leadership. Gay and straight Christians are longing for this kind of honest God-talk. Your conversation, guided by Professor Hill's excellent line of questioning, is also an extraordinary opportunity for public theological discourse, something this country hasn't seen since Dr. Martin Luther King Jr and the Niebuhr brothers were featured in such notable publications like Time Magazine in the 1940s and 1950s.
Bishop ,  we might totally disagree on this in the end. I'm decisively pro-inclusion. That said, we are still brothers in Christ. And, I have to be honest, my white elders -- evangelical men and fellow travelers in your generation -- remain silent or straight up antagonistic about these matters.
Let me tell you, I've spent much of the summer in conversation and pastoral counsel with many LGBT believers, and even though your response on HuffPost Live lacks the clarity (and full inclusion, I am assuming) that so many long for, your pastoral tone and sensibility are long desired.
We also need your help navigating these important matters as we seek to be a church on the move in the 21st century for transformation, restoration and justice. Wether it is helping guide people towards healthy spirituality, sound financial management, racial righteousness or helping the poor, matters of LGBT inclusion will remain paramount for the next generation.
As we seek to be relevant, dynamic Christians, witnessing to our faith in a world full of doubt, despair and debate, help us do so charitably and boldly. Come on out of the closet of the church and help us navigate these troubled waters.
Bishop, keep talking as you are evolving!
PHOTO GALLERY
Martin Luther King Jr. Quotes On Faith
Calling all HuffPost superfans!
Sign up for membership to become a founding member and help shape HuffPost's next chapter