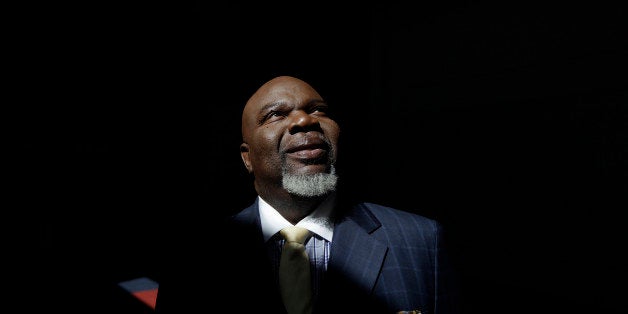 On December of 2014, Bishop T.D. Jakes delivered a powerful prayer at his church, The Potter House, as a huge sign emblazoned with "Black Lives Matter" glowed in the background, rendering black silhouettes of young people who stood behind him on stage:
Nobody enjoys seeing the blood of their child run down the sidewalks of our streets, or see their children's body left for hours and hours like dogs on the side of the road... Let them hear us.... Enough is enough... we cannot breath.
I recently had a conversation with a black pastor who expressed surprise that Bishop Jakes had addressed the Black Lives Matter movement. Bishop Jakes' response to that is, "well, he must not know me."
On this week's All Together, we get to know Bishop T.D. Jakes a whole lot better. You can download All Together on iTunes, or Stitcher.
Bishop T.D. Jakes is one of America's most influential pastors and his ministries reach tens of thousands of people every week. He has produced films and written dozens of books including his latest release Instinct: The Power to Unleash Your Inborn Drive. What he is most excited about right now is MegaFest 2015 which will happen on August 19-23 in Dallas, Texas and is expecting to welcome over 80,000 people from 30 countries around the world.
Bishop Jakes referred to the love exhibited by Martin Luther King, Jr. as a guiding principle for his work on racism in America. King said: "I have decided to stick with love. Hate, is too great a burden to bear." Let's all try to lay our burdens of hate down, and hold high the banner of love as we walk together in this world. Until next week. Be well.
You are listening to HuffPost Religion's All Together. Today we are have a conversation with the preacher and pastor Bishop T.D. Jakes. For more great conversations about religion please subscribe, rate and review All Together on iTunes or Stitcher.
This week's All Together was produced by Katelyn Boguki and edited by Jorge Corrona.
Why God Is Black with Dr. James Cone
Related
Popular in the Community