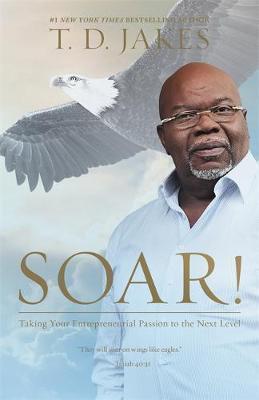 In an ever evolving US economy, 59 percent of young Americans do not believe they have the same economic opportunities as their parents generations, thoughts on bridging this gap through entrepreneurship while 42 percent of U.S. citizens feel overt gender discrimination by employers contributes to the wage gap between men and women. Bishop T. D. Jakes addresses those disturbing stats and trends in his newest book entitled "SOAR!". IN his latest release, Bishop Jakes takes readers on an intimate journey both to and through the challenges and blessings of entrepreneurship.
While you may have lost count, this is Bishop Jakes' 40th book and unlike some of his latest releases, this book intimates the many facets of Bishop Jakes' business many don't know. Readers will discover a new side of Bishop Jakes who for years has been heralded as a faith leader. In "SOAR!", readers will meet T.D. Jakes, the business leader whose entrepreneurial pursuits include literature, music, film and now fashion. "It (the book) differs drastically because it really gives you a practical, pragmatic look at: once you have the instinct, how do you facilitate that instinct? How do you get the vision that you have on the inside to materialize in such a way that you can experience it, monetize it and use it to touch other people? I think Pastors and leaders of all types will benefit from it because entrepreneurship is really a mindset, not a building location!"
For his entrepreneurial fortitude, Bishop Jakes credits his parents who were his first business mentors/ His mother was a real-estate investor and his father built a successful janitorial business. Bishop recounts memories not just of their success, but the survival of the rigors of owning a business as motivation for his own entrepreneurial exploits.
Bishop Jakes' recent turn of attention to encouraging entrepreneurship was the most anticipated addition Megafest this year. With his focus on entrepreneurship, he secured some of the nation's top leaders and business minds to inspire and instruct attendees on the somewhat paradoxical path to true entrepreneurship, much more than simply owning a business.
"I think that a lot of things that people are praying for in the church could be answered in entrepreneurship. We find ourselves praying for financial adversities and things like that and we have a tendency to ask God to do things that are within our reach to do. The discussion about entrepreneurship presents a new way of looking at 'my needs'; hat it's not just a subject of prayer but a subject of action, and to convey that to people along with prayer is a very unique opportunity to bring faith and works together!"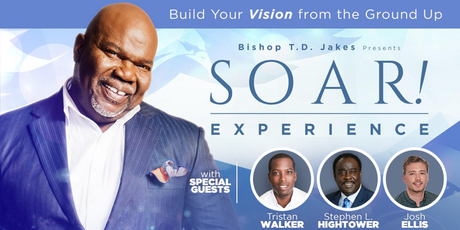 The combination of practicality and spirituality is what fuels the mindset of the entrepreneur "SOAR!" is intended for. Many times, those in the faith community are looking for the answer to their prayers, not realizing that it's closer and more practical than ethereal. Bishop Jakes invited entrepreneurs to The Potter's House in Dallas, Texas for The SOAR Experience. In the one day seminar, Bishop Jakes talked at length with Success Magazine's editor-in-chief Josh Ellis enlightening the audience in house, at a satellite campus in Denver, Colorado and online around the world via his Bishop's Village app.
"I'm kind of frustrated with faith leaders who keep telling you "God's going to bless" you and "give and it shall be given unto you", shouting and giving offerings and spinning around on the floor but we don't give the people the tools that are necessary to maximize those opportunities. The bible says: "hope deferred makes the heart sick" and I don't want to get you excited on Sunday about something you don't see happening in your life on Monday."
During the seminar, Bishop Jakes shared his real world wisdom with those in attendance. "Every business, when they start are not for profit. It takes a while before you get to profit and you can't eat your seed and still wait on your harvest." Wisdom from the book of real life amazed the crowd who normally expect to hear Bishop teach from the bible.
"SOAR!" is an ascent to greater heights and bettering the business owning experience for readers who pick up the book. The book is written with the purpose of helping longtime business owners, anyone stuck in a rut and readers looking for the knowledge to "build their businesses from the ground up". The book is already a top seller, much like Bishop Jakes' other timely literary releases.