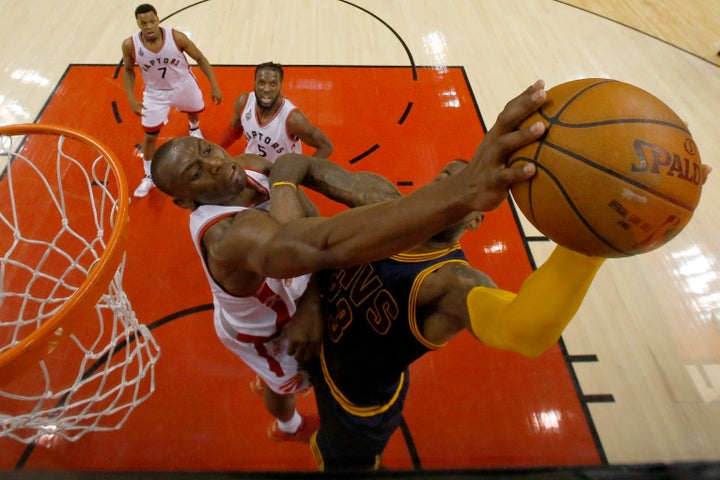 One of the more tired clichés in sports goes something like this: An athlete gets injured at a critical point in a team's season, forcing a nervous head coach to call in a lesser-known player off the bench. The player quietly, perhaps stoically steps in, knowing the people around him believe the season to be over for all intents and purposes. Then, he proceeds to do the impossible, willing his team to victory -- his team's season saved, his own life forever changed. 
The storyline sounds boring, lazy even -- the type of B-rate plot that has made for many an uninspired movie. But the sick, sad truth of it all is that B-rate movie plot never, ever gets old when it comes to the real world of sports. Such is the current case with Bismack Biyombo, the 23-year-old role player on the Toronto Raptors who in the last two games has earned himself millions in future NBA earnings and won over the league with his defensive prowess and ability to frustrate the superstar-laden Cleveland Cavaliers offense.
Biyombo first got his shot on May 7, when Raptors starting center Jonas Valanciunas went down with a sprained right ankle in Game 3 of the Eastern Conference Semifinals. Up until that day, Biyombo had been playing somewhere between 12 and 20 minutes per game, a solid role player for a team trying to make its first-ever appearance in the Eastern Conference Finals. Since then, Biyombo has more than made up for Valanciunas' absence, regularly playing north of 30 minutes a game and terrifying opposing offenses, averaging 15.5 rebounds and 3.25 blocks per game in the team's four subsequent victories. 
Last week, the Raptors found themselves down 0-1 in the the Eastern Conference Finals with Game 2 was just hours away. At that moment, the Congolese Biyombo decided to let the world know that he feared lions, not humans. And especially not LeBron James. 
The quip might have seemed silly initially, especially after Toronto went on to lose Game 2 by almost 20 points. But if anyone doubted Biyombo's fearlessness in the hours between the end of Game 2 and the start of Game 3, those doubts vanquished soon thereafter. With his team down 0-2 and on the brink of extinction, Biyombo made sure they wouldn't be humiliated again. He was everywhere on the court, causing constant chaos while pulling down 26 rebounds and blocking four shots on the way to an unexpected 15-point victory, even employing a Mutombo-esque finger wag after swatting a layup attempt by Kyrie Irving. Biyombo had arrived, and he was afraid of lions, not humans. 
It would have been understandable on the face of it all if people saw Game 3 as a wonderful blip in time, but digging into Biyombo's statistics, it was really more of an inevitability given his increased minutes. In the regular season, Biyombo was already among the best around the glass in his limited opportunities, ranking 15th in defensive rating (ahead of Al Horford and Paul George), fifth in both defensive rebound percentage and total rebound percentage (ahead of the likes of Dwight Howard, DeMarcus Cousins and Rudy Gobert) and second in block percentage (only behind the fear-inducing Hassan Whiteside).
Given that context, we shouldn't have been surprised when Biyombo came back in Game 4 and did it again, tossing up 14 rebounds and three more blocks. Still, it is hard not to be shocked by just how dominating Biyombo has become in the paint area. He has pulled down roughly 80 percent of the rebounds he has had a chance to grab in the past two games (that's a lot), and has altered shot after Cleveland shot. On Monday night, people understandably focused on Biyombo's beautiful block of James during the closing seconds of the second quarter, which officials called a foul much to the chagrin of Jeff Van Gundy. 
But Biyombo's presence was on view the entire night, and not just on plays in which the team didn't score ...
... but on plays in which they did score, too. James, of course, is one of the most gifted basketball players the world has ever seen. But even he is showing signs that Biyombo is worrying him around the rim. 
James' twisting layup went in, a result of his generational skill around the basket. But Biyombo changed that shot from a dunk to something much more likely to rim out: a last-second flick of the wrist. That doesn't count as a block, and Cleveland scored two points. But Cleveland made similar adjustments throughout the night when Biyombo was in, and when you're playing the percentages against one of the best offenses on earth, those small changes could end up altering the game in your favor down the stretch. 
The Raptors as a team have done what most people thought was impossible: They have tied the Cavaliers at two games apiece and made the Eastern Conference entertaining. With all due respect to the team's two All-Star players, DeMar DeRozan and Kyle Lowry, that's Biyombo's doing. You better believe the free agent-to-be is going to get paid this offseason. There's going to be quite a lot of money out there for people who fear lions, not LeBron James. 
Calling all HuffPost superfans!
Sign up for membership to become a founding member and help shape HuffPost's next chapter
BEFORE YOU GO
PHOTO GALLERY
The Most Emotional 2016 NBA Playoffs Moments