Opponents of the Dakota Access Pipeline erupted into cheers as a large herd of bison raced across the plains.
A now-viral video clip that journalist Myron Dewey filmed Thursday shows the spectacle interrupting an interview with an unidentified activist at the North Dakota protest site.
"The only reason we are moving back is because they are armed with batons, tear gas, riot gear, weapons, rubber bullets," the activist says. "That's what it takes for them to push us back. They carry weapons just because they're scared."
As he begins a sentence saying, "This land means everything," he abruptly shouts, "Look at all those buffalo!" as the camera pans to the herd. He can also be heard shouting, "Tatanka," a word referring to the American bison in the Lakota language. (American bison are commonly called "buffalo" colloquially, though they are technically not true buffalos.)
Some outlets have characterized the bison as coming out of "nowhere." But journalist Ryan Redhawk, who runs the Facebook page Standing Rock Rising, told The Huffington Post that witnesses said the animals were previously fenced in and people involved in the protest efforts let them out. Sacheen Seitcham of the Westcoast Women Warrior Society told HuffPost that someone appeared to be herding them, but she didn't know who.
Snopes notes that bison are not a rare sight in the area. Nevertheless, many of the Standing Rock Sioux and their allies saw the powerful imagery of the stampede as heartening, as pipeline security personnel and riot gear-clad law enforcement clashed with protestors who describe themselves as water protectors.
Though law enforcement officers have characterized their actions as handling "bad actors" engaged in illegal activity, the self-described water protectors say the authorities have been terrorizing them with unnecessary violence.
"I was sprayed in the face with pepper spray, the guy next to me was shot by something that didn't break the skin but appeared to have broken the ribs, and another guy beside me was randomly snatched violently by police shoving me into the officers who held me off with batons then tried to grab me," she said in a statement by IEN.
Activists set up the camp on land that Dakota Access purchased from private owners, but which the Standing Rock Sioux say rightfully belongs to them under an 1851 treaty.
The Dakota Access Pipeline would carry oil crude oil from North Dakota to Illinois. Opponents of the pipeline say a leak would be disastrous for the Missouri River, the water source for the Standing Rock Sioux. The construction would also disturb culturally significant sites like burial grounds, they argue. The Standing Rock Sioux have previously called on the Department of Justice to investigate alleged civil rights violations from law enforcement during the protests.
Before You Go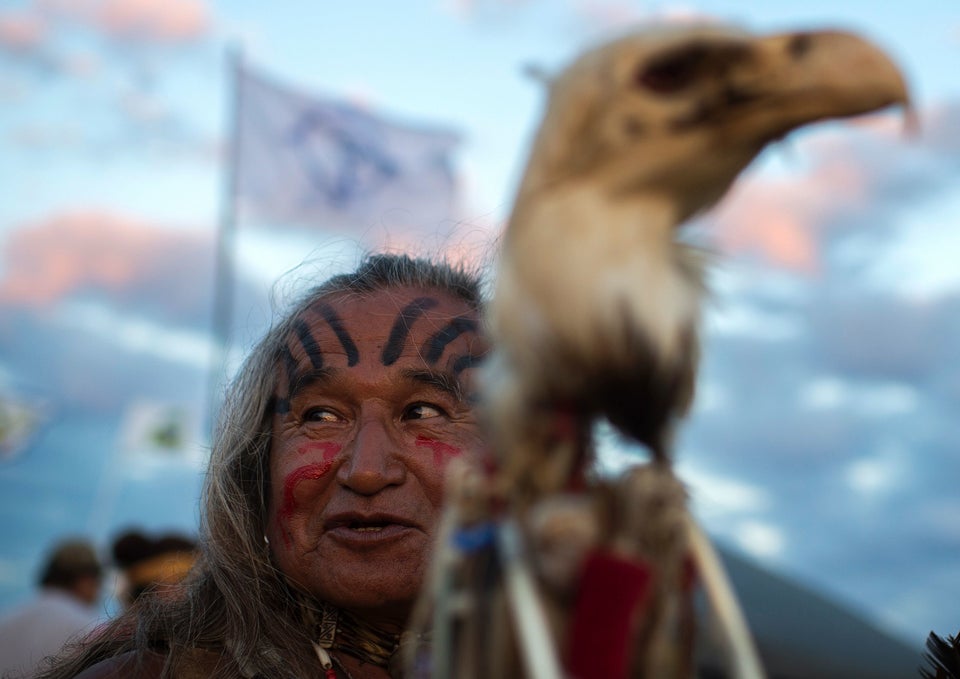 North Dakota Pipeline Protests
Popular in the Community