We are on the eve of an election, I can safely say, that is unlike any we have seen before. Regardless of which way it turns out, the country could use something to bring people together, something to rally around.

For this tall task, I humbly suggest the bison.

Today, November 5th, is National Bison Day - a day to celebrate everything wonderful about this magnificent animal that is uniquely American. The bison is the steward of our grasslands and the keystone upon which ecosystems depend. It is an economic driver, bringing tourism to wildlife reserves, national parks and zoos, as well as sustaining a multi-million dollar meat production industry. And it is a cultural touchstone, especially for the Native Americans who looks to the bison, or buffalo, as the centerpiece of their spiritual identity.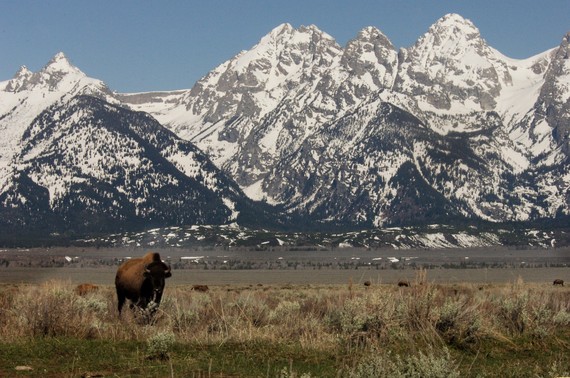 In 2016, the American bison became the United States' national mammal. Credit: Julie Larsen Maher ©WCS.
These are all great contributions to our society, one might think, but how does the shaggy behemoth have anything to do with the electoral politics that currently divide the country?

The answer is that the bison have already brought the two parties together this year. In April, thanks to bipartisan relationships, Senators and Representatives agreed to pass a bill that would adopt bison as the National Mammal of the United States. The leaders and supporters of that legislation, called the National Bison Legacy Act, came from all parts of the country and a wide range of political beliefs. But all had very good reasons for bison to be our National Mammal, whether as a tribute to Native American tribes, as a representation of western culture, as recognition of its conservation history, or simply because they are so uniquely American.
In the end, during a year in which Congress had difficulty finding common ground, the bill passed both houses of Congress by unanimous consent, and it was signed into law by President Obama on May 9th.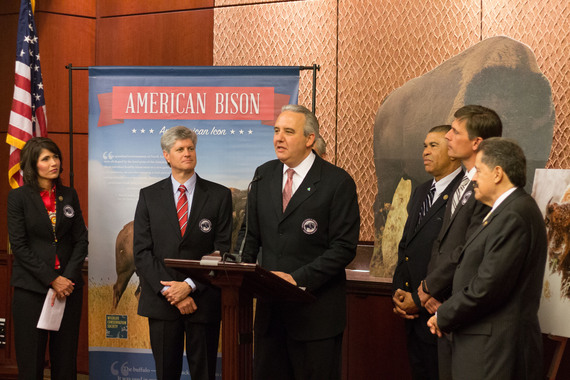 WCS Exec VP for Public Affairs John Calvelli announces passage of the National Bison Legacy Act with Congressional supporters, L-R: Rep. Kristi Noem (R-SD), Rep. Jeff Fortenberry (R-NE), Rep. Lacy Clay (D-MO), Sen. Martin Heinrich (D-NM), and José Serrano (D-NY). Credit: Chip Weiskotten ©WCS.
Bison have been bringing people together for a century, and even longer. At the turn of the 20th century, bison had been wiped out to near extinction. When a survey by William Hornaday, who would go on to be director of the Bronx Zoo, showed that bison were down to about 1,000 animals, an unprecedented effort to bring them back was launched by a partnership of ranchers, conservationists, American Indian Nations and politicians.

In 1907, President Teddy Roosevelt and the American Bison Society began this effort by sending 15 animals by train from the Bronx Zoo to Oklahoma's Wichita Mountains Wildlife Refuge. Thus was born the first American conservation success story.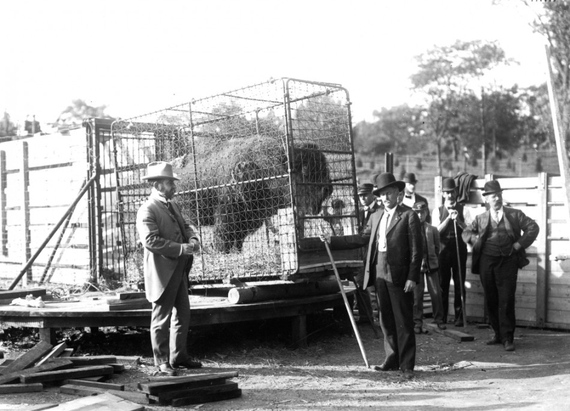 William Hornaday, left, watches as bison are prepared for shipment west from the Bronx Zoo in 1907. Credit: ©Wildlife Conservation Society.
Today, the American Bison Coalition currently consists of more than 85 diverse entities representing conservation groups, Native Americans, bison producers, educational institutions, sportsmen/recreationists, zoological institutions, health organizations, and businesses. All have come together to urge the public to celebrate the many ways that bison represent the best in America: Unity, Resilience, and Healthy Landscapes and Communities.

When the election is over, and things are back to normal, the bison will still be there, as it has for millennia. It can remind us how unified we are and how resilient we are. In the meantime, take a moment today to celebrate the bison on National Bison Day - still bringing people together and a symbol for all Americans.
REAL LIFE. REAL NEWS. REAL VOICES.
Help us tell more of the stories that matter from voices that too often remain unheard.