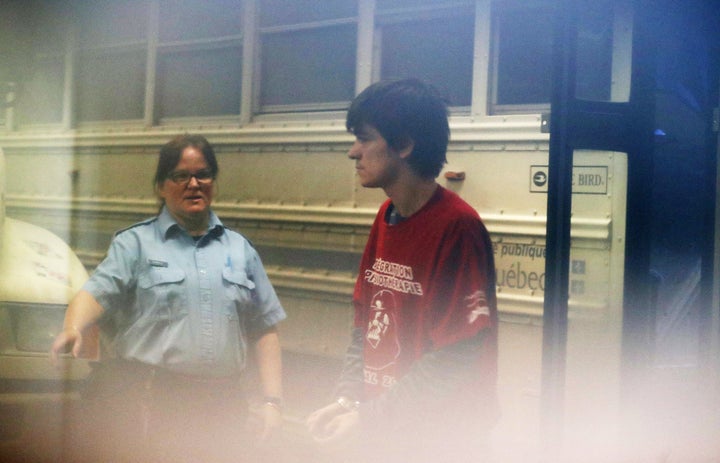 The day after the attack, 27-year-old Bissonette told a police interrogator he committed one of Canada's worst mass shootings in decades to stop refugees from resettling in the country. He believed they'd carry out terror attacks and kill his family.
Bissonnette is currently awaiting sentence in a Quebec court after pleading guilty to six counts of first-degree murder last month. Up until the release of his online history, the full extent of his infatuation with the radical right wasn't known. Discussions of his motive were often muddied with characterizations of him as a nerdy and isolated young man.
But experts say the evidence that has emerged during the trial highlights how in Canada, both society and law enforcement treat Islamist and far-right attackers fundamentally differently ― a dynamic that downplays the danger of the far-right.
"If Bissonnette was a jihadist attacking a church and it was found out that he Googled Anwar al-Awlaki and he Googled ISIS, that would have been the end of any discussion about motive," said Amarnath Amarasingam, a senior research fellow at the Institute for Strategic Dialogue, a counter-extremism think tank.
An Islamist-inspired attack in the U.S. or Canada is often followed by an instant public demand for information about the assailant's links to terror groups, the media they viewed and any interactions they had with other extremists. But that's not always the case when it comes to far-right attackers such as Bissonnette, whose actions are treated as anomalies that are the product of mental health issues.
"It's not simply isolated cases of individuals who decide to do random things. Much like global jihadism, there is a global extreme-right movement that has its own network of writers and thinkers and activists and groups," Amarasingam said. "It's about time that we start thinking about these individual cases as part of that broader network as well, and see how these groups are impacting these kids."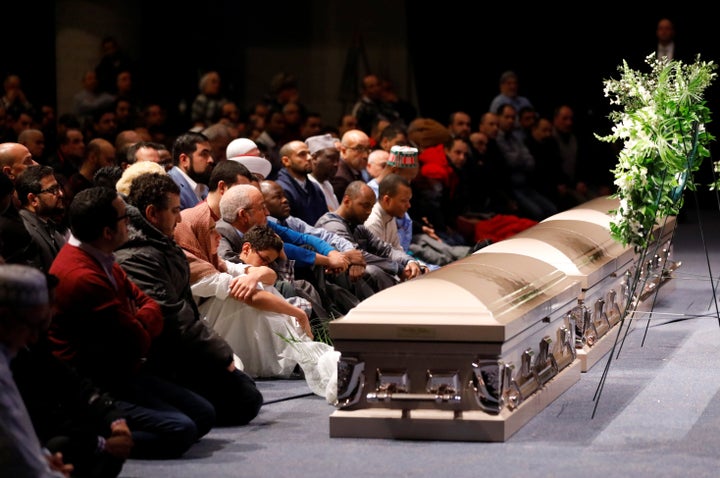 Despite ample evidence of Bissonnette's political ideology and advance planning of the attack, prosecutors chose to not try him on terrorism charges. Media and the court proceedings have also heavily focused on Bissonnette's mental health, after he claimed to be suicidal and suffering anxiety issues in his guilty plea.
A court-ordered psychiatric assessment of Bissonnette last month found him fit to stand trial. A prison social worker testified this week that rather than showing remorse, Bissonnette told her that he carried out the attack for "glory" and regretted not killing more people.
"In cases of extreme right-wing violence and terrorism, there is a stronger tendency in Western countries to look for mental health issues and an isolated individual as explanation," said Daniel Koehler, director of the German Institute on Radicalization and De-Radicalization Studies.
Instead, experts say there should also be a focus on what kind of media and extremist networks contribute to a far-right terrorist's radicalization. Chalking up far-right, predominately white, attackers as simply a product of isolation, bullying and mental health issues ignores important ideological factors that would be the focus in another kind of attack.
In Bissonnette's case, it's become clear that he feverishly sought out anti-Islam and anti-refugee viewpoints as well as information on how to commit acts of mass violence.
Along with Trump and alt-right Twitter accounts, Bissonnette looked up other mass shootings, including Dylann Roof's 2015 killing of nine black churchgoers in South Carolina and Montreal's 1985 École Polytechnique massacre, where Marc Lépine killed 14 women in an anti-feminist attack.
"It's quite clear from his browser history, from all that's been reported, that he was very much inspired and influenced by the Trump-esque rhetoric," said Dr. Barbara Perry, professor in social science and humanities at University of Ontario Institute of Technology and expert on the far-right.
"We would be making arguments about the role of the internet in radicalization if we were looking at someone's Islamist-inspired extremism," Perry said. "That seems to be a little watered down in this particular case."
Activist groups, including refugee support organizations, also said after the attack that Bissonnette was known online for harassing their members. He often also posted anti-feminist and anti-Islam views. But for years Bissonnette was written off as just another internet troll or isolated bigot, rather than someone who was potentially on a path toward extremism.
"In many respects Bissonnette's views, not his actions obviously, are very in line with the history of Islamophobia nationally," Perry said.
"It's harder to point the finger at someone like Bissonnette, which is pointing the finger at ourselves."
Related
Popular in the Community