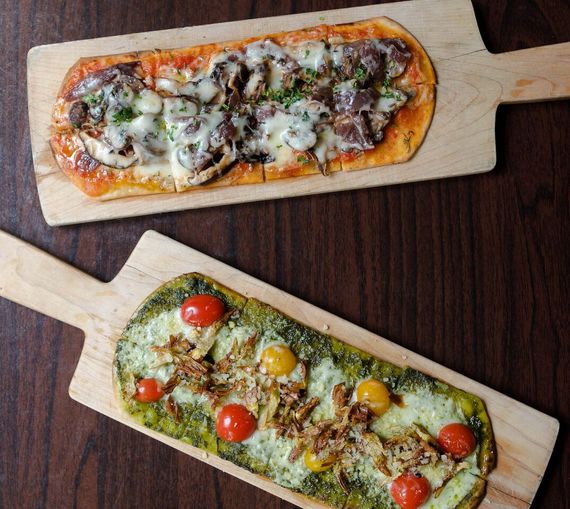 "Since 1988, Bistango has been one of the best kept secrets on Manhattan's East Side." So reads Bistango's claim for its original location on East 29th Street, and it has the ring of truth as one of those neighborhood spots that hasn't had much media attention but plays to a solid clientele of regulars.
Fourteen months ago Bistango branched out uptown to the Kimberly Hotel on East 50th Street, and Chef Humberto Corona is well on his way to building a similar base of satisfied guests just now finding out about his very good Italian food. Originally from Puebla, Mexico, and self-taught as a cook, he got his start in Italian cuisine ten years ago at Bar Stuzzichini in the Flatiron District, then was appointed Chef de Cuisine at the Spanish tapas bar Ten Bells. He's a chef with a deft touch that makes so many dishes so readily found elsewhere all his own.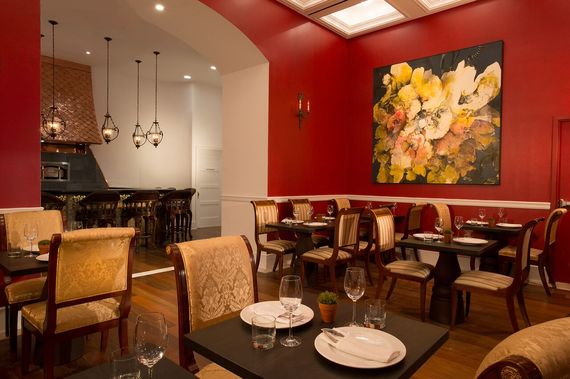 The dining room, headed by the wholly affable manager, Erin Fisher, is an oddly shaped spot past the lobby of the hotel, with a pleasant bar counter to the rear. The walls are a vibrant Carpaccio red, the splendid artwork exploding in a profusion of flowers. Sturdy, comfortable chairs are finely upholstered, but the tables are unfortunately bare of tablecloths, which doesn't help the noise level here. The service staff is fast on their feet and need to be, for the pacing of the food delivery from the kitchen can lag even when the room is not full.
My party of four people began with some admirable creamy burrata with prosciutto and roasted sweet red peppers ($12); expertly grilled octopus was graced with very fine olive oil and peppery greens ($16). Don't fail to order one or two of the flatbreads for the table, which come steaming and crackly hot. We enjoyed the Margherita with quickly cooked marinara, fresh mozzarella, ricotta and leaves of basil ($14), and the Salsiccia, with hand-made sweet Italian sausage and hot cherry peppers ($15)--both flatbreads quite addictive. It would be hard to resist a platter of the meatballs, once tasted, or the succulent arancini rice balls (below).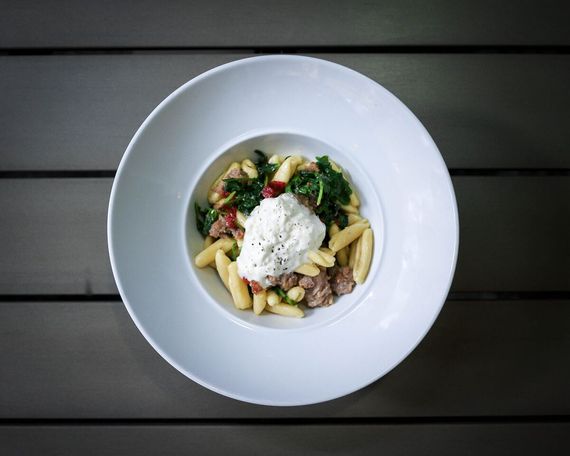 Pastas tried all had the right heft of homemade dough, and portions were very generous, so plan to share a plate of tender fettuccine with lobster, cherry tomato and a touch of sherry ($25). Cavatelli is one of my favorite pastas, best when slightly chewy, here served with Italian sausage, kale and a good dose of Calabrian chili to spark the flavors up ($21). A lusty green sauce enhanced the richness of short rib meat atop fat rigatoni ($22), and ravioli came plumply packed with prosciutto in a wonderful hazelnut-studded pesto and brown butter ($20).
All around us it appeared people were enjoying a large plate of eggplant parmigiana ($20), highly recommended by our waiter, and one bite showed why: everything about this once humble dish was ennobled by perfect ingredients and impeccable cooking, so it did not fall or melt apart or show any separation of the hearty sauce.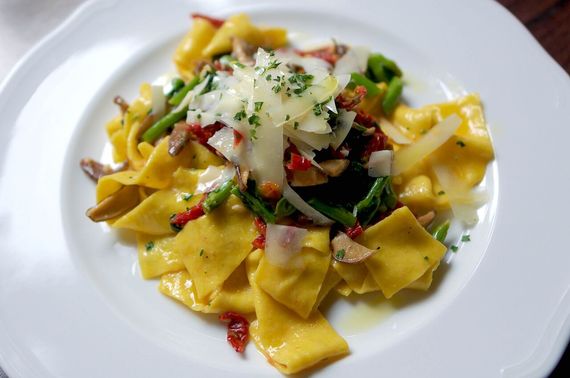 Veal alla Milanese followed the line of big proportions, topped with a radicchio, Parmigiano, endive and cherry tomato mélange ($32), while a very good dry-aged ribeye came with roasted Yukon potatoes, broiled herbed tomato and olive oil ($38). Although a nice piece of meat, a pork chop with white beans ($32) was overcooked to toughness.
The desserts need an upgrade: I wrote "OK" next to a White chocolate mousse cake with roasted strawberries and rhubarb ($12) and a mascarpone cheesecake with blackberry lime salad ($12). The trendy olive oil cake ($12) tasted like, well, cake suffused with olive oil, which also ruined a lemon and caramel sundae ($10).
Bistango's wine list could easily be longer and better, but it serves well enough, and mark-ups are not all that high.
This new uptown Bistango is garnering local attention and, I suspect, getting recommendations from hotel concierges nearby because it is friendly, reasonably priced and has the kind of Italian food just about everyone loves. But it also has a fine chef in Humberto Corona, whose dedication to putting his own mark on a meal is clearly evident.
Open daily from 11 a.m. to 11 p.m.; Sunday Brunch. Pre-theater Prix Fixe $35.99
BISTANGO
The Kimberly Hotel
145 East 50th Street (near Lexington Avenue)
212-888-4121