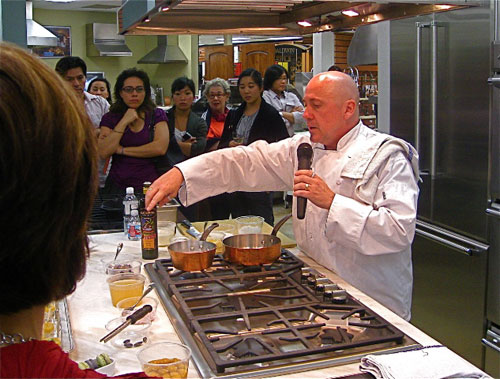 In the early 1980s, zillionaire David Murdock (Dole Foods) invested $5 million to open a private club, The Regency, atop his office building in Westwood. Murdoch, who started as a humble short-order cook in his diner near Detroit before coming West and becoming a real estate mogul, decided (wisely) that food had to be an attraction at the club, and imported a staff from the multi-star French restaurant, L'Oasis at La Napoule in the south of France. Among them was a charming young Frenchman named Laurent Quenioux whom my friend - the late Chef Jean Louis Palladin - had told me to look up. When I interviewed LQ, a native of Solongne, France, in the shadow of Loire Valley chateaux, he told me tales of how he hunted for all kinds of game with his father - duck, partridge, rabbit and hare - and loved serving it on his menus. "I learned to cook on the French Riviera," he said, "where everything is about fat duck, goose liver and foie gras." A man after my own heart.
After the stint there, in 1985 Laurent became the chef of a startling good downtown restaurant, 7th Avenue Bistro, which attracted the attention of downtown politicians and food people throughout the city for its exciting dishes... think eel mousse with cucumber or pumpkin soup with popcorn. Classical nouvelle cuisine but... brilliantly different. A decade later, the advent of the subway led to the closing of the bistro, and I lost track of LQ... though I understand that he became the Food & Beverage Director for Dodger Stadium. Then readers started telling me about his fabulous (though liquor-licenseless) little Bistro K in Pasadena... which I reviewed by saluting his originality in offering a revolutionary menu which opened the senses and minds of diners to new possibilities, tastes and textures. Glorious game, I remember a fabulous Scottish Hare stewed in the traditional foie gras-inflected blood; Cassoulet of duck hearts... you get the idea.
Now he has brought his edgy style and ingenuity to a larger, more central location in West Hollywood, and food lovers are flocking to the former Mimosa location at 8009 Beverly Blvd, near Laurel, (323) 951-1088. I asked him to describe the cuisine at the new restaurant, and he smilingly said, "Laurent's On the Edge." Very accurate. For adventurous and hard-to-please eaters who like to think outside the box, this is the place to be. The décor is chic whimsy, artful lighting, abstract paintings, properly-spaced tables with elegant appointments, the simple look of cool blues and earth tones allows you to unwind and focus on the remarkable and truly exciting food. Whimsical glass bubbles hang from the ceiling and servers wear red Converse sneakers, adding a bit of sparkle and humor to the room. Maitre D' Eric Bouty runs a tight ship in the front of the house, evidence of his vast training at such establishments as Alain DuCasse's Plaza Athenée in Paris and top rooms here. This is an inspired eatery, with an avant-garde chef at its helm who is blasting his own path to gastronomic heaven. The menu is so intriguing that each time I visit I prepare a long list of dishes I want to try...and then end up ordering whatever the chef suggests. There is a decadent 6 ($65) or 9 course ($85) Degustation (Tasting) Menu, as well as à la carte offerings and a Vegetarian Tasting Menu ($65). Divided into Overtures (Starters), then it goes to Seas-Rivers and Oceans, Meat and Fowl, and Garden.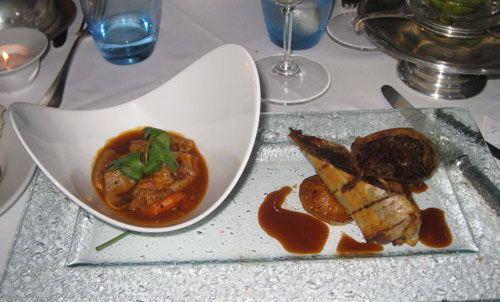 The menu changes daily, depending upon what the chef has picked up on his early morning treks... from the Farmer's Market in Santa Monica to Monterey Park, to Chino Hills, to the San Fernando Valley. You can choose a half order on most menu items, which makes for greater diversity that is more affordable. And the waiter may ask you to select your desert at the start, since "the pastry chef takes so much time with each order." House-made olive rolls arrive, followed by an amuse-bouche. One evening it was a slice of raw salmon in a spoon containing salty, citrusy yuzu sauce with seaweed threads. Last night it was a spoonful of soft polenta with a small, perfect mussel nestled inside. Picking a starter is difficult for me; I want them all. Uni ($13), sea urchin on a bed of tapioca pudding with yuzu kocho, kumamoto oysters in yuzu martini gelee; Pistachio Mousse ($13), grapefruit gelee on the left, zucchini flowers, Dungenesse crab, Serrano, basil, soy; and Chanterelles with Veal Sweetbreads ($11), with coconut emulsion, watercress coulis, date 'loukoum'. One night it was "Oat Meal ($18)," the grain infused with fennel lobster broth and cinnamon roasted Maine lobster. The combination of golden tumeric, spicy cinnamon and rich lobster permeated the creamy, piping hot cereal... as someone at the table said, "decadence in a bowl."
My reviewing companion, David Rapoport, ordered the Veal Cheeks and Pea Composition ($11). Think of rich, braised veal contrasted by the delicate flavor of fresh peas done 3 ways. Pea "guacamole" was matched with pea gazpacho, alongside a pea shoot salad. A scoop of fresh corn sorbet was neat summertime touch. Moving on to the sea but remaining cheeky, Penny McTaggart had ordered Monkfish Cheeks ($24). Creamy cipollini onions set beside the delicately favored monkfish, with al dente artichoke confit, all resting in a pool of pomegranate molasses. Last night it was Atlantic Skate Wing ($24), molded in the form of a tower, finished with a tomato tart. Scallops ($28) are classic, perfectly cooked and finished with sautéed foie gras and corn flakes! My favorite dish one evening was the Duck ($28), tender pink and juicy breast meat, nestled on a bed of faro risotto with English sweet pea and fava bean mariniere. A shot glass of Campari cucumber gelee came on the side. Last night was Pork ($25), Berkshire filet 'noisette,' cardomom Port wine glaze, Kinh Gioi (don't ask) and confit Meyer lemon infusion. Amazing dish. Yet to be tried: the Squab ($28), served with duck hearts, duck gizzard pastilla with pistachios and rhubarb. My neighbor at the next table had ordered the Salmon ($28) and offered me a taste. The fish was beautifully cooked, with delicate bone marrow 'royale,' chicharrones ragu with chipotle and epazote, with baby abalone. Fantastically imaginative. It's all breathtaking. Pastry Chef Mohamed Morseli was up next, and it was a revelation, possibly the finest dessert offering in this city. They do have a 5 course dessert tasting menu ($30) but I have yet to indulge myself. They ask you whether you want Fruit or Chocolate, as if there was a choice. Always go the chocolate route.
Although he has some other amazing offerings: Rice Pudding in Goat Milk with Cassis Sorbet, Red Beet Espuma (Spanish for foam) and little truffles. The chocolate arrived in trio form: an intensely addictive chocolate souffle-style cake with Szechuan Peppercorns, all drenched in a warm chocolate sauce; a soft chocolate pancake cookie sandwiched with creamy Mascarpone cheese, and a crème of chocolate, smooth and not too sweet. Of course, there is an after-dessert course for the table: Mignardises (after dessert) was grand, from the chocolates, marshmallows, macaroons, financier and madeleines, all made by the chef that day. A word must be said about Johan Zerrouki's Cheese Cart, with over 20 types of cheese from all over the world, along with home-made bread and 10 house-made condiments... think sweet onion jam with maple syrup, fig compote, and truffle honey. The wine list is small but superb and very fairly priced (actually underpriced!), artisanal beers, LA Mill coffees (served French Press style!) and teas, as well as house-made "Tisanes." Mineral water is available but the delicious, free filtered water is infused with lemons and cucumbers. Intriguing; the wine list is classified by "moments of life and feelings", such as First Date and Love and Passion. I can't promise that all of the dishes I've reported on will be on the menu by the time you read this, for LQ is restlessly experimenting with new dishes and flavors constantly, think not only French but also Mexican, Asian, Middle Eastern influences, but I can assure you that you will not be bored, you will be intrigued, and the flavors will be intense.
BISTRO LQ is the restaurant of my dreams, a place for the adventurous food-lover who appreciates small details, world-fusion food with big flavors, and a chef with a passion for creating masterpieces...using food as his medium. I, for one, am an admiring acolyte. It's a fun place which takes food seriously.
Closed Sunday and Monday, Bistro LQ is open Tuesday through Thursday from 6 pm to 9:30 pm, and on Friday and Saturday until 10 pm, with desserts and cheese being offered at the late end. There is a heated patio seating 20, as well as a Chef's table in the 50-seat interior.
To subscribe to Jay Weston's Restaurant Newsletter, email him at jayweston@sbcglobal.net
Calling all HuffPost superfans!
Sign up for membership to become a founding member and help shape HuffPost's next chapter