Well, it had to happen some time: Bitcoin is crashing.
The price of the crypto-currency tumbled nearly 21 percent on Friday to $877.46 on trading site Mt. Gox and has fallen more than 29 percent since closing at a record high of $1,237.96 on Wednesday, according to Bitcoin data tracker BitcoinCharts.com. (Story continues after chart, courtesy of bitcoin.clarkmoody.com.)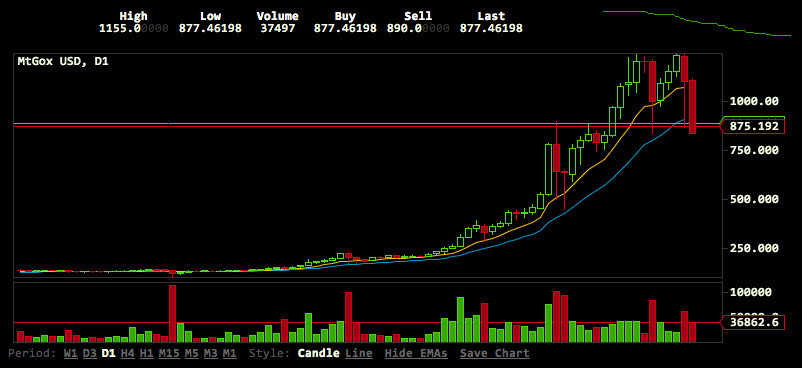 Much of Bitcoin's meteoric rise in the past few months has been due to speculative trading in China, the Wall Street Journal pointed out earlier this week (subscription only).
China's central bank shot a gigantic hole in that trade on Thursday by telling Chinese banks they couldn't use the untraceable digital currency, calling it "not a currency in the real meaning of the word."
That doesn't mean Chinese investors can't keep speculating in Bitcoin, but it is a blow to the credibility of the four-year-old currency. Created by an unknown hacker or hackers known as Satoshi Nakamoto, Bitcoin has the potential to be a long-lasting digital alternative to national currencies like the U.S. dollar and the Chinese yuan. But it has also become favored for illicit uses such as money laundering and drug-dealing, raising concerns about whether policy makers will ever embrace it fully.
Regardless of Bitcoin's long-term potential, there is little doubt its price has jumped too far too quickly: It traded for less than $100 just six months ago.
An official for Bitcoin exchange BTC China, where a growing percentage of Bitcoin trading takes place these days, told the WSJ that most Chinese investors are just hoping prices will keep rising long enough for them to sell and turn a profit. The People's Bank of China, in its statement on Thursday, reminded traders that might not be the soundest approach to investment, according to the New York Times:
"The price can be easily controlled by speculators, creating severe turbulence and huge risks," the PBOC reportedly said. "Ordinary investors who blindly follow the crowd can easily suffer major losses."

Popular in the Community