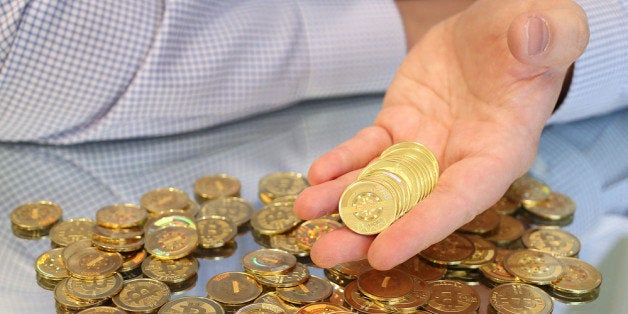 WASHINGTON -- The digital currency Bitcoin is perhaps best known for its use in buying illegal drugs from online stores like the now-defunct Silk Road. An upcoming Federal Election Commission ruling will expand what you can buy with bitcoins into a strictly legal realm: purchasing politicians.
The FEC is set to approve an advisory opinion this week allowing federal political campaigns to accept contributions in bitcoins. The agency will treat bitcoins the same way it treats donations of stock, as an in-kind gift worth the amount at which it was valued at the time of contribution. Bitcoins were valued at about $376 each (as of this writing), and the maximum contribution an individual may make to one campaign is $2,600 per election.
The advisory opinion comes in response to the Conservative Action Fund, whose request was filed by conservative election lawyer Dan Backer. He is the force behind a number of recent deregulatory advisory opinion requests and court challenges, including the initial FEC filing that led to the pending Supreme Court case McCutcheon v. FEC.
Backer asked the FEC whether the Conservative Action Fund could accept bitcoins as contributions as well as use bitcoins to pay expenses and to make contributions to other candidates.
The draft advisory opinion, to be voted on Thursday, states that bitcoins are not "money" under federal campaign finance laws, but can be given as in-kind gifts so long as the value of that gift is at or below federal contribution limits. The opinion further states that campaign committees cannot use bitcoins to pay for purchases or services or to make their own campaign contributions. Thus, all bitcoins must be converted into actual currency before they are used by the committee.
Backer doesn't think the opinion goes far enough.
"While we continue to review and think through this draft, it's clear it doesn't go nearly as far as those in the Bitcoin community would want," he said in an email message. "As a practical matter, it's good to have clear guidance to rely on, though I continue to explore this somewhat odd idea that individuals can donate BitCoin -- which will be treated as a thing of value -- to both PACs & Candidates, and PACs can contribute other things of value to Candidates, [so] it seems odd that a PAC cannot contribute in Bitcoin."
The FEC's looming decision was hailed, however, by Sen. Tom Carper (D-Del.), chairman of the Senate Homeland Security and Governmental Affairs Committee.
"This apparent decision by the Federal Election Commission (FEC) underscores what our Committee has recognized for some time: that virtual currencies are not going away," Carper said in a statement. "Their emergence has potentially far reaching implications for the federal government and society as a whole."
Carper added that his committee will likely discuss the FEC's bitcoin opinion in its next hearing.
One area of concern for those receiving bitcoins as contributions could be the digital currency's fluctuations in value. In April 2013, a bitcoin bubble burst, sparking wild changes in worth. In October, following the FBI's closure of the popular illegal-drug market Silk Road, bitcoin values dropped by 20 percent in three hours, but later climbed back.
Political campaigns might reasonably worry that a bitcoin contribution made one day will be worth drastically less the next day -- before the campaign has a chance to convert it into other, steadier currency. Conversely, a bitcoin donation might quickly increase in value, even past the legal contribution limit. The details on how and when exactly a bitcoin contribution is valued will be important.
Calling all HuffPost superfans!
Sign up for membership to become a founding member and help shape HuffPost's next chapter
BEFORE YOU GO
PHOTO GALLERY
U.S. Capitol Photos