WASHINGTON -- The Federal Election Commission voted earlier this year to allow political candidates and committees to accept donations in bitcoin. But a week before Election Day, candidates who accept the popular virtual currency reported that their total bitcoin donations were small to nonexistent, though they remained optimistic about the currency's political future.
Candidates who have entered the Wild West frontier of accepting bitcoin donations said they have been unable to turn bitcoin into a major fundraising strategy -- yet.
Blaine Richardson, an independent House candidate running in Maine's 2nd District, reported that he didn't get any bitcoin contributions at all. "I think there is a future for it, but we just may be ahead of the curve right now," he told The Huffington Post.
While the FEC's decision was a big deal to tech enthusiasts, it was politically controversial. The volatile cryptocurrency rose to infamy partly as a way to anonymously buy drugs on the online black market Silk Road, and critics said that using bitcoin for donations was an easy way to dodge campaign finance laws. To address those concerns, commissioners recommended that bitcoin contributions be capped at $100 per person each election cycle, although the guidance left plenty of room for interpretation.
Jim Fulner, a libertarian Senate candidate in Michigan, said he's received two bitcoin donations each worth "significantly less than $100." Will Hammer, a libertarian House candidate in Virginia's 6th District, has also received less than $100 in bitcoin donations, though he said that in the future, cryptocurrencies "have the possibility to make central banks, such as the Federal Reserve, obsolete."
Rep. Jared Polis (D-Colo.), an enthusiastic early adopter of bitcoin, told HuffPost that his campaign had received "over $2,000" in bitcoin donations, but he expected that the number would have been higher if the FEC had allowed donations up to the full federal limit. "With a $100 limit, it's hard for it to be a major part of a fundraising strategy," Polis said.
Most candidates who receive bitcoin donations cash out the contributions quickly. Danielle Alexandre, a spokesperson for Adrian Wyllie, a libertarian gubernatorial candidate in Florida, said the campaign has received about $2,000 or $3,000 in bitcoin. By contrast, $60,000 has come in through credit card donations. Each day, the campaign converts any bitcoin donations to U.S. dollars.
"The regulations on accepting it aren't exactly concrete," she said. "We felt that turning it into U.S. dollars right away would negate any issues we'd have with campaign finance regulations."
Fulner, the libertarian from Michigan, has chosen not to convert his bitcoin donations into dollars. Instead, he's shopped at independent sellers who accept the virtual currency. "I bought paper," Fulner said. (The FEC never agreed on whether bitcoins could be used to directly buy goods.)
Other candidates said that even though bitcoin donations were a small slice of the pie, accepting them has sent a positive message to their constituents. Oakland mayoral candidate Bryan Parker said that accepting bitcoin helps show that he is a candidate "open to innovation." Christina Gagnier, a Democrat running for Congress in California's 35th District, added, "Even taking these types of donations moves the needle on embracing technology."
In the meantime, bitcoin enthusiasts aren't giving up. BitPAC, a political action committee that aims to promote the currency through campaign contributions, is sending about $4,500 in bitcoins to members of Congress, including $250 each to Sen. Ron Wyden (D-Ore.) and Sen. Ted Cruz (R-Texas). The aim is for the donations, which arrive via codes in green paper wallets, to encourage lawmakers to look into bitcoin regulations.
"That's money in their hands that they can't use because the FEC won't give them adequate guidance," said BitPAC founder Dan Backer.
Before You Go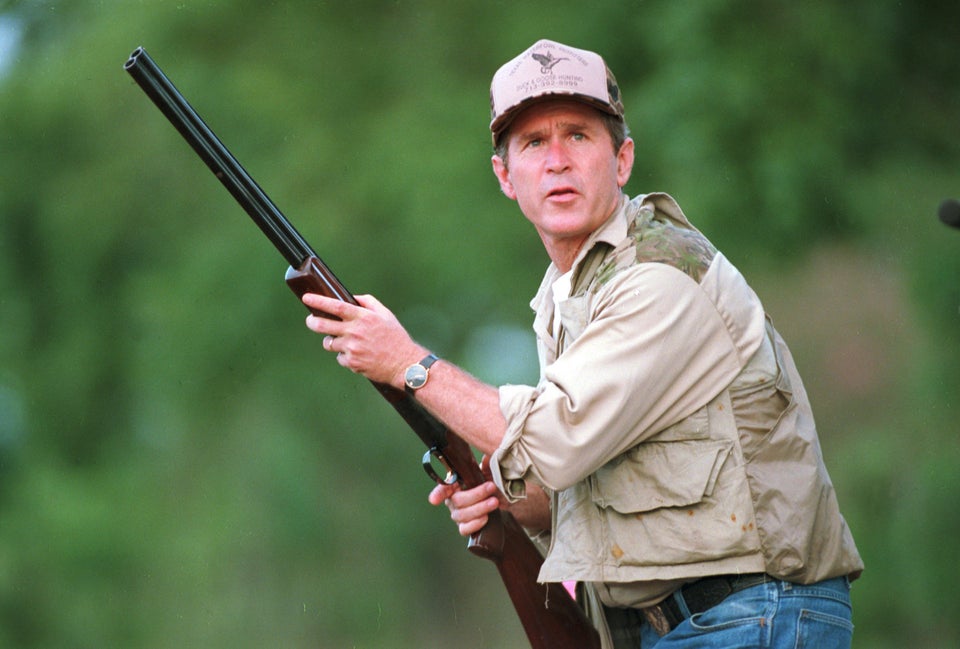 Politicians Holding Guns
Popular in the Community