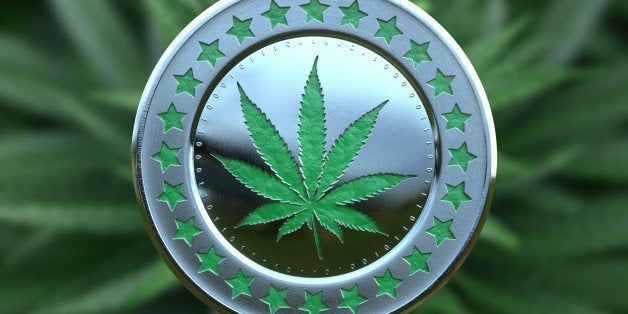 Bitcoin isn't the only digital currency changing the way we pay for things. Two new cryptocurrencies aimed at allowing people to safely buy drugs -- legal or illegal -- may provide new payment alternatives to the largely cash-only industries.
Their developers promise safety and security -- and they just may change the course of the drug war in the process.
PotCoin is aimed at the state-legal marijuana market, be it medical or recreational. DopeCoin wants to establish itself as the currency for the multi-billion dollar drug market, legal or otherwise.
One of PotCoin's developers, who asked to only be identified as "mrjones," told The Huffington Post that his partners expect their digital currency to be accepted as legitimate across the marijuana industry, from growers and dispensaries in Colorado or Vancouver, to cafes in Amsterdam, to buy cannabis and related products. "Mrjones" and his partner "smokemon" intend to reveal their identities in April, when they announce the new currency at a cryptocurrency convention in New York.
DopeCoin's developer, who asked to be identified only as "Dopey" due to controversial nature of his new currency, said DopeCoin is designed to be used to buy anything legal or illegal, from both black market sellers on online marketplaces like Silk Road -- the underground digital bazaar that helped pioneer Bitcoin -- and established retailers like Overstock.com.
"We're the bad boys of cryptocurrency," Dopey told The Huffington Post. "I would never advocate illegal drug use or any illegal activity to do with this currency. This is a digital currency created by the people for the people and what people do with it has the same consequences and responsibilities that they would have for the American dollar."
Digital currency has the potential to solve huge problems for marijuana businesses operating legally under state laws. Because federal law still considers marijuana illegal, traditional banks have shunned the businesses, leaving them unable to accept credit cards or open simple checking accounts. Without secure options, the businesses are largely forced into cash-only transactions, risking safety and raising tax and employee payroll issues. NBC News recently reported that several heists have occurred at Colorado dispensaries since they became legal Jan. 1.
"Digital currency solves that problem immediately," Dopey said. "It takes away the cash storage issue, it takes away the issue of banks as the only secure way to handle your currency."
Like Bitcoin, the digital currencies have extraordinarily low transaction fees -- fractions of cents on the dollar. They have the potential to be secure, although like any form of payment, breaches can be exploited.
The developers behind PotCoin and DopeCoin are experienced online entrepreneurs. The PotCoin team has been involved in successful, high-profile startups that they asked not to be identified until they launch the digital currency in April. DopeCoin's developer has experience building mobile apps and third-party billing systems.
Both the PotCoin and DopeCoin teams expressed the need to give drug buyers -- legal and illegal -- a currency that is safe and keeps the nature of the purchases off the books.
Dopey noted that DopeCoin is not just a drug marketplace currency. "This is about giving people a currency choice that protects them from anyone who shouldn't be looking into what they are spending money on in their private lives," he said.
PotCoin's mrjones said it's possible to use PotCoin on illegal drugs or anything else -- cryptocurrencies can be used to purchase pretty much anything -- but he expects most users won't go that direction. "I think that our technical transparency may be a turn off," mrjones said. "Although like Bitcoin, accounts are anonymous, transactions are also traceable."
DopeCoin will use "coin mixing" technology, Dopey said. With the press of a button, DopeCoin users can mix their coins with those of other users, masking their coins' trail in by instant digital money laundering.
"It's quite edgy," Dopey said. "It's what puts us above the competition that has targeted just the legal marijuana market. DopeCoin was designed for the billion-dollar drug marketplace."
Mrjones said PotCoin strives for transparency to drive out bad actors. "We're building a network database for merchants to allow them to optionally link users with accounts. This can facilitate insurance claims and down the road, doctors' prescriptions," mrjones said. "Bottom line, if you are a bad person doing bad things, PotCoin is no place to play, and obviously if a crime has been committed, our cooperation will be swift."
PotCoin has begun a custom subreddit that its developers hope will serve a robust online community and further keep dealings open.
Currently, 20 states and the District of Columbia have legalized marijuana for medical use. Recreational marijuana is now legal in Colorado and Washington. More than a dozen other states are likely to legalize marijuana in some form in coming years. If Colorado is any indication, the legal weed market looks to be very profitable.
In the first month, Colorado dispensaries made $14 million in sales. Gov. John Hickenlooper (D) recently said he expects that the combined sales from medical and recreational marijuana in the state will reach nearly $1 billion in the next fiscal year. About $600 million of that is projected to come from recreational sales.
A recent national study projected the legal marijuana industry may be worth $10 billion by 2018.
A handful of retailers have committed to using PotCoin and the company is getting ready to pursue many more.
"A full on industry assault in the next couple weeks is planned," mrjones said. "And our inbox is jammed with point of sale inquiries from merchants along with some of the kindest, heartfelt letters of encouragement and thanks."
Dopey said that DopeCoin is accepted by four retailers; two brick-and-mortar businesses in Europe and two online merchants in the U.S.
When asked about the potential volatility of digital currencies, like the dramatic fluctuations seen with Bitcoin, both developers agreed that volatility is normal with a new digital currency. Both said the size of the global drug marketplace would ultimately help stabilize the new currencies.
CLARIFICATION: This story has been updated to reflect that PotCoin is, in fact, accepted at various retailers.
Support HuffPost
The Stakes Have Never Been Higher
Related
Before You Go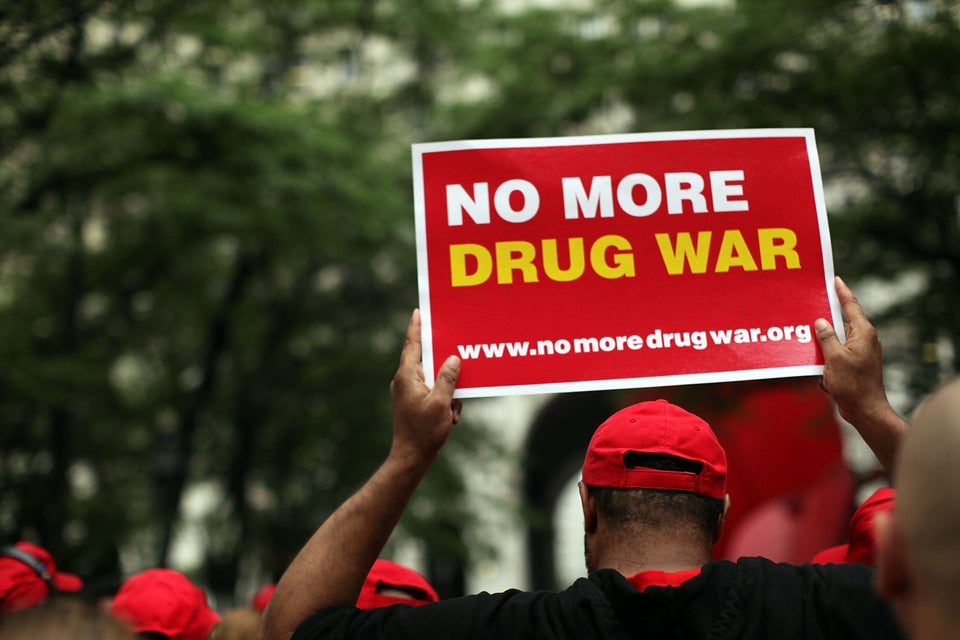 27 Reasons Why The U.S. Shouldn't Lead The War On Drugs
Popular in the Community