Bitcoins have been everywhere in the news lately. Their value crashed, it crashed again, yet more and more businesses are accepting them. One particular business has really caught the Internet's attention: a lemonade stand run by two adorable girls in San Francisco.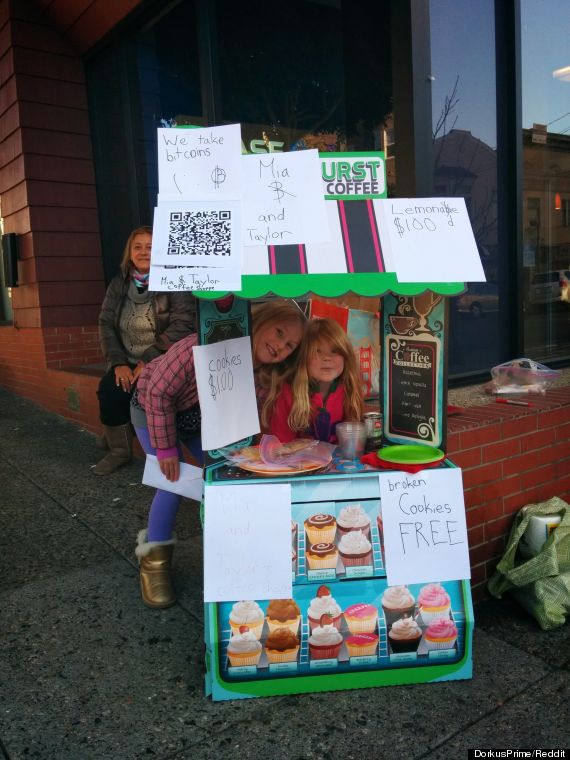 A photo found on Reddit shows the two little girls at their booth, in the Noe Valley neighborhood.
"These adorable little girls just sold me snickerdoodles for Bitcoin in San Francisco. I asked them to say cheese for the internet :)," wrote Reddit user DorkusPrime.
A Twitter-user tweeted the photo on December 13, and since then, the Internet has erupted in collective, "aws."
In Noe Valley even the girl scouts take bitcoin: http://t.co/7x18Wpvh6p cc @NoeValleySF

— Colby (@colbyh) December 31, 2013
According to Motherboard, the stand, "Mia and Taylor's Coffeeshop," accepts Bitcoins via the large QR code plastered to the booth.
The business is apparently going pretty well. So far, they've made .083 Bitcoin, which is roughly $70. Quite impressive for a lemonade stand. Mia and Taylor's business-savvy extends beyond accepting Bitcoins, however. They're also giving broken cookies away for free. Who wouldn't be enticed by that deal?
Calling all HuffPost superfans!
Sign up for membership to become a founding member and help shape HuffPost's next chapter