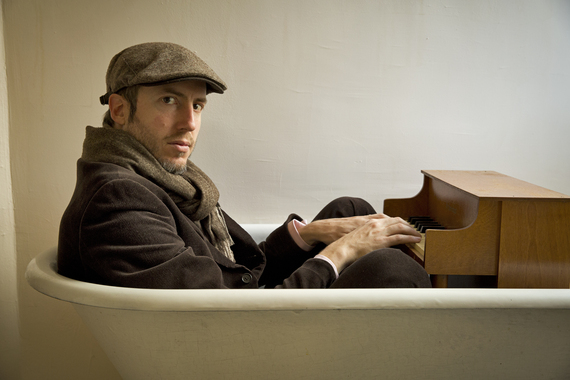 With the release of his latest music video, psychedelic singer-songwriter Jeremy Mage offers up a year-end toast to the "hell of a year" of 2014. Featuring Reggie Watts (incoming house band leader for CBS's The Late, Late Show) on background vocals, and a host of Hungarian shoe puppets, Waste This Year is a darkly comic, commercially successful poke in the eye to unbridled avarice.
Recently I chatted with the Grammy award-winning Mage about his latest musical endeavor.
Stroud: You describe Waste This Year as a "wounded but not dead, apocalyptic but hopeful goodbye to 2014." Why?
Mage: A lot of things came to a head in America this year. Somehow the combination of social media, a rollercoaster global economy, and very real racial tensions -- combined with having a black President -- seems to have brought up a lot of the divisions in America. Stuff is coming to a head and a lot of people are feeling even though we're more connected, we're more apart than we've ever been. Although I don't know if that perception is actually true, because I think that it's just easier to encounter the people that we disagree with now.
Stroud: What inspired you to write this song?
Mage: The melody came first and it just came with those words. Then I had to write backwards and figure out what I was talking about. Because I'm not a nihilistic person, I had to figure out what could it mean, how Waste This Year could actually be a positive thing. So I ended up writing a drinking song, basically a toast and a little bit of throwing up hands, about making a difference. But at the same time, it's a call to community and recognition of a common enemy.

Stroud: Who's the enemy?
Mage: In the song, the enemy is greed - greed and social control. I imagine some kind of pub in a mining town, maybe in a Road Warrior future, and this is what they're singing. They can't outright call the masters to task, but they can sing and the subversive content is bubbling underneath.

Stroud: What's your favorite line in the lyrics?
Mage: I guess "fill my veins with pomegranate wine" is one of my favorites, or "the winking dollar casts his eye on everything." When I'm singing it live, my favorite line is "If you know the enemy, you'll recognize your friends" because it lets me look out at the audience and indicate to them that I consider them, in that moment, my friends.

Stroud: Comedian and musician Reggie Watts sings background vocals. How did he become involved?
Mage: An artist that I work with, [Afro-beat queen] Wunmi, brought me on tour to Australia. We did that country's biggest festival circuit, which is The Big Day Out. It's amazing -- hundreds of bands from Indie rockers all the way up to the biggest global names. We were on what's called the Lily World stage. Reggie Watts was one of the other acts, so we got to spend quite a bit of time together. He's a genius, just as funny off-stage as he is on, but also very tenderhearted and very considerate with a lot of humility.
We ended up going to an after party, really late at night, and finished in my hotel room. It was about 3:00 in the morning. Reggie led the others in singing Waste This Year. I got a great take that ended up being in the final mix.
Stroud: What's next for you?
Mage: I'm supporting my record on Tummy Touch, which is Jeremy Mage and the Magi, self-titled. Waste This Year is one of the tracks and it has been a really successful single in Europe, where it's been getting a lot of play on the radio.
Stroud: Anything more you'd like to share with readers?
Mage: The spirit of the song, the reason I say "apocalyptic but hopeful," is because that's the kind of crossroad humanity is at right now. We're facing some stark choices for our survival as a species on the planet. We stand on the precipice with one foot already hanging over, but I think that the spirit of community and sharing can ultimately triumph over greed.
Jeremy Mage's Waste This Year Video

Reggie Watts, Bloody Beet Root and Jim Jones sing Jeremy Mage's Waste This Year
Support HuffPost
The Stakes Have Never Been Higher
Related
Popular in the Community