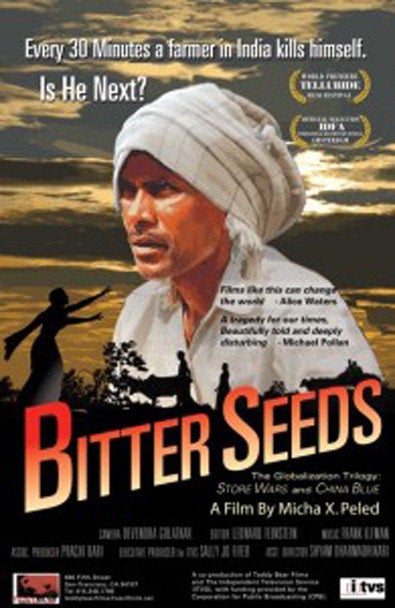 Bitter Seeds is a character-driven documentary which shows us the bleak situation for cotton farmers in India. More than 250,000 farmers have killed themselves since 1995.
Director Micha X. Peled interviews all players, from condescending seed salesmen and callous Monsanto execs, to activist Vandana Shiva, to farmers, their families and village elders who remember when life as an Indian cotton farmer was not so bitter.
The common thread linking all of these farmers is that they have been pressured to buy genetically modified seeds. (The seeds are from Monsanto, the American company whose seeds dominate industrial farms in the U.S.) These Indian salesmen, Monsanto employees, sell seeds for their own profit, regardless of the effect they have on the farmer and his livelihood.
Traditionally, Indian farmers have used seeds from the previous year's crop and fertilizer made from cow dung and compost. The GMO seeds, called Bt seeds, are designed only for a single year's use so farmers are forced to buy new seeds every year. This is something they may not have been told upfront. As a result, about 90 percent of India's cotton farmers have become like slaves to Monsanto. The salesmen are relentless. They hand out leaflets to the illiterate farmers with photos and testimonials from other Indian "farmers." These testimonials are later discovered to be false.

Director Micha X. Peled trains his camera on Monsanto salesmen using loudspeakers proclaiming the latest variety of genetically modified cottonseeds:
"Do you have land?" one of the seed-pushers shouts to a village woman. 'Tell your husband to plant Bt seeds." Against their own better judgment, the farmers inevitably succumb to the salesman's pressure.

Peled focuses on one Indian farmer, 40-year-old Ram Krishna Kopulwar. When we first meet Krishna, he is a hardworking cotton farmer with a failed crop and rising debt in Telumg Takli, a small village in Vidarbha, India. The fact that his two daughters are nearing the age for marriage adds more pressure. Unmarried daughters are a cause of social shame in Telumg Takli, and he needs money for his eldest daughter's dowry. We follow Krishna as he plants the Bt seeds and watch as he tragically loses his crop.
Photo courtesy of Teddy Bear Films
It is incredibly painful to watch as Krishna's crops slowly dwindle from lack of water and an infestation of mealy worms. Most of these farmers are completely rain-dependent and the GMO seeds require more water, pesticides and expensive fertilizers. Day after day we watch as Krishna weakens and tries everything to save his crops. Eventually he is completely broke, broken and desperate.
His only way out is to borrow money from a corrupt money-lender who charges outrageous interest and heaps abuse on him. Eventually, with no way to pay the money back, Krishna and other farmers end up losing their land (which is all they have) to the money-lender. This is the final blow. Many of these farmers do not know how to survive in India's changing economy. With nowhere to turn, more than 250,000 of these men have killed themselves, usually in an ironic, gruesome twist of fate -- by drinking the poisonous cocktail: Monsanto pesticide.
Peled weaves an equally riveting and poignant second story into this film. It centers on an 18-year-old college girl, Manjusha Amberwar, who has lost her father to suicide because of his farming debts.
Amberwar wants to become a journalist and suspects that the cause of so many suicides starts with the Bt seeds. She sets out to investigate this against the wishes of her family. It is the strong, unwavering voice of Manjusha that makes this film so incredibly memorable.
She asks one of the village elders about alternatives: "In my time there were no suicides," he tells her. "Even the poor could survive by working hard. There are no other seeds available now. Traditional seeds have disappeared. We farmers are illiterates. We follow false advertising like a dog follows bread."
Bitter Seeds and films like Food, Inc. show us how little we all know about genetically modified seeds (GMOs). But the farmers have an advocate in quantum physicist and activist Vandana Shiva, India's leading opponent of genetic modification and the patenting of seeds.
She says:
This has huge implications because it will unfold into the future. These seeds are shaping history, and already in them are carried the germs of another historical trajectory. If you really want to see whether change is being made, look at what is beginning in the small places: look at how organic farming is now increasing on a large scale.
Mutations and natural selection have always been a positive and necessary part of our evolution and survival as a species, but we do not seem to have a choice when our government is not demanding labeling of foods that are genetically modified. France and other European countries have banned most genetically altered seeds.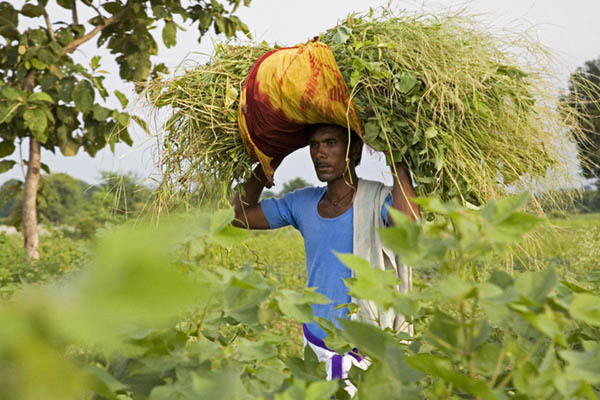 Still from Bitter Seeds- Ram Krishna on his land.
Bitter Seeds has won 18 international awards. It is a film that will never leave you. There will be a screening of the film, along with a panel of local farmers and chefs at The Carey Center for Global Good in upstate New York on December 1st. Included in the panel are George Weld, owner of two wildly popular restaurants in Williamsburg, Brooklyn (Egg and Parish Hall), Carol Clement of Heather Ridge Farm in Preston Hollow, NY, and Director Peled who will be there via Skype.
"The mission of the event is to discuss the future of GMOs and other important issues affecting all of us," says Carol Ash, president of The Carey Center for Global Good. "We all care deeply about the struggles of cotton farmers in India, but also, what does he have in common with farmers in our region of New York State?"
There are social, environmental, health and economic questions being asked and answered in
films like Bitter Seeds. We need to find solutions, as a community, as a nation and as a planet.
Related
Popular in the Community