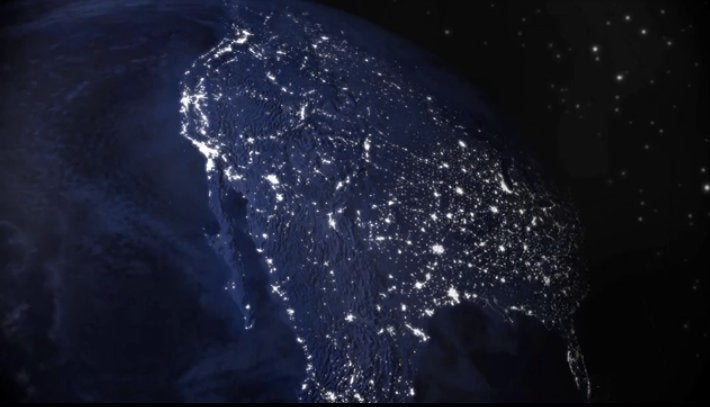 Most people think of torrents as the easiest way to download movies and music for free, but some enterprising artists are taking advantage of the platform to spread original content instead.
The show, Pioneer One, is funded completely by the public, and has just released their third episode. Pioneer One is a political sci-fi drama about a mysterious Soviet space capsule that appears on earth--with unusual ramifications. The pilot, released in June on VODO (short for "voluntary donations"), a BitTorrent powered content distribution platform, had almost 500,000 downloads within two weeks, helping the show raise over $30,000 through VODO in the next few months.
Show creators, writer Josh Bernhard and director Bracey Smith, called their decision to launch the torrent-only series "a proof-of-concept for how the series could be produced and released." They had previously enjoyed success with The Lionshare, a film about an imaginary social network.
"I think new technologies like BitTorrent can benefit indie filmmakers, but beyond that, I don't see it as much of a choice," Bernhard told TorrentFreak after making The Lionshare. "I could never have made this movie unless I made it on my own, and online venues allow me to get it out there to be seen by people."
And despite the unconventional method of distribution, the show has gained traction even from more traditional outlets--the show won "Best Drama Pilot" at the New York Television Festival.
"I think the idea of BitTorrent as a viable means of distributing content is really starting to break through," Bernhard told TorrentFreak. "BitTorrent has something of a stigma, especially for people in the entertainment industry. When you say BitTorrent, I think a lot of people hear 'piracy' and stop listening. But between Pioneer One, Zenith and other projects adopting the same model, it's going to become too big to dismiss."
Of course, web series have existed since the mid-90s. One notable hit of the webisode format is viral faux reality show lonelygirl15, which had over 110 million views on YouTube from 2006 to 2008.
Joss Whedon, creator of Buffy the Vampire Slayer, turned to the web to release his musical series Dr. Horrible's Sing Along Blog in 2008 during the writer's strike, not only for the reduced costs (he self-financed the $200,000 funding) but for the creative freedom it allowed. The show won an Emmy, a People's Choice Award, and the Hugo Award.
Web television seems separated between those shows financed independently, or with traditional media backing. The Webbys, the Academy Awards of the online world, now in their 15th year, has seen an increased number of categories involving online video production over the years. With winners including not only well-known actors like Isabella Rosselini and Amy Poehler, but comedy shorts from CollegeHumor, documentaries by David Lynch, and news shorts from outlets like the New York Times, it's clear online video has become a major outpost of the traditional media.
In 2009, the Streamys, awards for original web television, launched. Started as a grassroots effort, the Streamys honor not only well known series like Between Two Ferns, but more independent series like OzGirl and Youtube sensations like Autotune the News. More recently, online video power Netflix also just announced their first foray into original programming with House of Cards, a David Fincher produced show starring Kevin Spacey.
But a series like Pioneer One seizes the idea that TV series can be made using new technologies enabling novel methods of distribution and financing that have become possible in a web culture supported by high-speed access and broad social connection.
"In general I think people are proud of the fact that they're able to support content they like, whether it's Pioneer One or something else. I think they feel a real connection to the show that you don't get with traditional media, which is a very one-way relationship," Bernhard told GigaOm.
With continued success, Pioneer One could pave the way for a new model of television, one made for, by and through the online community.
Watch the pilot of Pioneer One below:
Related
Popular in the Community