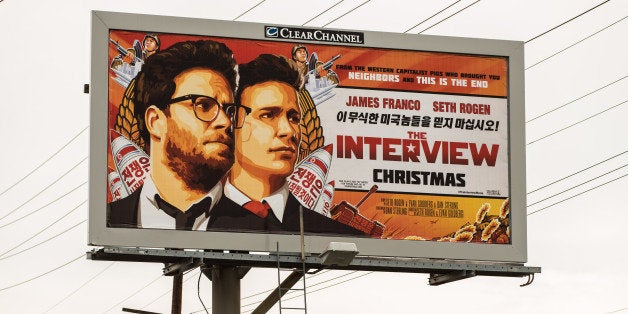 Filing-sharing giant BitTorrent is urging Sony Pictures to release "The Interview" on its new, paid service.
The software company, synonymous with illegal music and movie pirating, had several talks this week with the embattled movie studio about debuting the canceled Seth Rogen action-comedy as a "bundle" of links to files that can be controlled and sold to users legally. Sony scrapped plans to debut the picture in theaters next week after suffering a devastating cyberattack by hackers linked to North Korea -- apparently in retaliation for the film's depiction of the fictional assassination of the country's leader, Kim Jong Un.
"A group of hackers stopped an American company from releasing a commercial film -- this should not stand," Matt Mason, the chief content officer at BitTorrent, told The Huffington Post on Saturday. "This is wrong and we can help make it right."
BitTorrent bills its bundle service as the most lucrative means for artists and studios to distribute music, ebooks and films. It has positioned itself as an alternative to streaming services as more artists, such as Taylor Swift, abandon Spotify and Pandora in protest of the meager cut of revenues they receive. In September, Radiohead frontman Thom Yorke became arguably the most famous musician to sell an album exclusively through a bundle. It was downloaded more than 1 million times.
The only overhead for the content creator is the 10 percent cut of each purchase that BitTorrent takes and the cost of processing the payments through PayPal or a credit card company. The artist is usually left with, on average, 85 percent of the revenue, Mason said.
That could be the file-sharing network's best pitch.
Sony stands to lose almost $200 million on the movie, according to Bloomberg. Canceling the film stirred public outrage, and calls for the studio to release "The Interview" online have grown louder over the past few days. Some have declared it a "civic duty" to see the film.
During a Friday appearance on CNN, Sony Pictures CEO Michael Lynton said no major video-on-demand distributors or e-commerce sites had offered to screen the film.
Sony did not respond to a request for comment.
Streaming services such as Netflix, Hulu and Amazon and platforms like iTunes and Google Play would undoubtedly court a similar cyberattack if they released the movie. And Sony has been reluctant to offer the film at all. The hackers, who the FBI claims are agents of Pyongyang, have threatened to release more of its trove of humiliating internal emails and documents if they reversed plans to drop "The Interview" altogether.
BitTorrent works as a peer-to-peer file-sharing network, with about 170 million users running the software each time their computers share files. It would be nearly impossible for hackers to suppress the movie as the files bounced between viewers' computers.
Plus, BitTorrent is beloved by hackers. The BitTorrent protocol -- a means by which computers communicate with each other -- makes up nearly 3.4 percent of all bandwidth used for file-sharing worldwide, making it by far the most popular software in that category.
"This is a way for Sony to not only deliver the film in a real way, but get out on the side of the hacker community," Mason said. "This is an issue that's bigger than 'The Interview,' bigger than the Sony hack -- it's really about free speech."
REAL LIFE. REAL NEWS. REAL VOICES.
Help us tell more of the stories that matter from voices that too often remain unheard.