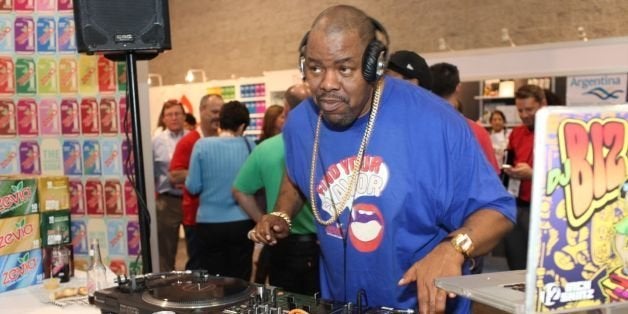 Biz Markie's knack for gracing a hip-hop track with vivid lyrics and his trademark beatboxing has swayed countless amounts of fans around the globe for over 20 years.
And as Markie, born Marcell Hall, famously professed on his 1988 track "Nobody Beats The Biz," when it comes to rocking parties he is "a nymphomaniac, brainiac for doing" his dance, which is something he has been doing more frequently this year as he celebrates his 50th birthday and the 25th anniversary of his classic hit "Just A Friend."
In a recent interview with The Huffington Post, Markie said that recording the notable track -- which interpolates Freddie Scott's "(You) Got What I Need" -- took a full five years, due to Markie's quest to find the song's hard-hitting drums. That search eventually concluded thanks to Markie's close friends, the hip-hop pioneers Grand Wizzard Theodore and Danny Dan the Beatman.
"I was looking for the drums since '84, but I never knew the name of them," Markie told HuffPost. "Grand Wizzard Theodore brought me to Danny Dan the Beatman's house. So we were playing around and made a tape."
"All of sudden, Danny calls me and says 'Is this the record you were looking for?' And he played [Freddie Scott] over the phone. So I drove over straight from Jersey with this other dude from Trenton, and I traded him Barbra Streisand's 'A Star is Born' for that record, and I gave him $200 for the 'You Got What I Need' record ... I knew if I found those drums it was going to be a hit."
The rapper, who in recent years has appeared regularly on Nickelodeon's "Yo Gabba Gabba!," told HuffPost that he initially reached out to R&B singers Keith Sweat, Al B. Sure, and fellow Juice Crew member T.J. Swan as candidates to sing the now-famous chorus, but ultimately decided to use his own vocals due to scheduling conflicts. He also discussed the song's enduring relevance, comparing it to other classic hits like Slick Rick's "Lodi Dodi."
"It's just one of those records that's a good record that you can't get tired of hearing. Whether it's the hook, whether it's the words. One of them good, good records," he said. "You don't get tired of hearing [Maze & Frankie Beverly's] 'Before I Let Go.'"
In addition to celebrating his hit song's milestone, Markie is also advocating for healthy living as the brand ambassador for Zevia soda. He credits his recent 140-pound weight loss to a balanced diet, exercise and consuming the sugar-free and zero-calorie cola. Markie admitted that his drastic change of lifestyle came following a health scare in which he discovered that he had diabetes.
"When I went in the hospital for dehydration three or four years ago, I had to get 15 to 16 bags of IV," he told HuffPost. "So I said, 'If I want to live, I will have to change my life format.'"
This fall, Markie will be returning to television in an attempt to find a girl "to settle down with" on a forthcoming reality show tentatively titled "Taking Care of Biz."
Calling all HuffPost superfans!
Sign up for membership to become a founding member and help shape HuffPost's next chapter
BEFORE YOU GO
PHOTO GALLERY
No. 1 Songs That Are Actually Covers