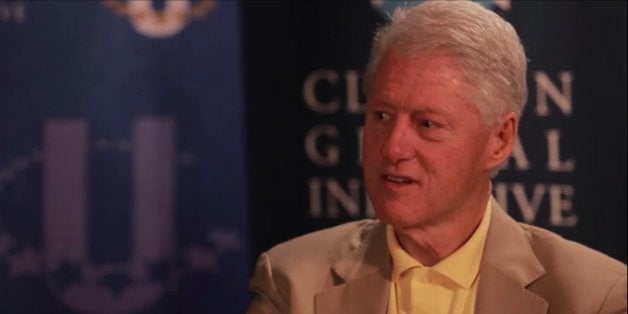 During the 2012 Clinton Global Initiative University meeting, Twitter co-founder Biz Stone sat down with former President Bill Clinton to discuss the future of online media, the keys to better business, and how best to use the massive amounts of information to which the world now has access.
In this never-before-seen interview, the two thought leaders tackle some of society's most pressing challenges. Though their conversation took place in 2012, their conclusions remain relevant today as world leaders grapple with the ever-shifting landscapes of technology and global politics.
Here are four clips from the discussion that touch on a variety of topics, from market regulation and corporate social responsibility to the Arab Spring and the evolving role of information in society.
Corporate Social Responsibility and Markets
"To make markets work you have to have enough rules to keep them from going off the tracks and not so many as to shut 'em down.' - Bill Clinton
Online Education and Publishing
"There are lots of other ways to communicate information and ideas and context. The Internet obviously has more capacity to do those kinds of things than a piece of newspaper does. So I think that's going to be a big frontier. There's going to be more online learning, more distance learning... maybe so, but how? How will it be done so that people actually do learn?" - Bill Clinton
The Arab Spring and Information
"If you look at something like Arab Spring. You have a lot of people getting a lot of information from Facebook, from YouTube, from their mobile phones, all this sort of thing. But more importantly they had a shared understanding that if they were to stand up they probably wouldn't be alone. And that gave them the ability to take action." - Biz Stone
Redefining Business and Social Media
"I think we, at a fundamental level, need to redefine the success metrics of capitalism. That they include three key ingredients: 1. Business, successful business, making money. The traditional form of success. 2. You have to be making a difference in the world, you have to be contributing in some way. 3. I think you need to be emotionally engaged in the work. You need to love the work. These three things aren't, right now, considered the success metrics for capitalism." - Biz Stone
Calling all HuffPost superfans!
Sign up for membership to become a founding member and help shape HuffPost's next chapter