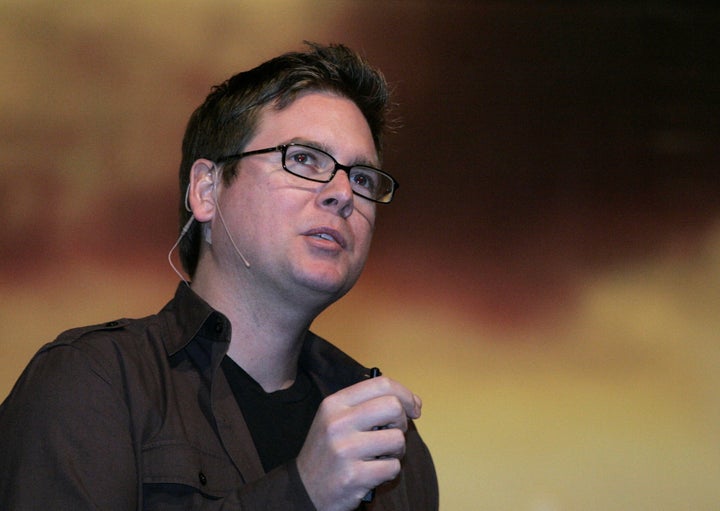 It's a good time to be Biz Stone. The 37-year-old Berkeley resident, who just five years ago co-founded a little microblogging service you may have heard of, is now working on a slew of projects to make the Bay Area (and the world!) a better place.
Since leaving Twitter, the tech titan has his hands in myriad industry projects, most recently The Obvious Corporation, which explores new ways to use technology to benefit society. Outside of the tech world, Stone runs the Biz and Livia Stone Foundation with his wife, which supports education and conservation efforts throughout California. (Huffington Post even named the pair 2010 Game Changers for their efforts.)
We recently spoke to Stone about the importance of the tech community in San Francisco, which startups impress him most, and his favorite places to go vegan in the city. Here's what he had to say:
Describe the work of the Biz and Livia Stone foundation. The Biz and Livia Stone Foundation was designed to give back to the California Bay Area which has made such an impact on our lives. We focus on education and conservation with special attention paid to underserved kids. Specificity and commitment to certain schools, organizations, and projects allows us to have a measured impact in the communities we support.
From an education perspective, we partner with schools and teachers that are grossly underserved but incredibly passionate. Many classes and activities have been removed over the years due to budget cuts so we support these schools by bringing them back--music, visual arts, sports, and conservation education are examples of programs we install into our schools.
Can you highlight a particular success story --a company, a student, etc -- that has benefited from your foundation that has particularly struck you? Our foundation is new, but already we have seen some inspiring success stories. A recently implemented after school activity program at Henry Haight Elementary in Alameda provided a variety of enriching programs for kids. The outpouring of thanks in the form of letters from the kids as well as notes from the teachers and parents was striking.
How can we help? Fundamentally, our work is about inspiring empathy for others and reverence for our natural world. The more people engage in these activities and this way of thinking, the better. More specifically, folks can buy tickets to our Foundation "launch party" which will fund more schools in the Bay Area. An easy way to help is to join us this Friday at Samovar Tea Lounge.
Why is San Francisco the best city for tech startups? San Francisco is an incredible city for startups because that's where the startups are. In other words, San Francisco and much of the Bay Area has the right ecosystem for startups to thrive. In San Francisco, you're not going to have a hard time finding a lawyer or an accountant that understands startups. Even landlords here understand the kind of space startups need.
Name one new SF startup you are particularly impressed by. Square is an incredibly well-designed product and company that took over a bunch of space in The San Francisco Chronicle Building. The work this team is doing to transform the way people buy and sell goods and services in communities is world-changing.
What's your favorite vegan restaurant in the city? My favorite vegan restaurant in San Francisco is Millennium, hands-down. The food is exceptional, the atmosphere is classy and comfortable, and even non-vegans enjoy dinner at Millennium.
Where do you and Livia like to go to relax? Livia and I love to take advantage of the natural beauty of Muir Woods, Stinson Beach, and many of the trails available in Marin County. It's really fun to go for a hike at Muir beach and then enjoy a pint at the Pelican Inn.
What's next for the Obvious Corporation? We've got big ideas and we want to make them happen.
How can the city government better embrace emerging technologies to make San Francisco a better place? The best way for city government to embrace emerging technologies to make San Francisco a better place is to use these tools to really listen to the people they represent. More communication and interaction between citizens and city government is important. To the extent that new technology can enable that, city government should embrace it.
Click here for more information about the Biz and Livia Stone Foundation launch party.
Related
Popular in the Community