If you think about it, almost all theme parks are bizarre. You've got your talking mice, your hallucinogenic landscapes, your rollercoasters based off stories of mutating humans and castles that spring straight from chauvinist fairy tales. But we're so accustomed to the strangeness of these everyday theme parks that their novelty has worn off a bit. Therefore, to experience the truly uncanny, we need to cast our net a little wider. Here's a list to get you started on that project: eight of the world's most bizarre theme parks.

Tierra Santa - Buenos Aires, Argentina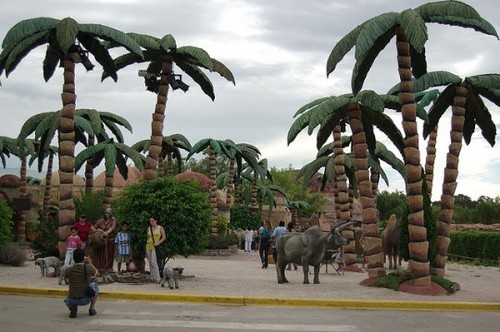 Photo Credit: Beatrice Murch via
Tierra Santa cast open its holy gates in 2000 AD, becoming the World's Original Religious Theme Park. Today it is rivaled only by the slightly-less-kitschy Holy Land Experience in Orlando. The park occupies a 17-acre estate that was once a football pitch and draws 20,000 visitors into its religious mists each summer as people come to see the Bible's most sacred stories brought to life by robotic puppets. It's the only attraction of its kind in Latin America, and one of only two in the world.
The grounds are decorated according to loose interpretations of biblical Jerusalem and are divided into 36 events from Christ's life, from his birth to the crucifixion and resurrection. This includes a fully-animatronic Genesis show of God creating the heavens and Earth, which features tons of lasers, and the Last Supper, a show in which the audience sits before 13 mechanical puppets who kind-of move while neon spotlights sweep around in myriad directions to the soundtrack of Handel's Zadok the Priest. There are also dry ice shows, 500 life-size statues and multiple fake limestone buildings. The closest thing to a ride is the "Rotating Ark of Joseph," a camel-based merry-go-round that serenades adventure-seekers with the Little Drummer Boy over and over again.
The main attraction is definitely "The Resurrection." Every half hour all action comes to a halt, triumphal strains of Handel's Messiah blast through the loudspeakers, and a 40-foot plastic Jesus rises from behind a rock as his palms swivel and his eyes open and close.
If this becomes too much for you head over to the Baghdad Café for a beer and check out one of the stage shows. The park is open on Fridays, Saturdays, Sundays and public holidays. Entrance is 50 pesos for adults, 20 pesos for kids. Nuns get in free.

Dwarf Empire - Kunming, China
Also known as "The Kingdom of the Little People", this amusement park in Kunming is all about, well, dwarves. Ranging from age 19 to 48, nearly 100 dwarves, all less than 51 inches, live and work at the park. During performances they pretend to live in small mushroom-shaped houses, but they actually live in nearby dormitories specifically constructed for tiny people.
The park's main attraction is the twice-daily musical performance, which climaxes with the presentation of the 3.3-feet-tall Dwarf King, who often wears a gold silk cape and rides a three-wheeled motorcycle around. There are also magic shows, dance numbers from ballets such as Swan Lake, and all sorts of variety performances that differ little from those found on Chinese television.
The park was founded in September 2009 by Chen Mingjing, a wealthy real estate investor who aims to eventually populate his kingdom with hundreds of people with dwarfism. The park has received criticism by organizations such as the Little People of America and Handicap International. Critics contend that the park isolates the handicapped from the rest of society and treats dwarfism as a humorous condition, while supporters claim the park provides employment for many Chinese dwarfs who would otherwise be unemployed, allowing them to build self-respect.

Bon Bon Land - Denmark
With its winsome cartoon characters, roller coasters, log flumes and candy, at first this seems like any other theme park. But if you move your attention to the mural depicting seagulls defecating into alligators' mouths, the dog that happily farts as you walk by, the exposed breasts of the pink bovine on the kiddie carousel, the chair-swing hanging from an intoxicated turtle, then things begin to grow a little disturbing. This is Bon Bon Land, a strange and vaguely unsettling theme park located some 50 miles southwest of Copenhagen. It is home to such attractions as the "Skid Mark" rollercoaster and a rapids ride called "Beaver Rafting."
Bon Bon Land's theme is derived from a line of sweets that was popular during the 1980s and '90s that featured flavors with weird names like "Dog Fart," which happens to be the inspiration behind the park's most famous ride, the "Dog Fart Switchback," which splurts flatulent noises at you as you rollercoast under a giant dog with its leg hiked up. The park is 34 acres and attracts some 450,000 visitors each season. Besides the horse poo and gull poo rides, the depictions of peeing ants and other defecating animals, you'll also find a mini candy factory and a cinema.
The park has been a great success with kids and over the years it's become one of Denmark's most popular children's parks, and in 2008 it was the eighth most popular tourist attraction in Denmark! Bon Bon Land is the creation of Danish confectioner Michael Spangsberg, who opened the park in 1992 to promote his developing candy business. It is now owned by the Spanish entertainment company Parques Reunidos,
General admission during summer months costs around $40.

Diggerland - United Kingdom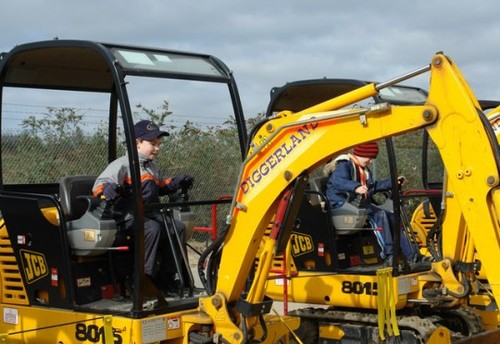 Photo Credit: Martin Barnard via
.
If you've ever driven past a field of construction equipment and thought "If only!" then Diggerland is the place for you. The idea of this theme park revolves around the insuppressible desire in us all to operate heavy machinery. It has four (!) locations throughout the United Kingdom and advertises itself as the "UK's most unique attraction, where children and adults have the chance to ride and drive REAL full size construction machinery, under the guidance of our trained staff - No driving licence required!"
This park allows you to make your Bob the Builder fantasies a reality! You can race dump trucks and backhoes around big lots of dirt of plowed-up dirt. You can even rides full-on rides that have been cobbled together from converted bits of heavy machinery, rides such as the Spindizzy, a modified Tilt-a-Whirl in which guests are strapped into the bucket of a giant excavator. For the more culturally inclined, be sure to check out a performance by the Dancing Diggers, a stunt show that takes place in a front-end loader. When the boss hollers "break time" you can head on down to the Dig Inn for burgers and chips.

Grutas Park - Lithuania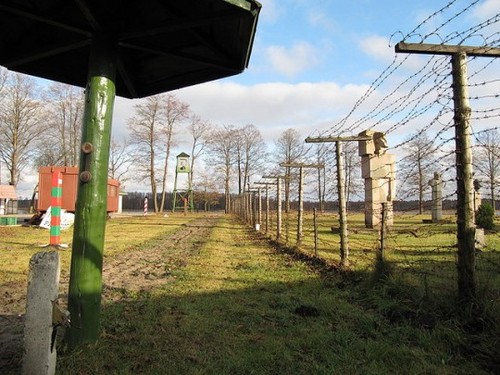 Photo Credit: Martijin Munneke via
.
Nothing says "fun" like Joseph Stalin... or at least that's the idea behind southern Lithuania's biggest tourist attraction, Grutas Park, an amusement park about 80 miles outside of Vilnius. It is locally known as Stalin's World and was designed to remind visitors of the draconian days of communism in Lithuania.
It doesn't have a roller coaster. It doesn't have a Ferris wheel. What it does have is a large park filled with statues of the USSR's most brutal dictators, statues that escaped destruction when Lithuania gained its independence. The exhibits are surrounded by barbed wire and imitation Gulag watchtowers that blare Soviet marching music. Pretty awesome, huh? The wooden walkways are designed to resemble Siberian prison camps.
If after all that Soviet nostalgia you still feel unsated head down to Bunkeris 1984, a Soviet-era bunker located 15 feet below ground in the nearby countryside. It is staffed by actual ex-members of the Soviet Army and for $50 you can experience what it might have been like to live as a USSR citizen in 1984. This means "watching TV programs from 1984, wearing gas masks, learning the Soviet anthem under duress, eating typical Soviet food (with genuine Soviet tableware) and even undergoing a concentration-camp-style interrogation and medical check."
There's also a Soviet-era playground for the kiddos, a restaurant serving Soviet-era dishes, and a petting zoo.

Harmonyland - Oita, Japan
When it comes to themed attractions, Japan has a lot of weird stuff going on. But for a real taste of Japanese culture you'll need to dive into the nationwide obsession with
, a.k.a cuteness. Anyone who knows anything about anything knows that the jewel in the crown of cuteness is Hello Kitty, and, luckily for the
-addicted, Japan has two entire theme parks devoted to this supernatural feline. You have the Sanrio Puroland in Tokyo, which is indoors, and the outdoor Harmonyland in Oita.
True Hello Kitty fans tend to favor Harmonyland, which has a greater concentration of bedazzled sparkly rainbows than probably anywhere else in the world. The idea here is to deliver the sort of standards found in world-famous amusement parks such as Disneyland in the likeness of Sanrio characters. Thus you have the Hello Kitty Ferris wheel, the Hello Kitty spinning teacups, the Hello Kitty variation on "It's a Small World After All." However, where Harmonyland really outshines her competitors is in its parades and stage shows, during which Hello Kitty and gang transform into water fairies. The shows also feature, according to the Web site's translated description: "A powerful fountain blowing up!" and "Fantastic mist spring up! This show is full of coolness!" Your journey comes to a conclusion as you make your way through happy cuddle land, which naturally involves lots of lasers.

Jeju Loveland - Jeju Island, South Korea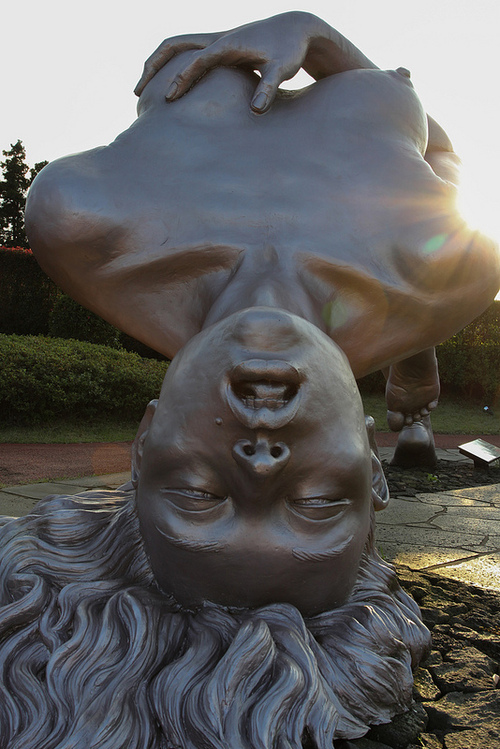 Photo Credit: whyyan via
.
Penetrate the parted legs of the entrance gate, pass the depictions of acrobatic and unbiblical love-making, and behold Nipple Mountain, for you, my friend, have entered Jeju Loveland. You're in for a stimulating experience.
With more than 140 different sexual sculptures, ranging the innocent smooching couple to the explicit threesome, the nice idea behind the park's founding (to loosen up newlyweds) risks being smothered in a sea of salaciousness. The concept behind the park is this: South Korean culture frowns on public displays of affection and living together before marriage, thus many coy newlyweds are invited to honeymoon on Jeju Island, where your hotel can provide you with a lap dance and other racy amenities to steam you and your partner up. The island became a popular honeymoon retreat after the Korean War, when many of the visiting couples were the product of arranged marriages and hoteliers took on the role of "professional icebreakers."
Besides phallic artwork, stone labia, busts of breasts and a hands-on "masturbation-cycle" exhibit (whatever that is) the park also features sex education information at its visitor center and a gift shop with its sorts of naughty toys. The park's website describes the location as "a place where love-oriented art and eroticism meet."
Children under the age of 18 are not admitted, but the immature are more than welcome, just be prepared, women, to grasp an erect penis to enter the bathroom. Men, you'll be turning the nipples of two breasts. A separate play area is available for minors while adults have their kicks.

The Holy Land Experience - Orlando, Florida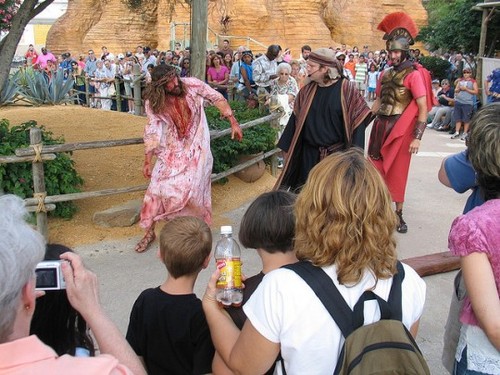 Photo Credit: DeaPeaJay via
.
If you looking for a hands-on sort of encounter with the Bible, look no further than the Holy Land Experience in Orlando. Don't expect roller-coasters and tilt-a-whirls, however -- the Holy Land is more like a sort-of outdoor museum, with approximately 40 exhibits, including: the Jerusalem Street Market, which recreates what the holy town may have been like 2,000 years ago (you can even pester the merchants!); the Calvary's Garden Tomb, a replica of the tomb where Jesus' body was sepulchered; and the Last Supper Communion, where guests can partake in Jesus and his disciples' last meal. If it's gore you want, head over to the 2,000 seat Church of All Nations, where you can watch a bloody recreation of the crucifixion and the resurrection and ascension of Jesus into heaven.
It's not all fun and games though. The Holy Land conducts weekly church services and bible studies for the general public. It also houses the impressive Van Kampen Collection of biblically-related artifacts, the fourth-largest collection of its kind in the world, including ancient scrolls, manuscripts and early printed editions of the Bible.
-David Jennings for Viator