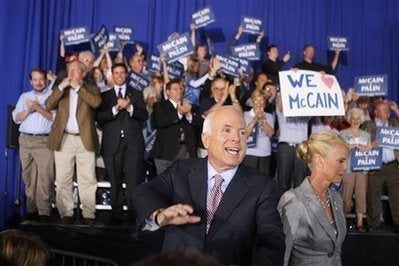 Late Wednesday night, news made its way from the other side of the Atlantic that John McCain, in an interview with a Spanish outlet, had made a series of bizarre responses to a question regarding that country's prime minister.
"Would you be willing to meet with the head of our government, Mr. Zapatero?" the questioner asked, in an exchange now being reported by several Spanish outlets.
McCain proceeded to launch into what appeared to be a boilerplate declaration about Mexico and Latin America -- but not Spain -- pressing the need to stand up to world leaders who want to harm America.
"I will meet with those leaders who are our friends and who want to work with us cooperatively," according to one translation. The reporter repeated the question two more times, apparently trying to clarify, but McCain referred again to Latin America.
Finally, the questioner said, "Okay, but I'm talking about Europe - the president of Spain, would you meet with him?" The Senator offered only a slight variance to his initial comment. "I will reunite with any leader that has the same principles and philosophy that we do: human rights, democracy, and liberty. And I will confront those that don't [have them]."
The implication seemed fairly clear: McCain was refusing to commit to meet with Zapatero, the "socialist" party leader, whose country is a member of NATO and intricately involved in many of America's global financial and national security objectives.
Already, several explanations are being offered to explain McCain's statements. As Josh Marshall at Talking Points Memo opined: "The great majority [of those who have weighed in] appear to think the McCain was simply confused and didn't know who Zapatero was -- something you might bone up on if you were about to do an interview with the Spanish press. The assumption seems to be that since he'd already been asked about Castro and Chavez that McCain assumed Zapatero must be some other Latin American bad guy. A small minority though think that McCain is simply committed to an anti-Spanish foreign policy since he's still angry about Spain pulling it's troops out of Iraq."
If, in fact, that latter group is correct and McCain was just putting voice to an adversarial stance, it could be as quizzical as if he didn't know Zapatero's name in the first place. Indeed, such a take on U.S.-Spain relations puts McCain in a far more hard-lined position than even the Bush administration, which has warmed to the Spanish leader after a rocky initial period. Indeed, the State Department's website touts the Zapatero government, which came to power in April 2004, for supporting "coalition efforts in Afghanistan" as well as "reconstruction efforts in Haiti" and counterterrorism tasks across the globe.
That Zapatero immediately withdrew Spanish forces from Iraq upon entering office, it seems, is being chalked up for what it is: an electoral promise the prime minister made good on. Secretary of State Condoleeza Rice touched on this during press briefing in June 2007.
"The United States and Spain are allies," she said. "We're in NATO together; we are serving together in Afghanistan. A lot of our conversation today was about that, working together on any number of issues. We've had our differences... [but] I feel that the relationship is warm. We had a good discussion today... We're allies. But when we have differences, we will express them. I think there's no secret that out of the Iraq war, we had a particular difference in the timing of the withdrawal. But that's behind us now, and we need to look forward and look to areas on which we can cooperate and work together."
Only days earlier, Daniel Fried, assistant secretary of state for European and Eurasian affairs, made much the same case in an interview with El Pais.
"I think that we got off to a bad start with President Zapatero's government," he declared. "There were various issues that got in the way. But the fact is, and the reason for this trip, is that the United States and Spain need to work together on a common agenda. Spain is one of the most successful European states of the last generation in terms of where Spain was in 1965 and where Spain is today. You weren't in 1965 the ninth or tenth largest economy in the world. You weren't a country that was fabulously productive, affluent and a leader in Europe. In 1965 you were some place else. Look at Spain now."
The truth is, even McCain has been willing to extend an olive branch to the Zapatero government in the past. John Aravosis of AmericaBlog - a fluent Spanish speaker - noted that McCain gave an interview to El Pais back in April in which he said that the differences between the U.S. and Spain should be swept under the rug.
And thus, the Senator finds himself in what appears to be an embarrassing if not potentially damaging proposition: either admit to confusing the name of the Spanish prime minister, a tough pill to swallow even with the built in perception that he is the candidate with foreign policy know-how, or explain away a position on U.S.-Spain relations that appears far outside the mainstream.
Popular in the Community