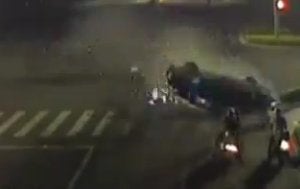 A tragic video of a bizarre car crash that killed three people in China in late August 2011 has gone viral.
The footage, which aired on a Mandarin-language newscast, was taken by a traffic camera in the southeastern city of Fuqing just after 5 a.m. on August 22, 2011.
According to a Chinese news report, it shows a deadly collision in which a car hits a guard rail, flips over and skids into two motorcycles, one of which was carrying a couple.
The Huffington Post consulted Mandarin speakers who confirmed that the newscast states that the three people on the motorcycles were killed in the crash. The fate of the car's driver is unclear.
WARNING: THE VIDEO BELOW CONTAINS A GRAPHIC DEATH SCENE
For example, several sources say that only two motorcyclists were stuck and killed, failing to account for a rider on the back of the vehicle on the left.
HuffPost contacted experts at the California Highway Patrol, who would not comment directly on the video since it occurred in China, which is well out of their jurisdiction.
However, a CHP spokesperson indicated that had this crash occurred in California, it may have been reported as an improper turn. Although "without knowing whether the driver was under the influence or not, it's hard to say for certain," she said.
According to the CHP spokesperson, improper turns are "listed among the top three primary collision factors, year after year."
Analysis of CHP data by The Huffington Post revealed that improper turns accounted for more than 19 percent of all motor vehicle fatalities in California between 2005 and 2009.
WATCH: Bizarre Vehicle Accident Kills Three In China
Popular in the Community