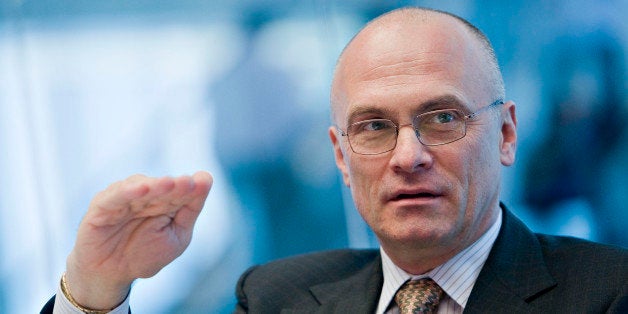 The President-elect's appointees to cabinet posts seem to come from a Bizarro world, where characters are the polar opposite of what their new positions represent: an energy secretary who denies climate change and expressed the desire to shut down that department; a health secretary who wants to privatize Medicare; an attorney general responsible for protecting voter rights who has a track record of opposing voting rights.
One of the most Bizarro examples is Andrew Puzder, CEO of CKE Restaurants and nominee for Secretary of Labor.
The mission of the Department of Labor (DOL) is clear: "to foster, promote, and develop the welfare of the wage earners of the United States, to improve their working conditions, and to advance their opportunities for profitable employment." Yet Mr. Puzder's public comments and his company's lingering controversies show him to be someone geared to undermine such a mission. He opposes improvements such as paid sick days or overdue adjustments in the minimum wage. Rather than advancing opportunities for wage earners, he wants to replace them with robots who, he says, "never take a vacation, they never show up late, there's never a slip-and-fall, or an age, sex, or race discrimination case."
The DOL is responsible for enforcing workplace protections such as wage theft and health and safety, yet Mr. Puzder's company has a long track record of violations of these very laws. The National Restaurant Association (NRA), which lobbies to stop any measures that promote the welfare of workers, applauded Mr. Puzder's selection as Secretary of Labor, calling him an "active member of the association."
The Women's Bureau of the DOL has been a critical tool for improving the employment of women, who make up the majority of restaurant workers. Mr. Puzder's demeaning comments about women make him wholly unfit to oversee this bureau. His workers say they experience sexual harassment at even higher rates than restaurant workers in general - not surprising when the boss says, "We believe in putting hot models in our commercials, because ugly ones don't sell burgers."
Compare Bizarro nominee Puzder to the current Secretary, Tom Perez. Secretary Perez has used his office to initiate roundtables with workers to illustrate the need for and benefits from laws that raise their earnings and ensure they won't be fired or docked their pay when they're ill. He has reached out to business owners as well best practice employers who make the economic case for investing in their workers and want minimum standards to ensure every business does the same.
Or compare him to Julie Su, the California Labor Commissioner who would have been a candidate for Secretary of Labor had Hillary Rodham Clinton become president. Su's motto for the California Department of Labor came from a third-grader's drawing about garment workers that asked, "¿Cual vale más, una camisa o una vida?" Which is worth more - a blouse or a life?
Last September I heard Su speak to representatives of state labor agencies responsible for enforcing paid sick days laws. "My job is to ensure labor laws are meaningful and real in every place in the state," she said, "to show that every working person is valued." When someone told her that 'wage theft' is a hostile term, she replied, "Wage theft is a hostile act."
Ms. Su described her approach to enforcement: "We are on the side of the law - that puts us on the side of good employers who play by the rules. It also puts us on the side of workers who've been cheated. We should be impartial, of course, in adjudication and fair in evaluating evidence. But we are not neutral. The law is on our side." For employers who threaten someone about their immigration status when they stand up for just treatment, Su's position was clear: "That's not only illegal, it's extortion under criminal law."
The President-Elect has thrown us into a Bizarro world. The effort to reverse democracy, workers' rights and civil rights is deeply dangerous, but one that large numbers of Americans and elected officials will resist and ultimately overturn.
Calling all HuffPost superfans!
Sign up for membership to become a founding member and help shape HuffPost's next chapter