Bryan James Sledge also known as BJ The Chicago Kid was the new "Discover Weekly" artist on my Spotify. His newest album, "In My Mind" embodies love, spiritually and his Chicago upbringing into one sound. BJ, who combines soulful gospel melodies with R&B harmonies, has been unknown to the mainstream audience for over a decade. Only recently has his name been featured with some of the hottest and successful hip-hop acts out now such as: Kendrick Lamarr, Anderson .Paak and fellow Chicagoan, Chance the Rapper.
However, most of us have been familiar with his voice since Kanye West produced "Impossible" featuring Twista and Keyshia Cole. The backgrounds vocals from that track is BJ doing what he does best; harmonizing with the same soul-touching spirit that reminds you of Donny Hathaway while inserting his unapologetic gospel root sounds effortlessly. I wanted to know if BJ the Chicago was as transparent as his music portrays him to be.
"At the end of day man, be crazy about something" BJ the Chicago Kid says on, 'Crazy', a song from his latest album.
When the opportunity presented itself to have a sit-down with BJ here in New York City, I took it. I wanted to talk to him because so many unanswered questions surrounded him. Why doesn't he tell his age? Does he feel conflicted with his lifestyle and spirituality? Could he really be related to the late, great Percy Sledge? How did this independent artist catch the attention of Motown records? When he finally arrived at the AOL Headquarters, to my surprise, he was unusually humble, welcoming and soft spoken.
"I don't lie about my age, I just don't tell my age", BJ responded to me when I asked why he doesn't reveal his age in interviews. He told me that his age doesn't really matter when it comes to his music because everyone can relate to it. As I observed his mannerisms, he has a mischievous smile but it's very childlike. He's very engaging and candid when talking about his music and Chicago roots.
A big part of BJ's life is his upbringing in the church. He does not shy from his "church-boy" persona - he embraces it, but he refuses to overwhelm his fans with religious talk, but encourages the spirituality aspect of religion.
Q. What church did you go to in Chicago? What denomination are you?
BJ: I went to sanctified church. Like real sanctified.

Q. Really? Which one?
BJ: (The late Dr. Richard D. Henton) Henton (RD Henton Ministries).
Q. Who are some of your favorite Chicago artists?
BJ: Reggie Lewis, (singer) Ashley Washington (singer), Chase Harrison (guitarist, songwriter, drummer and bassist) and Aaron Sledge.
Q. Who are some of your favorite artists in general?
BJ: J Dilla is one of my favorites. One of my favorite J Dilla tracks is " Lightworks".

It was interesting he mentioned Aaron Sledge as one of his favorite hometown artists whom he also shares the last name with. Both artists are allegedly related to R&B legend Percy Sledge. Motown picked him up after he released his independent project, "Pineapple Now and Later." The reference of this particular candy paints plenty of Chicago childhood memories of going to the "Candy Lady" in your neighborhood that had an illegal 'candy store' in her house where you would buy candy, quarter waters, and cookies. Even though BJ lives on the west coast now, Chicago is never too far from his heart or music.
It's also not surprising that BJ is a J Dilla fan. For those that know about the late super producer and rapper you would understand how J Dilla's soul-infused jazz influenced tracks mixed with hip-hop basslines made some of the best tracks in history. Could you imagine BJ's voice on a J Dilla track?
I asked BJ if he felt extra pressure since he's signed to Motown and he confided in me that there's certain pressures but overall he feels quite confident. His confidence isn't intimidating, however. It's more so reassuring. He revealed that he wrote 60 songs for this album (his album has 15 songs).
Whether his gift of music is in his genetic makeup or through years of dedication he's put in his dues. He's also a percussionist. Some of the best singers we've ever heard sing also play an instrument (or several); Prince, D'angelo, Donny Hathaway, Stevie Wonder, Sly Stone and a host of others to name a few.
"I don't have to say I'm black. My whole life is black. I don't have to state my blackness. You know this is black music when you hear the bassline. I'm in my niche."
BJ and I also discussed how the media portrays the city of Chicago. Does he keep his ear to the streets and to the politics of what's happening in Chicago? Does he agree with the Chi-Raq title? He shook his head when I mentioned Chi-Raq.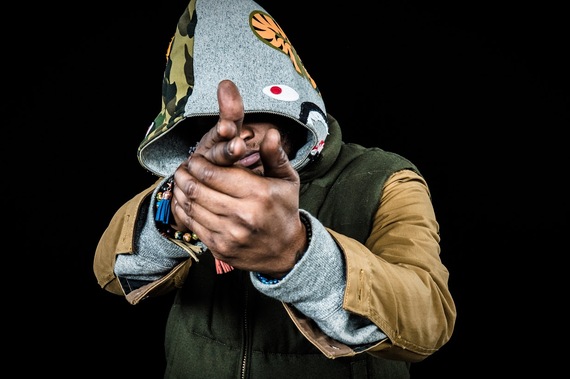 "The problem in Chicago didn't just start. It's rooted in not just this mayor - [it's] the mayor before him and his father who worked with the mob. Chicago is a scapegoat for news and media. People ask me to help people in Africa but before I help them, I have to help the people I see outside my door that I see before I get into my car." Sledge tells me with conviction.
After we concluded our interview, I saw BJ perform that same night a SOB's. The standing room only crowd was hard to navigate but nobody seemed to mind. Not only did BJ sing, he played the drums and the crowd screamed for an encore. The crowd knew and sung along with all of BJ's songs. It felt like I was watching history in motion.
After the show, I went backstage and he looked so exhausted. He still smiled at fans, reporters and camera people as he took pictures, signed autographs and was being interviewed. He caught his breath and told me he was "in the zone" and he felt great that he was so well received in a New York City crowd. As he opened his book bag and pulled out his traveling size jar of kush, he rolled one perfect blunt as he was rushed by his team to continue his interviews.
I stayed even after my interviews and camera died. There were still so many people talking about BJ, mentioning other artists and future collaborations. I even overheard a lot of Grammy talk too. BJ The Chicago Kid has definitely earned every accolade his has received and will receive. He is that young man that would serenade you when your twist out is a fresh. He is the raw emotion of your favorite rapper who refuses to show emotions or cry. BJ The Chicago Kid is that Nate Dogg feeling you have been missing. He is more than a gospel soul singer; he's an innovative visionary with the ability to give your favorite singers their soul back or at least, direct them to finding it.
Calling all HuffPost superfans!
Sign up for membership to become a founding member and help shape HuffPost's next chapter