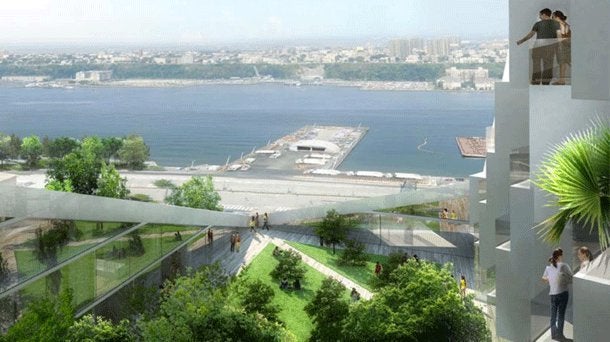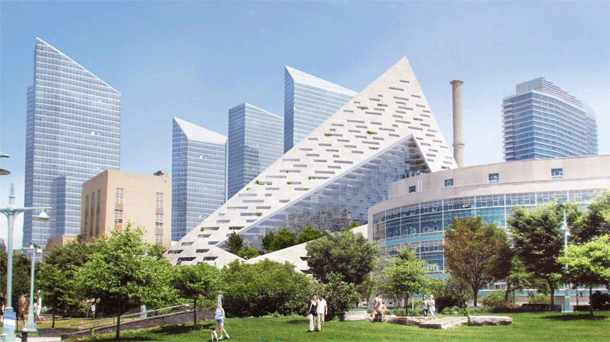 Viewing W57 from South West. Photo courtesy of BIG.
Bjarke Ingels' newest project for Durst Fetner Residential at 57th Street along the West Side Highway is indeed quite BIG on urban references: Manhattan skyscrapers against courtyard gardens and parks. While this duality may first appear rather plain, I assure you BIG's scheme is unlike anything you've ever seen before, certainly within New York City.
For those less familiar with this emerging rockstar Architect, Bjarke Ingels founded BIG (Bjarke Ingels Group) in 2005. The firm is headquartered in Denmark, but is now happy to likewise call NYC home. BIG's body of work emerges out of a careful analysis of how contemporary life constantly evolves and changes, not least due to the influence of multicultural ex­change, global economic flows and communication technologies that together require new ways of architectural and urban organization. In all instances the firm strives to move the focus from the little details to the BIG picture. And W57 most definitely keeps to this philosophy.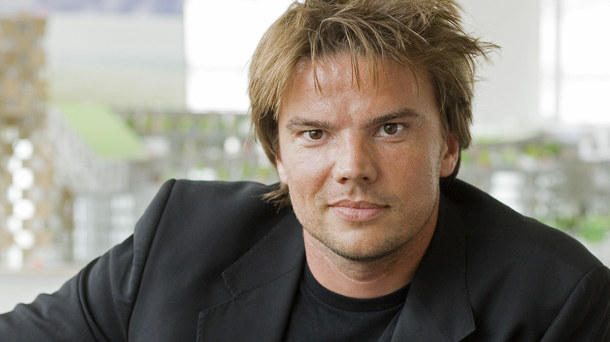 In collaboration with SLCE Architects, Starr Whitehouse Landscape Architects, Thornton Tomasetti, Dagher Engineering, Langan Engineering, Hunter Roberts Construction Group, and Glessner Group, BIG develops a scheme that's meant to reflect a hybrid of European perimeter block -- courtyard enclosed by mid-rise apartment building -- with the archetypical tower plaguing the NYC groundscape and skyline, an output from an architectural vernacular Bjarke has labeled "pragmatic utopianism."
I was fortunate enough to spend some impromptu time with Bjarke on Monday onsite at 57th Street and let him share some of his insights for W57.
Some annotation regarding what you can expect from this interview. Bjarke discusses his initial childhood dream to one day be a graphic novelist; this may explain why W57 first came into spotlight in comic book format.
Fast forward a number of years, Bjarke conveys his fascination with America, commenting how he's amazed that New York City has developed so many bike paths that it's today surpassed Copenhagen as the most friendly bicycle city in the world, a tremendous achievement. And that America is likewise responsible for the fine cuisine known as Surf & Turf. While I may sound as though I'm attempting at humor, this is all in fact true. But more amazing, Bjarke is absolutely the only architect that is capable of telling this story with such poise, wide knowledge of academia, supreme wit, and charm.
I know Bjarke has already taken the world by storm at only age 36, but I want to emphasize that we have a very special talent in our midst, and I know for sure that I'll be featuring BIG again soon, for yet another scheme that re-invents typology and invigorates so much energy across the industry.
Signing off live from W57.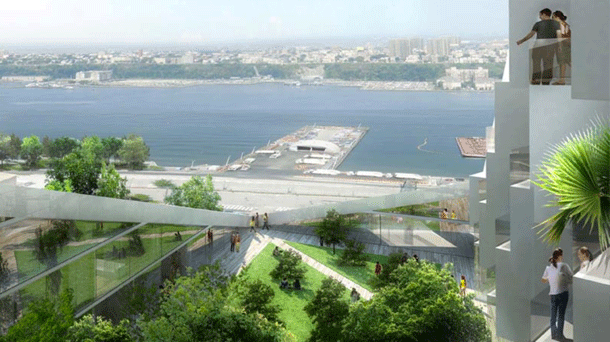 View looking West over interior courtyard and out to Hudson River. Photo courtesy of BIG.
Calling all HuffPost superfans!
Sign up for membership to become a founding member and help shape HuffPost's next chapter