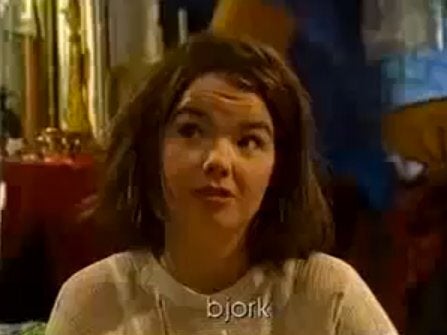 "From The YouTube Archives" is a HuffPost Culture series that's as simple as it sounds. We take a break from the breaking baby sloth virals to share vintage videos (also) worth watching.
Every so often we trawl the depths of YouTube and find a creature with familiar parts arranged in new and beautiful ways. Today is one of those days, as we present to you an early nineties clip of two of today's coolest ladies in music: Bjork, the Icelandic song fairy, and Caitlin Moran, British Lady Gaga chronicler extraordinaire. Moran now writes exquisite pop journalism for The Times (she, the lone non-stodgy Times writer), but there was a time she was the fast-talking, big-haired co-presenter of BBC Channel 4's "Naked City," a nineties Q&A known for getting music stars into what looks like a Wiccan's dorm room.
In this clip, Moran talks to a 27-year-old-but-looks-16-year-old Bjork, recently split from The Sugarcubes, living in London with her son, and in possession of a startlingly good solo debut, the well-named Debut. Start to end is essentially one long highlight, but if we were forced to name favorites within, tiny Bjork wrinkling her nose at a glass of wine in favor of "getting obliterated" "properly" on two bottles of vodka is pretty good. Her damning take on British self-love isn't shabby watching either, nor is Moran's fixation on making Bjork chubby. Also, Bjork on her idol in the art of observation, "David Attenboo-ruh"! So...all good? All of it? Yes, pretty much. You watch now!
Addendum: there's also about a half-second at the start where someone's holding up a baby? This video!
Calling all HuffPost superfans!
Sign up for membership to become a founding member and help shape HuffPost's next chapter