The news came Saturday, coincidentally just one day before the couple's baby special ― part of their "Rob & Chyna" docu-series ― was set to air on E! The special follows the birth of the couple's first daughter, Dream.
The Huffington Post has reached out to representatives for both parties for more information regarding the news, and will update this post accordingly. 
In one Instagram caption, via People, the hacker posing as Chyna wrote, "I no longer am with Rob. I left him and took the baby and did not even let him know." Rob later confirmed on his Instagram page that Chyna left with Dream.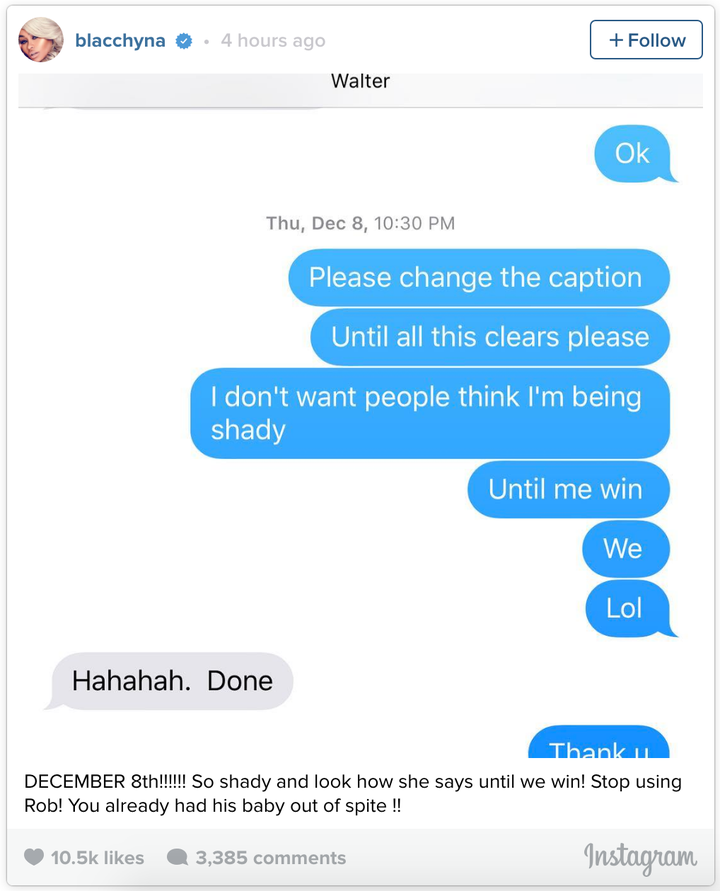 According to People, the hacker also posted alleged conversations between Chyna and rapper Young Thug, in which he apparently says he wants to "stunt" with Chyna. Another conversation, purportedly between Chyna and Jaden Smith, shows Smith bringing up Kylie Jenner's relationship with Chyna's ex Tyga. There's no date visible on the supposed conversations, so it's unclear if they took place recently or before Chyna was with Rob. 
In another reported conversation, between Chyna and her friend Treasure, Chyna called Rob "lazy, fat, insecure."
Chyna tried to clear the air following the hack by sharing a video on Snapchat. "Just to let y'all know, that's not me on my IG page, that's somebody that hacked me," she says. "And somebody's really, really, really, really mad." According to Us Weekly, she told fans to follow her on a new page. 
In response to all the Instagram posts on Chyna's account, Kardashian shared a video on Snapchat (later posted to Instagram), saying he's "not feeling so good."
"My baby girl is 1 month old and Chyna took her and left this beautiful home that I just bought for us. Right before Christmas. Someone I have given my all too [sic]," he wrote. "I Loved every inch of that woman and loved everything that came with her. I truly loved Angela. I gave everything I owned for her. Didn't know I was just part of her plan." 
Chyna seemingly responded to Kardashian's videos by sharing a screenshot of one of Kardashian's clips on her new Instagram account along with a lengthy caption. The post has since been deleted. 
"I'M DONE," she wrote, via People. "This entire year I have done nothing but help Rob! It's so SAD & PATHETIC how low he'd stoop to cover up HIS PERSONAL ISSUES! I have done nothing but help & loved him from the beginning! It's Chy here I got my own!!! I was doing swell before I got with him! I got him out of khloe's house, helped him lose all that f**king weight for him to do nothing & gain it all back! Rob asked for all of this! Rob begged me to have Dream! He stressed me out my ENTIRE PREGNANCY!!! Accusing me of cheating, going crazy on me with massive text blast daily! being an absolute lunatic & then cover it up with gifts!"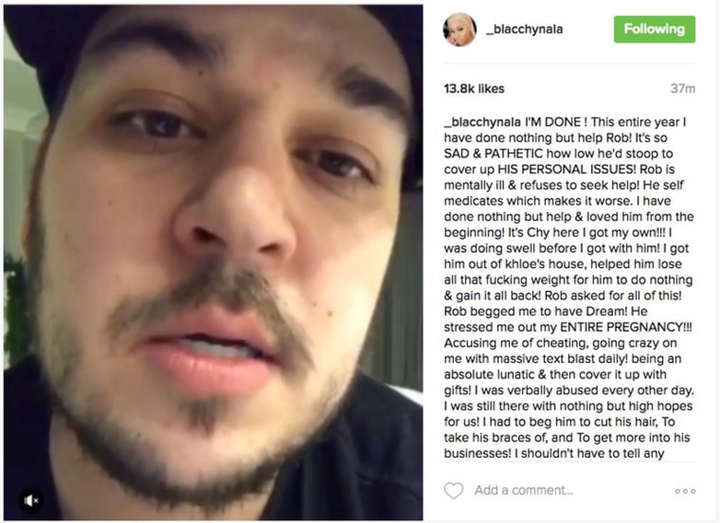 Chyna reportedly went on to write she was verbally abused "every other day" but maintained "high hopes" for her and Kardashian. She also reportedly wrote that she never cheated on Kardashian and said the messages shared by the hackers were "OLD AF." 
The post went on to suggest Kardashian was the one behind the hack, noting Chyna gave him the passcode to her phone because she has "nothing to hide." 
"He only did this because when he went through my phone he couldn't find anything to be mad about!" she wrote, via People. "He knows where we are! Honestly it's only so much a person can take. Everyone has tried to help Rob. I've gone beyond to help & so has his family!"
Kardashian responded, again using Snapchat. This time, he shared clips of Dream's empty nursery as he told followers Chyna left with everything they built for the baby.
"Chyna knew exactly what she was doing to get me. I can't believe she did this to me," he wrote, adding, "This is killing me."
Since posting his videos, Kardashian continues to share photos on Instagram, with the most recent image early Sunday afternoon being of baby Dream. 
Chyna also continued posting on Sunday, with her most recent post stating that "everything would be explained after the show tonight."
Calling all HuffPost superfans!
Sign up for membership to become a founding member and help shape HuffPost's next chapter
BEFORE YOU GO
PHOTO GALLERY
The Kardashians