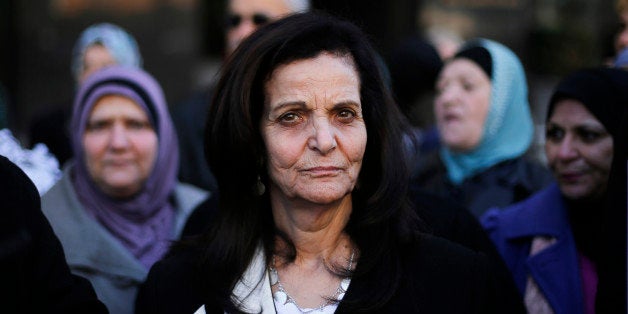 As a Black activist, many people ask me why I choose to support Palestinian rights. While the answer is in some ways complicated -- triggering significant personal and political questions for me -- in other ways it is quite simple: I stand in solidarity with anyone fighting for freedom. No one is free until everyone is free from oppression.
This is why I actively struggle against homophobia, sexism, anti-Semitism and other crippling forms of injustice. This is why I challenge the brutal occupation of Palestine, and support the construction of a safe, peaceful and sovereign Palestinian state. This is why I advocate for the rights of political prisoners around the globe.

And this is why I fight for the release of Rasmea Odeh.

Odeh's story is a fascinating one. Born in Lifta, near Jerusalem, Palestine, in 1947, Odeh came to Michigan in 1994 and became a citizen in 2004, when she moved to Chicago and began working with the Arab American Action Network (AAAN), a community-based organization providing advocacy and social services to Arabs in Chicagoland.
Bringing four decades of community organizing experience to the AAAN, she founded the Arab Women's Committee, which now has close to 700 members, and provides leadership development, political education and organizing skills training to immigrant Arab women. Her work became so recognizable across many movements in Chicagoland, including immigrant rights, racial justice and women's rights, that she received the Outstanding Community Leader Award from the Chicago Cultural Alliance in 2013.

Considering her impeccable reputation, the community was stunned when she was arrested in October 2013, and charged with "unlawful procurement of naturalization." The indictment alleged that, while giving answers to questions on her U.S. citizenship application in 2004, she did not disclose her arrest by the Israelis in Palestine from almost 40 years earlier.
What everyone now knows is that her conviction in 1970 was by an Israeli military court, which "convicts" over 99.7 percent of Palestinians who come before it; and that it was allegedly based on a false confession made by Odeh after over 20 days of vicious rape, and other physical and psychological torture. She spent 10 years in Israeli prisons for a crime she maintains she did not commit, and now the U.S. wants to put her in prison again.

In Detroit in November 2014, Odeh was convicted and sentenced to 18 months in prison as well as deportation from the U.S. But she was reportedly not allowed to call the conviction by the Israelis in Palestine unlawful, or testify about the torture and rape. It seems she was not allowed a full and fair trial.

This is why Odeh is appealing the conviction, and why I am supporting her. And I am not alone. Her case has become a cause celebre, and a campaign has been established for her defense, building support from over 50 community, faith, labor, anti-war, Palestine support and other organizations across the country.

There is simply no reason why this venerable woman should be in the vice grip of the U.S. justice system, except that she is a Palestinian freedom fighter being railroaded for her commitment to justice. Odeh has already spent over a month in prison -- three weeks of it in the torturous conditions of solitary confinement, allegedly. In essence, this has been a political show trial from the beginning, seems to have been designed to give the appearance of justice rather than what it actually is: political retribution. Odeh is being prosecuted and persecuted for having the audacity to survive and remain steadfast in her resistance to injustice.

Like many Palestinian freedom fighters, Odeh's story should resonate with Blacks here in the United States. She is the victim of a criminal military court system in Israel, much like many Black people are victims of a criminal racist justice system in the U.S. Given the long history of government surveillance (like COINTEL-PRO) against Black resistance movements in the United States, as well as the recent wave of arrests against post-Ferguson activists, it is critical that we not allow the State to criminalize Black and Brown dissent.

Odeh's is an important story. A story of Palestine. A story of refugees, of military occupation and torture, of political imprisonment, of women's rights organizing, of freedom. But Odeh's must also be understood as a Black story. A story of global resistance to colonial power. A story of challenging unjust government action. A story of solidarity.

She should have never been arrested here, let alone convicted. And I am hopeful that on October 14, the appellate court will reverse the conviction and allow her to live her proud life in peace.
Calling all HuffPost superfans!
Sign up for membership to become a founding member and help shape HuffPost's next chapter