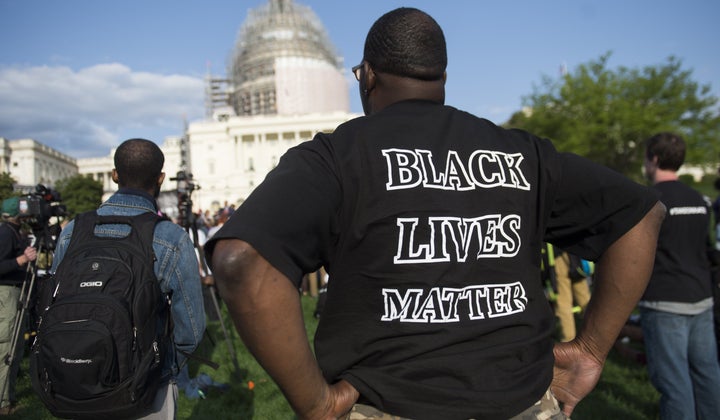 WASHINGTON -- Both the Democratic and Republican National Committees have agreed to give their blessing to a presidential town hall set up by activists in the Black Lives Matter movement. But organizers within the network have said that gesture isn't enough. They want the parties to devote one of their official -- and more high-profile -- debates to racial justice issues.
"We remain unequivocal that a presidential town hall with support from the DNC does not sufficiently respond to the concerns raised by our members," the Black Lives Matter network said in a statement last week. "We want a debate supported by the DNC that will speak directly and proactively to the issues impacting black people in this country."
Black Lives Matter is a topic that has been routinely neglected during the Democratic and Republican debates -- it either hasn't come up or was quickly brushed aside. Activists have even started a petition, directed at DNC Chair Rep. Debbie Wasserman Schultz (Fla.), calling for a dedicated presidential debate.
Elle Hearns, a strategic partner for the Black Lives Matter organization, argued Thursday on
HuffPostLive
that debates are significant because they are officially sponsored by the parties. Forums, however, are sponsored by outside groups, and the candidates are not onstage together engaging one another.
Still, a town hall can be an important opportunity for "real people" to challenge the candidates on issues affecting their communities, says organizer Zellie Imani, who has been heavily involved in the movement.
"While I think both channels give opportunities to deepen the conversation around black lives, the town hall creates the space for real people to ask real questions and hold the candidates accountable," he told The Huffington Post.
HuffPost contacted several other black activists and organizers to ask them what question they would pose to candidates at a Democratic debate. Questions were geared toward Democratic candidates because black voters -- especially black women -- tend to vote Democratic. Black Lives Matter maintains that because black voters are being brutalized in their own communities, in order to gain support, Democratic candidates must answer some hard-hitting questions.
"If elected Commander in Chief, what policy can black constituents hold you accountable to as it relates to substantially decreasing the military budget and what social programs would you want to see funded with that substantial decrease?" - Dennis Black, a community organizer who helped set up emergency water stations in Detroit
"How do you plan to address Black Lives Matter beyond the viewpoint of police brutality and criminal justice (i.e health care, black unemployment rate, housing discrimination, etc.) upon becoming President of the United States?" - Martese Johnson, UVA student and activist who was beaten by state liquor agents in March
"This has been the deadliest year for folks like us on record. What will you do to end violence against black trans women and gender nonconforming folks? Including the violence we face at the hands of the state like being criminalized for sex work and substance use." - Cherno Biko, a human rights advocate who raises awareness about violence against transgender women of color through social media
"Prisons are disproportionately filled with black and brown bodies. Once you are convicted and imprisoned, it greatly limits your ability to fully participate in society. This means that many black and brown people, upon leaving the prison system, are left without the societal support and enough options to ensure they don't end up back in prison. What would have to change about our justice and consequence system so that people will be held accountable and responsible for their actions but not make them [a] pariah in society?" - Angela Abiodun, an education organizer and former Teach for America corps member
"Reforming law enforcement practices regarding race requires a complete overhaul, beginning with the pre-employment screening process for those applying to enter the academy. In many cases that have become prolific in the BLM movement, officers involved in fatal shootings have had numerous red flags that should have prevented them from joining the force in the first place. How does each candidate, and the Democratic Party as a whole, plan to initiate police reform if the party succeeds in winning the election?" - J. Skyler, an author, public speaker and activist on LGBT history, culture and politics
"Black children under perform academically in comparison to their white peers. How will you ensure that public schools, regardless of the racial and economic breakdown of their students, provide comparable and competitive education?" - Aleidra Allen, a program coordinator with the Student Involvement Center at St. Louis University
This story has been updated with a question from J. Skyler.
Popular in the Community