I have Twitter to thank for introducing me to books that I might have otherwise missed.
Recently, many of the Latino and Latina writers I follow started to Tweet about a New York Times review of Ashley Hope Pérez's young adult novel, Out of Darkness (Carolrhoda Books / Lerner Publishing). The Times review (by Damien Cave) described the book as a "layered tale of color lines, love and struggle in an East Texas oil town" in which "a tragedy, real and racial, swallows us whole."
I was intrigued, so I reached out to Pérez (who is an assistant professor of world literature at Ohio State University) and requested a review copy. When it finally arrived, I jumped right in.
Well, she had me at the novel's prologue which is set in New London, Texas, on March 18, 1937. In those few, first pages, Pérez relies on evocative, restrained language to describe what could only have been hell on earth: dusty men combing through a school's rubble collecting children's bodies and body parts, hoping to find survivors, the children of the town, their children. That horrific gas explosion changed the future of New London and its residents forever.
This novel is as stunning as it is truthful, a narrative shaped by history and love that honestly explores racism, abuse and a young woman's tenacity to fashion a life on her own terms. Pérez has contributed an important, meticulously crafted book to young adult literature.
Pérez kindly agreed to answer a few questions for Latino Voices about her remarkable, heartrending book.
What inspired you to use the 1937 New London explosion as a springboard to create a fictional world around the very real segregation during that era?
ASHLEY HOPE PÉREZ: I grew up just half an hour from New London, Texas, but I never heard about the explosion in school. I didn't know that, in the Pleasant Hill Cemetery, gravestone after gravestone is carved with the date "March 18, 1937." I didn't know that the death count was nearly 300. I didn't know that few families had intact bodies to bury. A painful silence surrounded the disaster for years, and only in the 1990s and 2000s did survivors begin to speak about it. Those testimonies were so gripping that once I heard them, I knew I wanted to write about the explosion one day.
I also knew early on that my book would center on characters from the margins of mainstream history. When I began my research, I discovered that, at the time of the explosion, the New London school was the richest rural school in America thanks to oil revenues. Poor children of oilfield workers had access to tremendous educational resources: chemistry labs, band instruments, foreign language courses, even college credit. All during the Great Depression.
But because the New London school was a "white" school in a segregated community, no black children attended the school. I imagined a mother's private response to the fact that her children were spared precisely because they'd been excluded. And I imagined how the New London school might bring a Mexican American family to the area to give their children access to opportunity unimaginable in cities like San Antonio, where school segregation included "Mexican" schools for Latinos. I imagined these possibilities because the historical record only addressed the white experience in New London. I wanted to write from that erasure, to narrate from that silence.
Why did you decide to explore bigotry and sexism through two young people who fall in love?
ASHLEY HOPE PÉREZ: It wasn't so much that I wanted to explore these darker realities. I chose the setting for the novel, and I chose my characters, and then I had to contend with the consequences of those choices for the story. The racial realities of 1930s Texas make a public relationship impossible for Wash, who's African American, and Naomi, who's Mexican American. Most of their time together is spent deep in the woods, often hidden inside a hollow tree. Theirs is a passionate love, but it's also expansive enough to enfold Naomi's younger twin siblings, who adore Wash and depend on his friendship in the face of their father's indifference. Naomi and Wash's love anchors an improvised secret family out in the woods.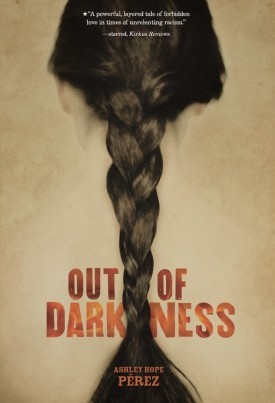 Have you received any interesting or surprising responses to your novel?
ASHLEY HOPE PÉREZ: The response has been overwhelmingly positive. Of course, folks have strong reactions, but that doesn't surprise me. Out of Darkness deals with layers of tragedy, and pieces of my own broken heart are embedded in it.
I'm especially honored when readers make important connections between the novel and the injustices that persist in our society, especially the vulnerability of black and brown bodies in public spaces. Above all, I hope Out of Darkness shows how reckoning with the darkness of the past can make us hunger for light -- and for a more just future.
Popular in the Community