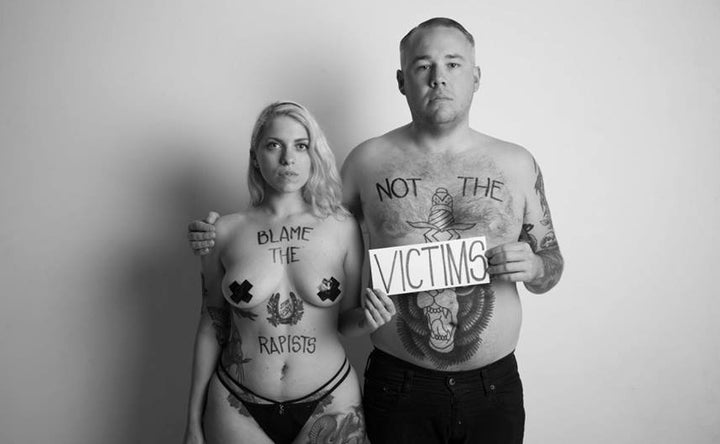 "Marriage is not consent." 
"I don't want my daughter to be the one in four." 
These are just a few of the powerful phrases featured in a recent photography project called "Still Not Asking For It." Created by Australian photographer Rory Banwell, the photo series aims to fight domestic violence and sexual assault by raising awareness about consent.
The series features people half-dressed or in their underwear with phrases of their choice like "Not an invitation" and "Your body your choice" written on their bodies or on signs they're holding.
Banwell told The Huffington Post that some participants are survivors of domestic violence or sexual abuse, others are relatives of survivors and some are simply just passionate advocates.
Banwell told HuffPost that the on-going project began in 2014 when she and her husband found out while she was 25 weeks pregnant that they were having a baby girl.
"As soon as my husband and I found out that we were having a girl, we both had a little freak out knowing that we would have to protect a teenage girl," Banwell said. "Most people I know (including myself) have suffered some form of sexual or domestic violence in their lifetime... and it absolutely terrified me thinking that my daughter could go through the same thing."
Banwell received some criticism about the lack of diversity in the series when she posted the photos to her Facebook page in November. She told HuffPost that it's her goal to represent a broad range of races and genders since the project is far from finished. "I would love to have more people of color, men and anyone else who would like to be a part of the project," she said.
Scroll below to see more of Banwell's "Still Not Asking For It" series. 
Head over to Tumblr to read more about Banwell's project.  
PHOTO GALLERY
40 Powerful Images Of Surviving Sexual Assault
Calling all HuffPost superfans!
Sign up for membership to become a founding member and help shape HuffPost's next chapter