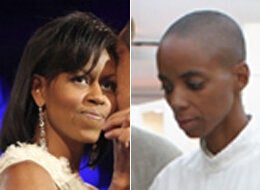 Update 1/27:According to WWD, Black Artists Association co-founder Amnau Eele has received death threats in response to her public criticism of Michelle Obama for not wearing an African-American designer to the inauguration.
She told the magazine, "We don't represent designers, we represent painters. We spoke up for black designers because we felt it was the right thing to do."
Eele is planning a forum on African-American designers and their careers in New York next month.
Original post 1/26:The Michelle Obama fashion backlash has begun, as far as the Black Artists Association is concerned. The group is publicly chiding the First Lady for not wearing an African-American designer during any of the inaugural festivities. On inauguration day, Obama wore Cuban-American designer Isabel Toledo, and at night she wore a gown by Taiwan-born designer Jason Wu.
BAA's founder Amnau Eele, a former model, told WWD:
"It's fine and good if you want to be all 'Kumbaya' and 'We Are the World' by representing all different countries. But if you are going to have Isabel Toledo do the inauguration dress, and Jason Wu do the evening gown, why not have Kevan Hall, B Michael, Stephen Burrows or any of the other black designers do something too?" Eele said.
Related