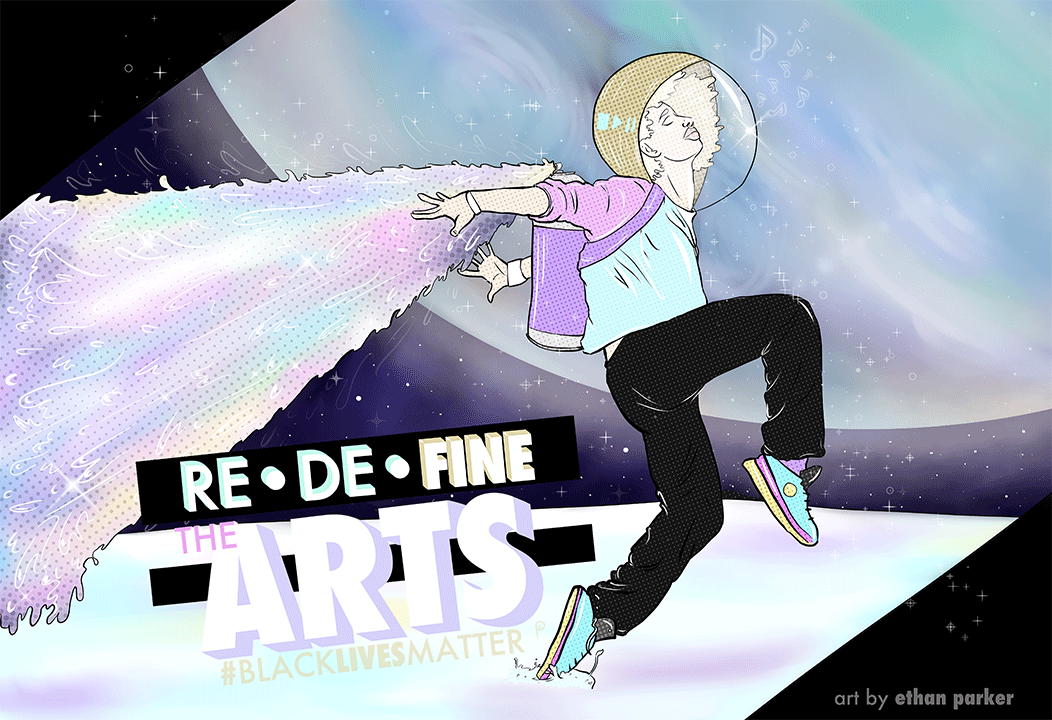 The Movement for Black Lives is a demand for an end to state violence against Black people - all Black people - a demand which grows louder every day. But once white supremacy has been torn down, patriarchy destroyed, ableism and class oppression eliminated, systematic oppression against trans, nonconforming and queer communities eradicated, what do we replace it with?
For centuries, Black art has been the vanguard for answering that question. Through music, film, dance, poetry, fiction, prose, the stage and beyond, Black artists have created new worlds and ways of living, sparking vital, paradigm-shifting ideas or prompting further necessary questions in exploration of what a revolutionary future looks like. Morrison and Hurston force us to reckon with raced and gendered violence. Baldwin broke open for us new ways of perceiving identity and white pathology. Ailey redefined modernity.
The last month and a half has been deluged with conversations on diversity in the arts, particularly in Hollywood. For the second year in a row, no actors of color were nominated for an Academy Award, echoing much of the Academy's 92 year history of recognizing predominantly white men.
But this conversation is not just limited to Hollywood. Mainstream arts in general have historically been dominated by one voice - the white, cisgender, straight, able-bodied male. Yet, Black art has not only remained vital to the Black experience despite this, it has also informed and been appropriated by the singular, dominating voice all the while.
Black art has always been here and has always been a necessity, though simultaneously being overlooked and rendered not to matter.
The Movement for Black Lives has generally used as its rallying cry the phrase "Black Lives Matter." It began as a hashtag created by Alicia Garza, Patrisse Cullors and Opal Tometi, but it was always more than just a hashtag - it was a demand. Our lives matter and this is not up for debate.
Like Black lives, Black arts do matter, regardless of the prevailing narrative, and they have always mattered. But it's worth considering whether "Black Arts Matter" is a demand too, or when the question of "diversity" becomes a debate.
Black art has never ceased to find their way into existence. By many different factors, even in Hollywood, Black art proves it matters. The rights to Nate Parker's Birth of a Nation, based on Nat Turner's slave revolt, were just purchased by Fox Searchlight after a rave reception at Sundance for $17.5 million, the biggest sale at the festival this year, while other Black films also went well-received. Television, though still with quite a ways to go to achieve true equity, is well ahead of film in terms of representation in front and behind the camera, with Shonda Rhimes and others adding much color to the mix.
Still, these successes don't come close to addressing the disparities in Hollywood, Black patrons accounted for 12% of all moviegoers in 2014, but a 2013 study by USC found that among 565 directors of top-grossing films, 33 (5.8%) were Black and only two were Black women.
This isn't for any lack Black communities creating space for our art. Independent Black artists have utilized the shifting social media landscapes to help tell their stories their way. Last month also saw Jamal T. Lewis successfully fundraise over $17,000 for the production of the documentary No Fats, No Femmes which will explore the race and gendered politics of sex, love and desire.
Marley Diaz, an 11 year old Black girl from Philadelphia started #1000BlackGirlBooks, a book drive collecting 1000 books in which "Black girls take the lead" because she was "sick of reading about white boys and dogs."
And creating this necessary space has not been limited to Black folks. With many connections to the struggles of Latinx, Indigenous and other people of color, the desire to create space for this movement is also evidenced in Gina Rodriguez' social media campaign #MovementMondays to highlight the work of Latina artists in her field.
The art is here. The desire for the art is there. And the art is necessary. The question is not just whether we embrace that desire and those who have it, but how we prioritize that desire above the desires of those who'd rather pretend it doesn't exist. Whether if it matters to "the mainstream" is all that matters. Black art might not matter to Hollywood, but it matters to Dias. It matters to Lewis. It matters to me.
Black art matters in creating a future free of oppression. Going forward, we must consider how we best turn this sentiment not just into a response to opposition - not as a question or a debate - but into tools that help us create a Black affirming world where opposition is altogether no longer relevant. That is the function of art, after all.
This post is part of the "Black Future Month" series produced by The Huffington Post and Black Lives Matter Network for Black History Month. Each day in February, this series will look at one of 29 different cultural and political issues affecting Black lives, from education to criminal-justice reform. To follow the conversation on Twitter, view #BlackFutureMonth.
Popular in the Community