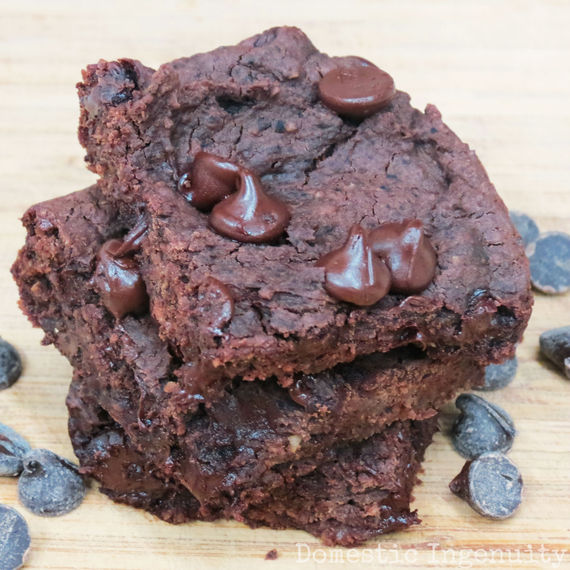 Okay, we are a week into the New Year so I have to ask... craving sweets yet? If you decided to detox your cupboards of junk food, but are now considering mixing cocoa powder into your peanut butter jar just to get a sugar fix, I have a solution for you! Healthy brownies! I personally never ban any food from my diet because I don't think it is realistic to cut out dessert entirely. So I have just committed to making healthy versions of my favorite treats. First of all, I am not even a big fan of chocolate... but these brownies are amazing!! I gave into my urge and decided to create these squares of heaven. There are so many "healthy" versions of brownies out there but I wanted to have a recipe that actually resembled a gooey, fudge-y moist brownie and not a crunchy vegetable-flavored granola bar. Trust me... these are amazing!!
And with no processed sugar or unhealthy fats, they are even better. Black beans are great for digestive tract health and are packed with protein and fiber. Come on... these brownies are practically like taking a vitamin -- well, almost. Either way they are the perfect indulgence when you need to satisfy that sweet tooth without sacrificing all that hard work at the gym. Enjoy!
1 1/2 cups black beans (cooked)
1/2 cup quinoa (you can substitute for protein powder, almond flour, ground flax or rolled oats)
2 tbsp cocoa powder
1/4 tsp salt
1/3 cup pure maple syrup (you can substitute for agave or honey)
pinch of stevia (or increase maple syrup to 1/2 cup)
1/4 cup coconut oil
2 tsp pure vanilla extract
1/2 tsp baking powder
1/2 cup chocolate chips
1. Preheat oven to 350 F. Combine all ingredients except chips in a food processor, and blend until completely smooth.
2.Stir in the chips, then pour into a greased 8×8 pan. I sprinkled extra chocolate chips over the top.
3.Cook for 15-18 minutes, then let cool a little before cutting.
These are great as a quick snack to keep your blood sugar up or the perfect treat with an afternoon coffee or tea. I prefer them as my after-dinner indulgence but heck... it's chocolate, do you need a reason to eat them?