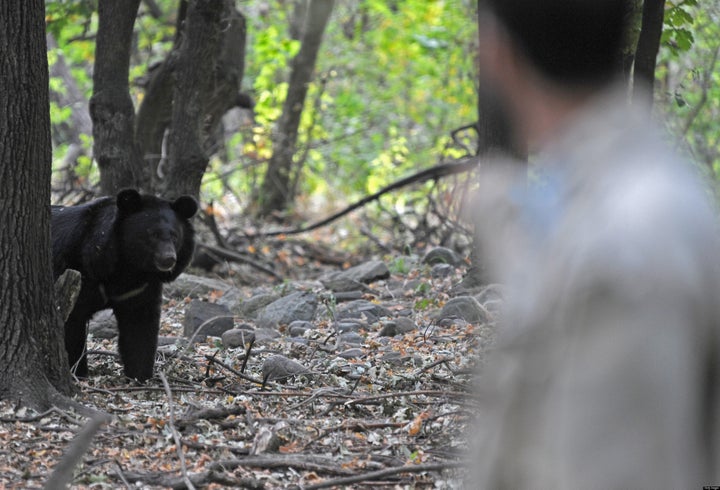 The killing of an enormous black bear on the Western Slope has Colorado officials considering a change to the state's hunting rules.
Richard Kendall, a hunter from Craig, Colorado crawled into a cave north of Meeker, CO on November 20 to shoot a black bear that he had been tracking. He had been waiting outside 5-6 hours for the bear to exit its den.
Heart pounding and adrenaline pumping, he stuck his head inside the cave and made eye contact with the object of his hunt -- a 703-pound black bear, one bigger than he'd ever seen or tracked before.

At that moment, the world around him stopped -- it was only he and the bear, do or die...

...Taking aim from about six feet away, Kendall saw his opportunity as the bear looked away and pinned his ears back.

Kendall killed the bear, which may be the largest in recorded Colorado history, with one shot.
Kendall's prize bear, however, drew criticism from some, and has the Colorado Department of Wildlife considering a change to the state's rules regarding shooting bears in their dens.
"Currently, there are no regulations prohibiting someone from crawling into a den after a hibernating bear," Division of Wildlife spokesman Randy Hampton told the Grand Junction Daily Sentinel this week. "This is the first instance we are aware of a bear being taken in this manner."
Acknowledging that the method by which Kendall killed the bear raises certain ethical questions, Hampton telling the paper that officials "are discussing" changes to the current rules.
Kendall, for his part, is resentful of the criticism he's received over the kill, telling the Sentinel people are "just jealous of what I did."
Calling all HuffPost superfans!
Sign up for membership to become a founding member and help shape HuffPost's next chapter