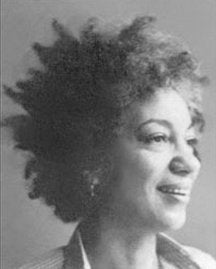 Just in time for Black History Month, I'd like to take a moment to remember the many black bisexual folks who came before. Famous black folks who identify as bisexual or have a proud history of sexual fluidity include: Alvin Ailey, Josephine Baker, Countee Cullen, Lee Daniels, Grace Jones, Hattie McDaniel, Me'shelle Ndegeochello, Little Richard, Sapphire and Frank Ocean. For more names click here.
Today, I single out for attention noted and esteemed poet, author and thought leader, June Jordan (1936-2002).
[I]f I am not free and if I am not entitled equal to heterosexuals and homosexuals then homosexual men and women have joined with the dominant heterosexual culture in the tyrannical pursuit of E Pluribus Unum and I a bisexual woman committed to cultural pluralism and, therefore to sexual pluralism, can only say, you better watch your back!" -- June Jordan On Bisexuality and Cultural Pluralism, in Affirmative Acts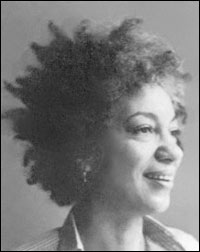 Like June Jordan, I am of West-Indian/African descent and bisexual! According to this great article:
Jordan derived her bisexual and biracial perspectives from having transgressed two more societal boundaries -- an interracial marriage with a white man, and having given birth to a biracial child, both scoffed at during her time by blacks and whites in this country. But it is Jordan's "boundary crossings" that gave her the intellectual breath on an issue, and by extension she gave us a new way to see ourselves and the world.
And in this amazing piece by the Rev. Irene Munroe, she explains why we all have to work hard to remember Jordan's legacy, because like too many others her legacy can fall within the cracks of identity politics. Munroe states:
Within lesbian circles, the place of bisexual women within the queer women's community was often marginal, if not non-existent, and their commitment to feminism was always suspect. Many lesbians believed that any women who had the ability to sexually love another women had a political obligation to identify as lesbian. Others believed that the compulsory nature of heterosexuality in our culture precluded all possibilities of women freely choosing a heterosexual relationship.
That's a sentiment I've heard but rejected my whole life, just because I can love a woman (or a man) doesn't means I have to. My body is mine and belongs to me; the freedom of my bisexuality is the ability to define love within my own heart, instead of someone else's.
Bisexuals are individuals who transgress the artificial socially constructed boundary of gender identity as well as the biologically constructed boundary of sex. Called "gatekeepers" by the Dagara of West Africa and "Two Spirit" by many Native Americans, bisexuals in these cultures were seen as having a special spiritual inheritance and earthly destiny.
Never have I heard so well put the calling I hear in my heart!
Support HuffPost
Every Voice Matters
Popular in the Community