 In some ways, live theater is like mold. It develops in an opportunistic fashion, spreading and growing stronger over time. A perfect example of this process is becoming more visible in San Francisco in the area being touted as the new Central Market Arts District.
As powerhouse corporations like Twitter and Zynga move into the mid-Market corridor, stimulating new transit lines, new restaurants, and new residential construction, the area is becoming an increasing hotbed for black box theaters (flexible venues often seating less than 100 people) where a great deal of experimental work takes place. For some people, the Central Market Arts District has the exciting potential of a new artistic frontier. For others, it is the community in which they have worked and continued to thrive for season after season.
New plays are often read before young audiences who might be more enthusiastic about supporting the creativity of their friends than attending an expensive touring show that has been booked into one of SHN's large theaters. Over on Eddy Street, the EXIT Theatre (which celebrates its 30th anniversary in 2013) has grown into a mini-arts complex with four distinct performance venues. The recently launched EXIT Press has started publishing plays by Mark Jackson and other Bay Area playwrights.
Under the artistic direction of Christina Augello, the EXIT produces DivaFest (supporting new work by women) and the San Francisco Fringe Festival each year as well as promoting Songwriter Saturdays and Bitchslap! Comedy in its EXIT Café. 2012 also marked the third year that the EXIT Theatre hosted the San Francisco Olympians Festival.
Cutting Ball Theater (which makes its home in the EXIT on Taylor) is dedicated to presenting new interpretations of classics (such as Shakespeare's The Tempest and Maeterlinck's Pelléas et Mélisande) as well as works by Eugene Ionesco, Samuel Beckett and other playwrights from the Theatre of the Absurd. In addition to the company's Hidden Classics Reading Series, each spring Cutting Ball presents Avant GardARAMA! and a festival of experimental plays and readings entitled Risk Is This. New plays are an integral part of Cutting Ball's main season as well, including such notable world premieres as Marcus Gardley's And Jesus Moonwalks the Mississippi and its 2012 musical docudrama entitled Tenderloin.
Last October, the folks at PianoFight Productions announced that they had signed a 10-year lease on the property at 144 Taylor Street (the former site of Original Joe's), where they plan to create a 5,000-square foot complex that will include rehearsal and office spaces as well as a 54-seat and 96-seat theater in the heart of the Tenderloin. The front of the house will feature a 60-seat restaurant and bar with a full liquor license and cabaret stage.
Although programming will incorporate PianoFight's New Work by New Artists™ productions, the complex is being designed as a collaborative hub that can meet the production and performance needs of small, independent theater companies. Imagine the synergy that might develop if groups like the Bay One Acts Festival, Playwrights Foundation's Bay Area Playwrights Festival, Sleepwalkers Theatre, San Francisco Theatre Pub, and Killing My Lobster were able to share resources!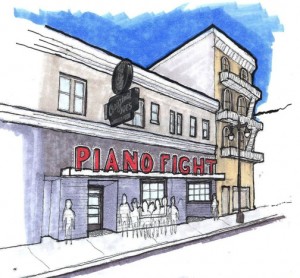 Artist's rendering of PianoFight's new home.
While the Tenderloin has the kind of grittiness that accompanies cheaper rents and experimental theater, Market Street is also coming back to life as a theater district. American Conservatory Theater is moving its current black-box spaces from the Children's Creativity Museum in Yerba Buena Gardens and the Hastings Studio on Geary Street to the Costume Shop at 1117 Market Street. A.C.T. recently purchased the Strand Theatre, located at 1127 Market Street (where a friend once took me to see some sadistic science fiction film that was playing on a double bill with Carnosaur).
From above, this cluster of theaters forms a clearcut "Z" that starts at the EXIT Theatre, turns left on Taylor Street, moves past the new PianoFight facility, Warfield, and Golden Gate Theatres, and then turns right on Market Street past the Strand, the Costume Shop, and the Orpheum Theatre.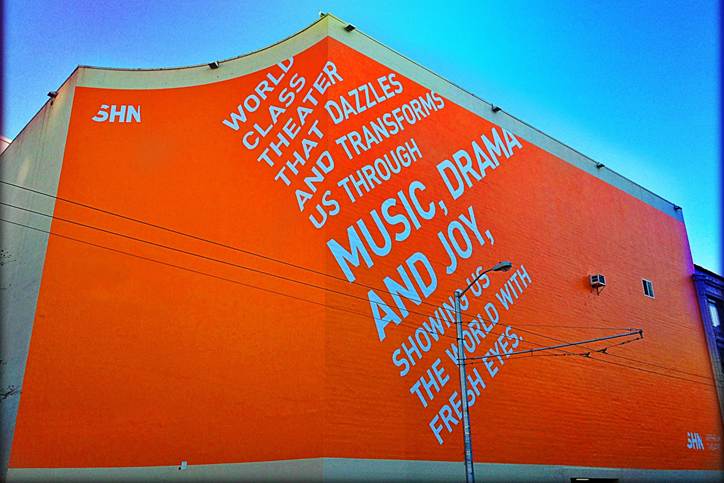 The new mural painted on the back of the Orpheum Theatre
In a recent blog post on The Huffington Post, Carey Perloff (A.C.T.'s artistic director for the past 20 years) noted that:
We have a lot of questions to ask as we connect with tech companies surrounding our new theater. Questions like: Tell us what, if anything, would encourage you to want to walk into a new 300-seat theater one evening (or afternoon, or lunchtime, or midnight) to see a play? What would inspire you, despite your 14-hour-a-day work cycles, to take a shot on live performance? How could we connect all you creative 20-something programmers and software developers in the neighborhood with our equally creative 20-something MFA actors, such that eventually you all feel you are one peer group, cheering each other on and looking out for each other's success? Would it be of interest that many of the plays being commissioned were based on San Francisco stories and created by local writers? Or that the Strand was a chance to see major players up close and intimately? Or that there will be downtown high school kids writing their own monologues and stories and collaborating with A.C.T.'s artists in the black box theater upstairs in an attempt to survive their tough teen years and create lives for themselves inspired by exactly the kind of creative work happening in the tech sphere you inhabit?
What will be interesting to watch is whether A.C.T. finds itself in the right place at the right time as it fills its two new theaters with interesting programming that draws a new and vibrant audience. Or whether, as it nears its 50th anniversary, the Bay area's largest theatrical nonprofit organization finds itself perceived as the 500-pound gorilla that is, in some ways, a latecomer to the scene.
I say this because, if one compares the level of audience energy at many of A.C.T.'s black box performances with the energy at many performances during the recent San Francisco Olympians Festival, it's like night and day. An important point for Perloff to consider is that, while A.C.T. is indeed well-funded, has a highly-regarded MFA program for actors, and boasts a substantial subscription base, it's not the only game in town. Its two new venues on Market Street are welcome additions that will provide plenty of new opportunities for artists and audiences alike. But to think that the new tech population is going to be drawn to A.C.T.'s productions to hear "downtown high school kids creating their own monologues" is a bit naive.

A.C.T.'s proposed renovation of The Strand
Just as the traditional publishing industry has been upended by blogs ,e-books and new technologies (which are having the same democratizing effect that word-processing programs had 25 years ago), some of the more established theatrical nonprofits are now being challenged by younger, leaner, and more free-wheeling talents. Some of today's young professionals are highly creative people whose salaries help to support their artistic efforts as playwrights, actors and directors. Their use of social media (as well as fundraising tools like Kickstarter) makes it much easier for them to draw people to readings of their work (or stage appearances) than ever before.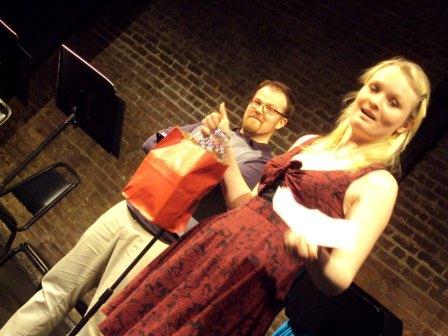 Playwrights Stuart Bousel and Bridgette Dutta Portman at the recent San Francisco Olympians Festival
Not only is much of today's creative work being done in black box theaters, there is a thriving community of artists and audiences that see each other throughout the year. Whether one looks at the audiences at Playground events in Berkeley or at those attending the San Francisco Olympians Festival, there seems to be a higher percentage of people supporting the creative efforts of friends with whom they party on a regular basis than whatever is being offered by the nonprofit theater down the street from their office. Like the aforementioned mold process, there is a growing colony of artists that is highly mobile and adaptable.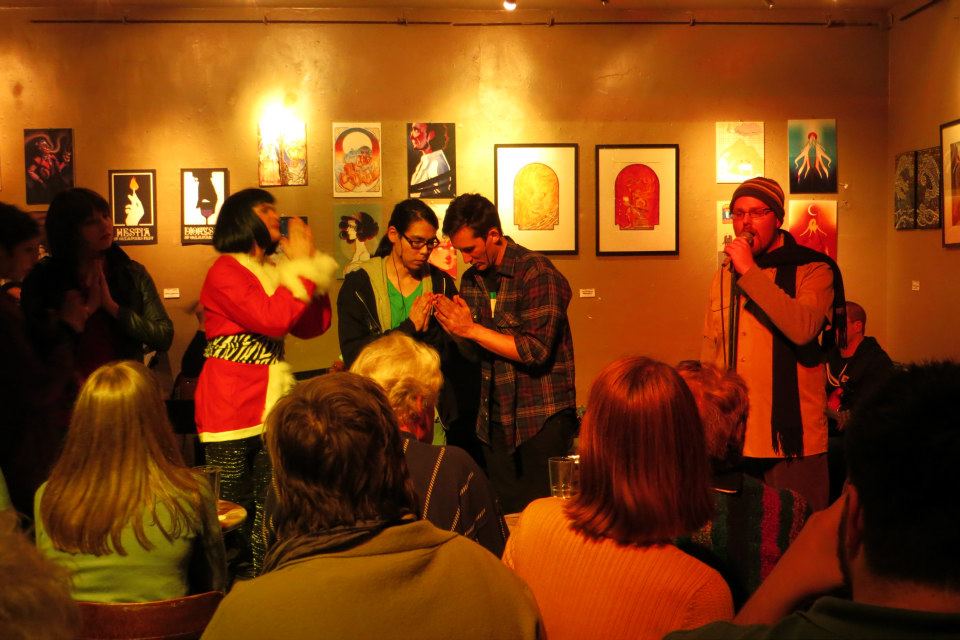 A holiday performance of Jonathan Larson's Rent at San Francisco Theatre Pub
Then, of course, there is the question of quality and artistic vision. On far too many occasions (whether attending a performance at Central Works, Aurora Theatre Company, Marin Theatre Company, Shotgun Players, Magic Theatre, or Ray of Light Theater), my friends and I find ourselves wondering why A.C.T. can't deliver work of a similar caliber. Sometimes the contrast is so embarrassing it's like being slapped in the face.
While its two new venues on Market Street will provide new homes for A.C.T.'s Young Conservatory and MFA productions, my guess is that A.C.T.'s artistic vision may, in fact, end up being influenced by its increasing ability to diversify its audience by booking outside attractions. The close proximity of its two new venues to the BART/MUNI Civic Center station could easily lure bookings away from venues like Thick House, Boxcar, Z-Space, NOHspace and the Eureka Theatre. They might even offer a more workable solution for companies like Theatre Rhinoceros that have vacated their former homes and now float from one venue to another.
REAL LIFE. REAL NEWS. REAL VOICES.
Help us tell more of the stories that matter from voices that too often remain unheard.