When #BlackLivesMatter emerged as a hashtag in 2013, it was born from the public's visceral reaction to black lifelessness. The stillness following George Zimmerman's gunshot in the 911 call capturing his fatal encounter with Travyon Martin epitomized the restrictions black people experience in everyday life.
It bore questioning: If a black child cannot move freely about his own neighborhood without homicidal scrutiny from an armed unofficial watchman, what does freedom truly mean for the remaining 40 million-plus black people in the United States?
This question was reiterated through Michael Brown's still, unattended body lying under the St. Louis sun; through Sandra Bland's steely gaze as she posed for the last photo of her life in a Texas jail; and again by Eric Garner's fading gasps as Staten Island police choked him to death.
These killings highlight the repercussive effects of black movement, and one might say, all black movements ― not just the political movements, but also the literal movements that carry black people through their days, which can be considered social statements through this lens.
Black Boys Dance Too is a campaign and all-male dance company created in this environment. Its founder, Elijah Avraham of Harlem, New York, aims to examine blackness, manhood and justice through dance with an understanding that in a world where black stillness is preferred, all things dynamic, big or fluid are revolutionary.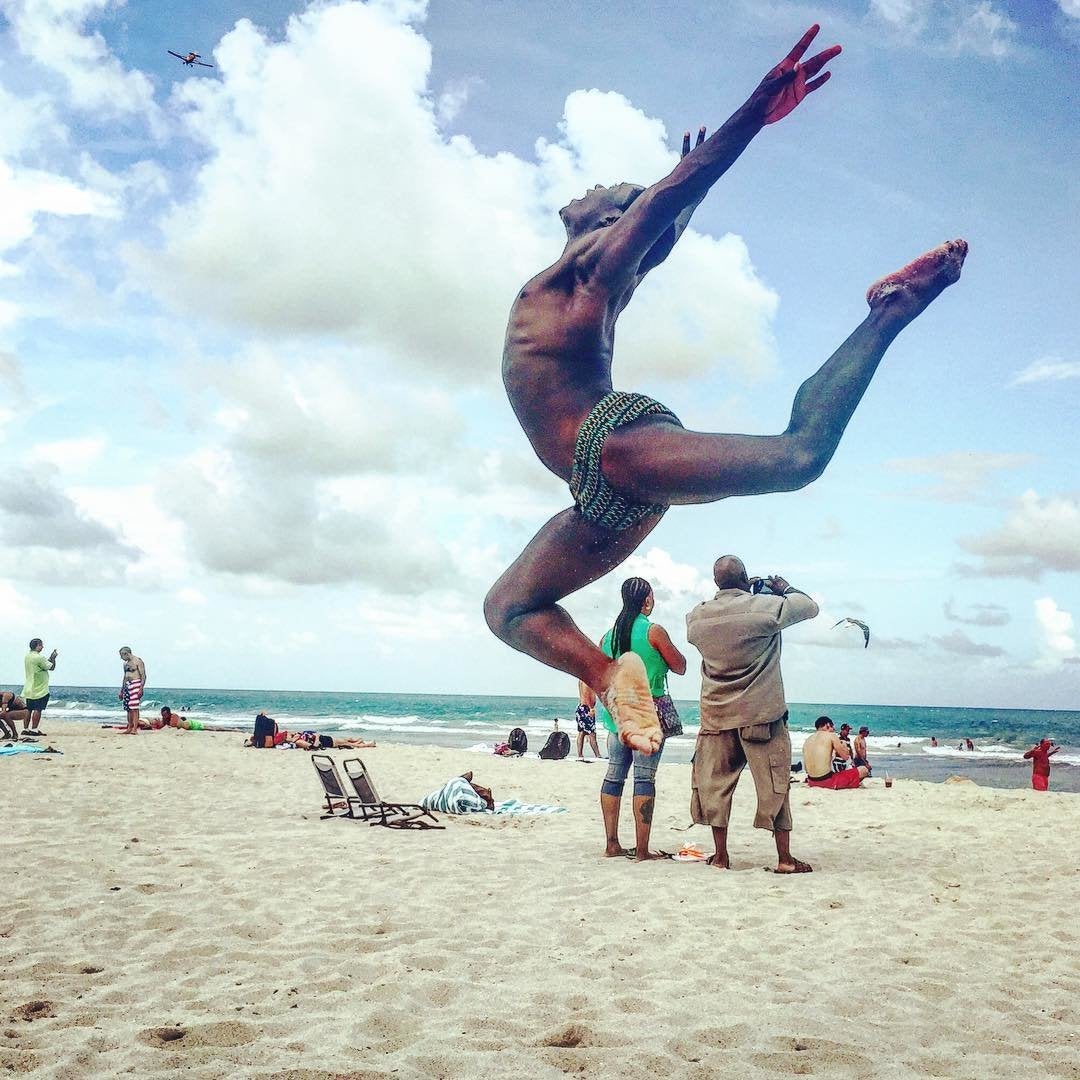 Avraham's motivation for founding the company came from the belief, based on experience, that his industry lacked adequate representation for black men. Black Boys Dance Too is group of black dancers who perform professionally in various companies, whether for the Alvin Ailey American Dance Theater or ballets across the country, and gather periodically throughout the year for special performances.
The organization's inaugural production, for example, was a 2014 piece depicting the hail of bullets that ended Trayvon Martin's life and a rendering of black death bookended by Avraham's flailing arms and an angelic reach skyward.
But Black Boys Dance Too is a movement far more expansive and far less concrete than the performances conjured by its founder. It is also an idea ― a proclamation from black men that black, male dancers are to be acknowledged, and that the black experience more broadly is worthy of center stage.
HuffPost talked with Avraham about discrimination in the dance world, developing pieces reflective of our time and preparing Black Boys Dance Too's latest piece, "Kingdom Come."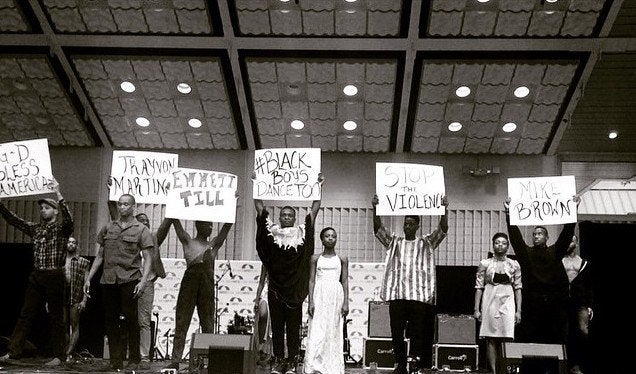 Can you tell me a little about how Black Boys Dance Too came to be? Where did the idea come from? Let's start at the beginning.
It all started with me being in New York and auditioning so much and just seeing the casting of what Broadway and television was casting at the moment. This was around 2012 when I moved to New York, and year after year, I was at these auditions and I would book work — you know, a two-week show here and a tour there.
But it was never something consistent on Broadway, and I was like, "What is it?" Like, I'm making it to the callbacks, but I was always the one black guy there. I was auditioning for shows like "Wicked," and "Phantom of the Opera," not your most mainstream black show, like "Lion King." I was just going out for shows I wanted to do based on the quality of their work, but they weren't hiring people who were black.
You felt you were being shut out?
The one show that made me an offer was "Book of Mormon," and I refused to make my debut as a slave character or a joke about African people. I was really taken aback. Out of all the shows I could've booked, I booked the one that was the most controversial and demeaning to me. And after years of going through this process, that's what drove me to ultimately start a movement: Black Boys Dance Too.
I wanted to make it clear that we are just as talented as our white counterparts. I was seeing myself being compared to people who were less talented, yet [the casting directors] were looking for white people — or they were casting only white people in these shows. Now, today, you see much more diversity, but this was before "Hamilton," before "Carousel" with Joshua Henry leading, before "Once On This Island" was back, before the revival of "The Color Purple." I started Black Boys Dance Too back when all of these things did not exist.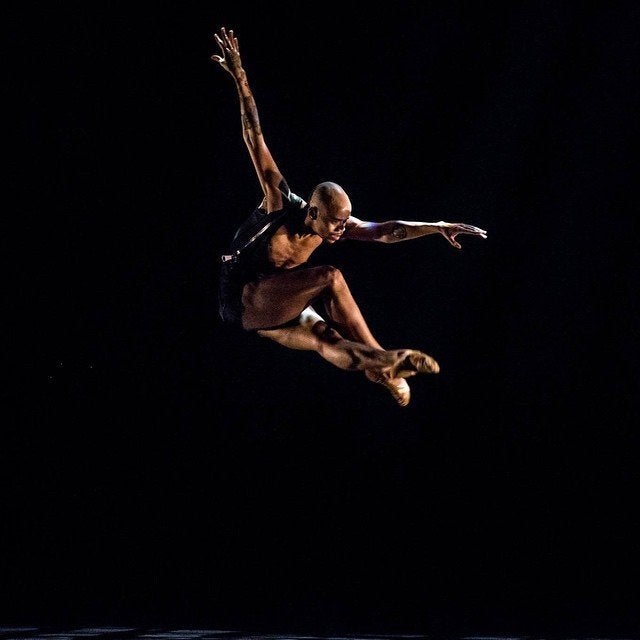 It's curious how we tend to look at the years leading up to 2016 with rose-colored glasses, even as certain institutions remained stubbornly resistant to diversity.
OK, this is a crazy story (laughs). So Black Boys Dance Too did our first show for the United Nations General Assembly in 2014, and they changed our name from "Black Boys Dance Too" to "Elijah Avraham." They wouldn't even acknowledge us as a unit, because they were saying our name was unmarketable, and I was like, "Wow."
That was God right there, showing me that I had to keep pushing our mission. And the following year, we performed in the Harlem Arts Festival. Ever since then, we've been asked to do a bunch of performances.
"In the piece on Trayvon Martin I presented in 2015, my mission was to show that you look at me on the street and you'd never think that I can do these things on stage, but I could very easily be shot just as Trayvon Martin was shot."
I was at that 2015 performance about Trayvon Martin and I thought it conveyed black manhood with a grace and fluidity of motion not often associated with it. How, if at all, have those two ideas motivated your work with Black Boys Dance Too?
My mission as a choreographer, especially with Black Boys Dance Too, is to bring the ordinary black man that you'd see on the street ― you wouldn't automatically think they're a dancer ― and showcase them in a light that's royal, or show them in a light that celebrates their dignity, not their violence or criminality. I want to show the king that lives in every black man.
So in the piece on Travyon Martin I presented in 2015, my mission was to show that you look at me on the street and you'd never think that I can do these things on stage, but I could very easily be shot just as Travyon Martin was shot. And Mike Brown. And Sandra Bland. All those people who were killed or missing — all those girls last year who were taken into sex trafficking.
I don't want Black Boys Dance Too to just be about the men, because it's also about black people.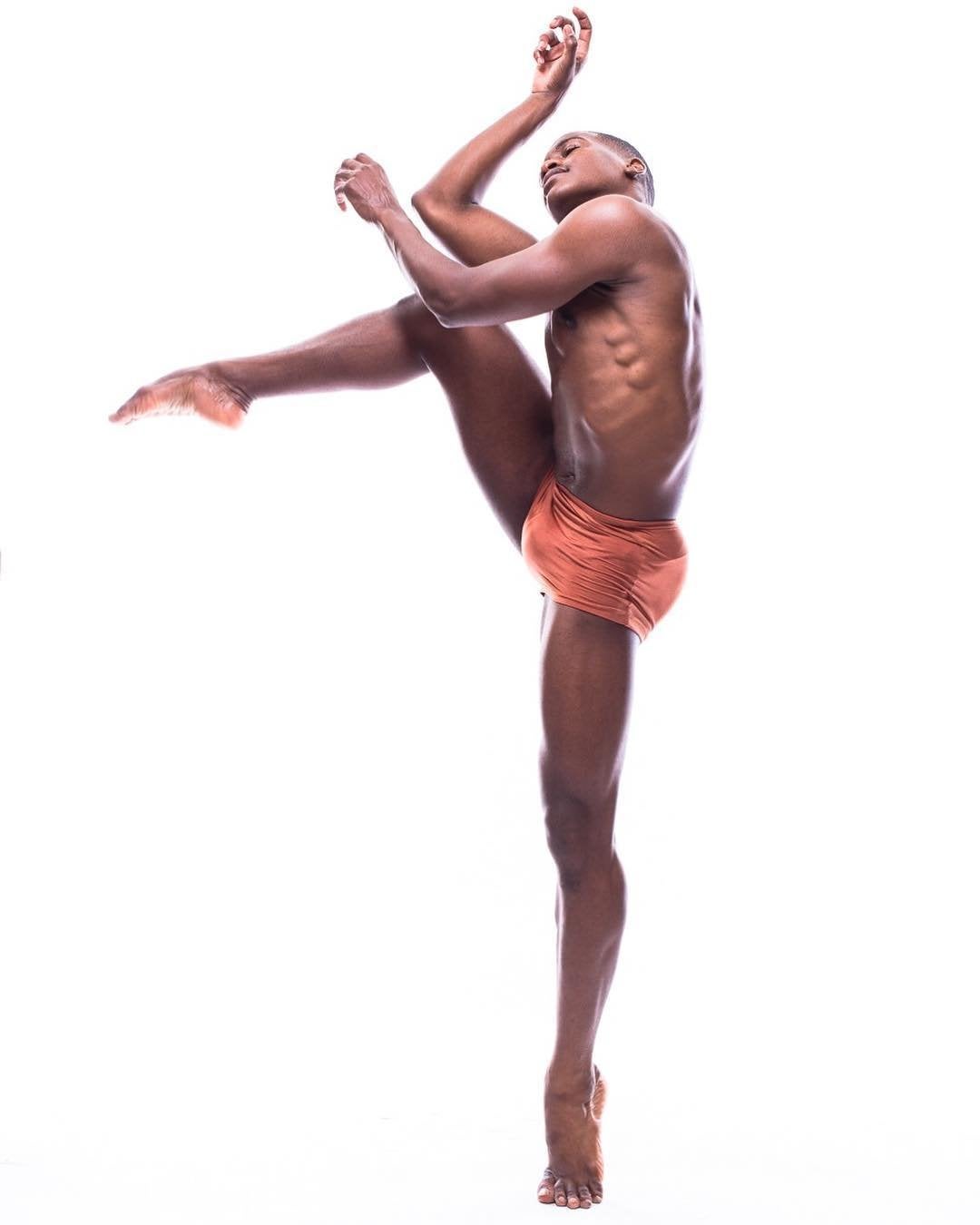 Will you speak to that tension a little more? In our conversations about racial justice and equality, there are often demands that women be elevated and earnestly acknowledged. How do these demands influence your movement?
There's so much segregation in dance, in general, that although our company showcases men, you can't convey the essence of black men without black women. You can't complete the story of a black man without a black woman, whether it's his mother, his wife, his sister. Whether it's our spouse or our grandmother, we've been empowered by the black women around us, so it's imperative for me to incorporate women, as well.
But then I've also received backlash for that from black men who say, "women always get showcased in dance. This should be about us. This is our movement. You shouldn't have to include women in it for us to get the recognition we deserve." And I understand both sides of that. That's ultimately a battle for existence, really.
Do you feel legitimized by those debates at all? I think the fact that people are scrutinizing this movement with a careful eye could be interpreted as source validation.
Because it's been brought to my attention, I am honored that people feel that Black Boys Dance Too is part of the change that has happened in the entertainment industry, and I'm just grateful that people want to include the company as part of that history. All of the dancers, all of the black men who use the hashtag, all of the followers have helped build #BlackBoysDanceToo into a movement. To see people just take regular pictures dancing in the street and toss the hashtag on there, to see the hashtag find its way to the March For Our Lives, to see our hashtag alongside #BlackLivesMatter in some posts ― it's just remarkable to me, and I'm just honored by it.
But there's another level to our work, and I don't know how people will respond, but my ultimate mission with our next piece, "Kingdom Come," is to eliminate "the nigga" from society.
What do you mean by that?
I want to eliminate "the nigga" — he does not really exist. I want to kill "the nigga" — he is not relevant. We've allowed that title to be attached to us, we're giving ourselves that title. My best female friend, I'm saying "that's my nigga." If I see someone I don't like, it's "I don't like that nigga."
And my objective with "Kingdom Come" is to incorporate spoken word, speeches, acting, and live music to illustrate the necessity of destroying the idea of "the nigga." We've always eased into controversial topics, but my mission is for us to engage them full-on.
"The black men you see dancing are dodging bullets.""
That's a nuanced conversation that black folks have been having among one another for quite some time. Do you anticipate any blowback for opening up that intimate dialogue to the public?
I've been so hesitant to say, post, or do anything related to this new piece, but I'm so sick of hearing [the word] in music and I'm so sick of hearing people say it. That's a name that was given to us in enslavement — when they were taking away our crowns, our gold, our ivory. The things we lived off of. So my goal with "Kingdom Come" and Black Boys Dance Too is to be more open in having these and other discussions.
I can't even count all the black people who have been killed since Trayvon Martin, and I feel bad not knowing all those names. And this is the only industry I've really connected to and have any influence over. If I can't start these conversations using the black theater, black Broadway, and the black musicians in my community, there's no point to me or Black Boys Dance Too existing.
The black men you see dancing are dodging bullets.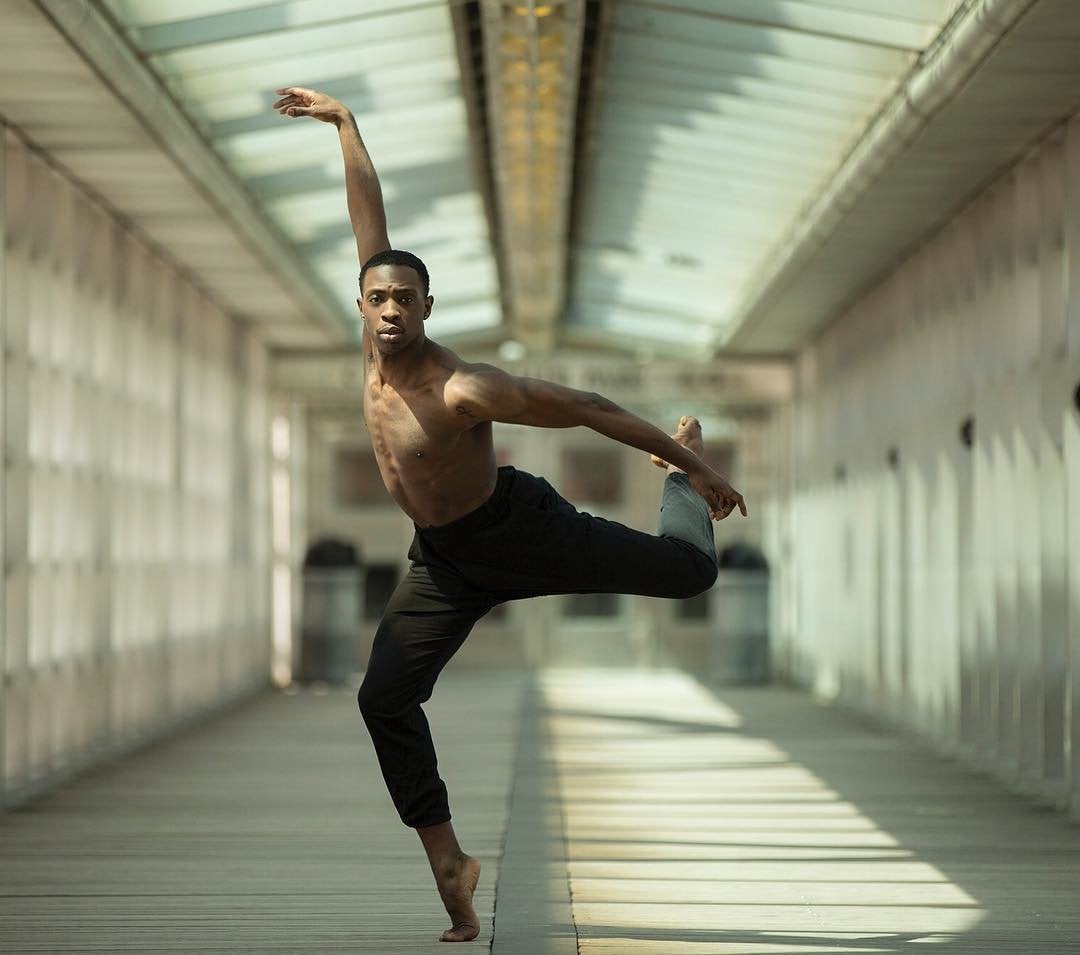 Do you ever grow tired of being compelled to create art that responds to social crises? I've talked to writers who've wondered aloud what it's like to be a white artist, without the prospect and the burden of death weighing on you as it does with many black artists.
I definitely feel like it's a responsibility. I wouldn't say it's tiring; it's more disappointing. My godmother — Rose Sanders (now Faya Ora Rose Touré) — founded the National Voting Rights Museum in Selma, Alabama. (Touré was the first black female judge in Alabama). Every year, they conduct "The Jubilee," where they re-enact Bloody Sunday, and as a kid, I always went. But I never thought then that I would have to deal with the same battles that I was watching my elders portray. Never did I think, at age 7, that I would witness my generation fighting those same battles fought 50, 60 years ago. So I can't help but feel obligated to respond to everything that's going on in our society.
But at the same time, I make it a point to produce black art that isn't always a civil rights piece. I try my best to incorporate elements of love and incorporate elements of joy, but it's so hard to tell that story without the background, because in the love there's always pain.
Sure. And I guess the balancing act is juxtaposing that happiness and joy with trauma we all know and share.
Like, I would love to be able to choreograph a neoclassical ballet piece, but honestly, I couldn't even do it without it having a big, dramatic story. Or without it explaining some sort of history. Something I'm very passionate about is doing the story of Harriet Tubman as a piece. And I'm battling with that because with the brand Black Boys Dance Too — how are you going to do Harriet Tubman? But I want to portray Harriet leading these men to freedom.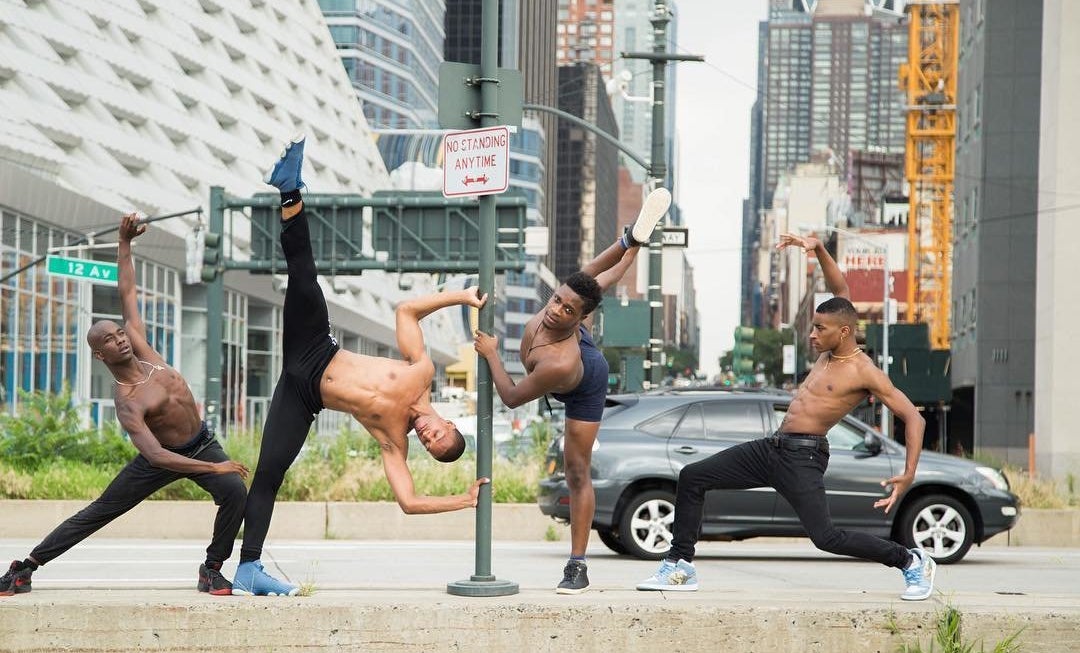 I've noticed a lot of acclaim for your dance company from the outside looking in. But what has the response been from the men and women involved? Why do you think they're taking part in this project with you?
Luckily, I've had amazing support from dancers in our shows, who are now in "Lion King" on Broadway, or at Alvin Ailey American Dance Theater, or have gone on to do the "West Side Story" international tour. To be able to work with them has just been wonderful for me. (Laughs.) Honestly, they've all said — in a nutshell — "You know I wouldn't be dancing for this cheap if I didn't believe in the mission!" (Laughs.)
So that alone tells me they actually care, they actually trust me, and they actually love the whole movement enough to dedicate their time basically for free. I'm basically paying them out of my pocket to do something I just feel so passionate about, and I'm not nearly a millionaire, but they're so eager to participate and do pieces they may never do because no one is talking about what I want to talk about.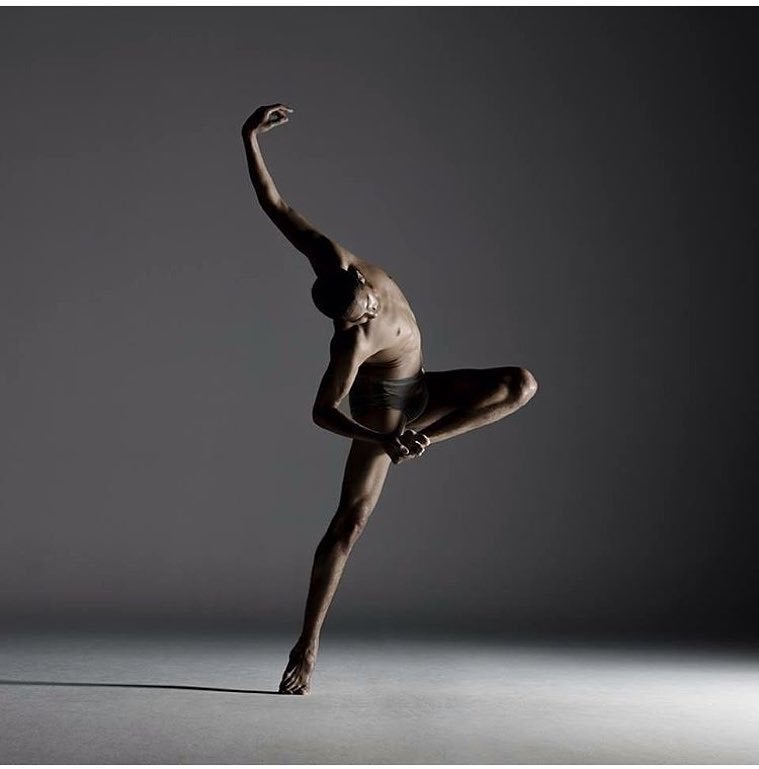 You clearly think there's a need for more jarring, socially aware work in dance.
Even Alvin Ailey American Dance Theater — they're moving into a more neoclassical, contemporary direction. The pieces they showcase are not discussing the current black struggle, because they're going in a more European direction. They're in Europe 30 weeks out of the year, so they have to cater to that audience. At least we have their presence, but at the end of the day, it's all politics.
Will you delve a little deeper into that? I think many people look at that company and see it as a pinnacle of sorts in the dance world.
Even now, we have to speak for the dancers of Alvin Ailey American Dance Theater, because they're not being paid their worth. There's a movement now — #ArtistsOfAiley — which I feel is just as important as #BlackBoysDanceToo because it all joins together. Alvin Ailey is the highest … grossing… dance company in the world! They're a member of the American Guild of Musical Artists, which is a performers union that represents the American Ballet Theater and the Houston Ballet Theater, and those companies work less but get paid more.
If you are a black dance company, you are not going to be paid your worth. And that is the struggle we're fighting against with Black Boys Dance Too.
Support HuffPost
At HuffPost, It's Personal
Popular in the Community