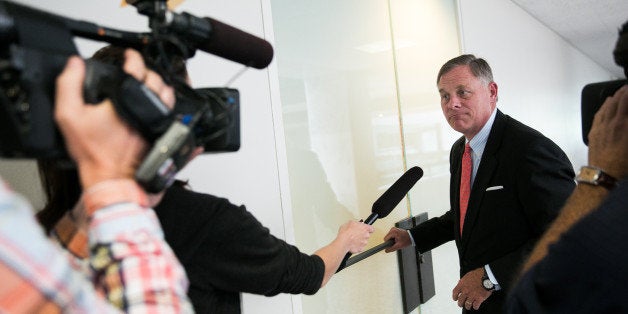 WASHINGTON -- The Senate Intelligence Committee kicked off budget season this week with a slew of appearances from Washington's top spies. CIA Director John Brennan, National Security Agency Director Mike Rogers and Defense Intelligence Agency Director Vincent Stewart all made trips up to the Hill this week to talk budget lines.
Lawmakers leaving the briefings said the Senate panel's meetings were fairly broad. The intelligence leaders touched on a variety of issues, they said, but dollar signs were the hearings' main focus.
This week's itinerary signals the beginning stages of the Senate committee's preparation of the infamous "black budget" checkbook -- the top-secret budget that funds the nation's intelligence apparatus.
"We're holding hearings now," committee member Sen. Barbara Mikulski (D-Md.) said after a briefing with Rogers on Tuesday. "We're just in the beginning stage."
Rebecca Watkins, a spokeswoman for Senate Intelligence Committee Chairman Richard Burr (R-N.C.), confirmed that the panel had begun the budget process.
The three agencies that showed up on the Hill this week -- the CIA, DIA and NSA -- have historically been three of the top five beneficiaries of the highly classified finances. The CIA takes up the largest chunk, followed closely by the NSA.
Though the black budget numbers are fiercely guarded within Washington's spy circles, NSA contractor-turned-whistleblower Edward Snowden leaked documents in the summer of 2013 that provided the first extended public glimpse into that information. Those documents revealed a $52.6 billion dollar price tag for the 2013 fiscal year.
Rogers' appearance on the Hill Tuesday came just a few weeks before the expiration of the NSA's authority to collect in bulk Americans' communication metadata. Those programs, also revealed by Snowden, allow the NSA to sweep up information on Americans' phone calls in a massive data dragnet.
The Patriot Act provisions that allow for those programs will expire in June, unless Congress renews them. Despite the impending deadline, lawmakers have been relatively quiet on NSA issues, leaving some off-Hill reform advocates to wonder if reformists in Congress are truly prepared to fight the provisions' reauthorization.
Representatives from the NSA have reportedly been lobbying lawmakers to keep the program in the agency's wheelhouse, with new NSA reform proposals potentially coming as early as next week.
The intelligence community has signaled a willingness to compromise on reform efforts. For example, Nick Rasmussen, director of the National Counterterrorism Center, told the Intelligence Committee in February that the intelligence community would be willing to let telecommunications companies hold on to the data instead of the government.
Calling all HuffPost superfans!
Sign up for membership to become a founding member and help shape HuffPost's next chapter
BEFORE YOU GO
PHOTO GALLERY
Politicians React To CIA Torture Report