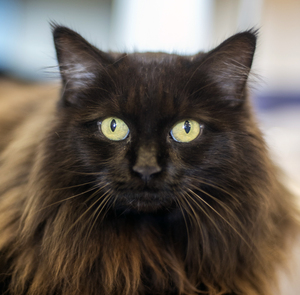 The Peninsula Humane Society & SPCA (PHS/SPCA) is not placing a moratorium on black cat adoptions like some shelters across the country do in the days before Halloween. Instead, PHS/SPCA is aggressively seeking to find homes, and waiving adoption fees for black cats and kittens, which are in abundance now and typically more difficult to place into new homes throughout the year.
Of the 125 or so cats and kittens currently available for adoption at PHS/SPCA's Center for Compassion in Burlingame (1450 Rollins Rd.), 31 are all black.
Traditionally, shelters shy away from black cat adoptions in October, fearful that people with bad intentions may look to adopt a black cat during that time.
"We are not simply opening the doors and allowing people to take cats," assured PHS/SPCA spokesperson Scott Delucchi. "We have a counseling process with every adoption and we train our counselors to use their judgement when placing all animals into new homes."
"It makes no sense at all for us to make it more difficult - any time of the year - for black cats to go into good homes," continued Delucchi.
The regular adoption fee for cats is $80 ($50 for cats age 7+ and $120 for kittens under 6 months) and it includes the cat's spay/neuter surgery, all vaccinations, a health check, behavior screening and a microchip form of identification. These same items will be included, free of charge, during the October 24 through November 1 promotion.
Several factors contribute to the high number of black cats in shelters. For one, they can be simply missed by visitors who walk by their rooms and cages due to their dark color, and they don't show as well in website photos. Also, since there are many of them, it's more difficult for individual black cats to "stand out from the crowd." Lastly, there's the pesky belief that black cats are somehow bad luck; in reality, much of their mythos is of the positive variety.
To preview adoptable cats, visit www.PHS-SPCA.org. Adoption hours are 11 a.m. to 7 p.m. Monday through Friday and 11 a.m. to 6 p.m. on weekends. PHS/SPCA is open on Halloween.
Related
Popular in the Community