There's no tiptoeing around the facts at Seattle's James Beard Award-winning restaurant, JuneBaby ― the restaurant has developed an encyclopedia to accompany its Southern-themed menu, because owner and chef Edouardo Jordan doesn't believe in shying away from the uncomfortable history behind the food we eat.
Take cornbread, a food so common that most of us don't give it a second thought. But if you're lucky enough to eat at JuneBaby, you'll learn cornbread has a story to tell. Look at the restaurant's encyclopedia, and you'll learn it was consumed by slaves who had little time to cook after long hours working in the fields, and it became a mainstay because it was quick, easy and could be eaten without utensils.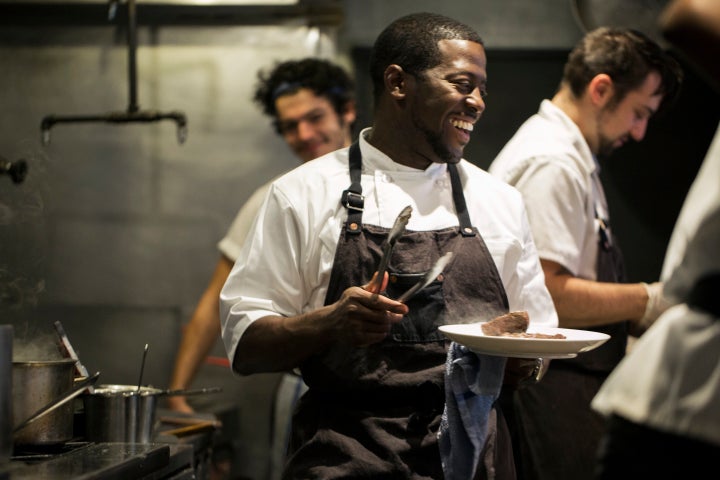 It's a hard truth, but Jordan believes it's important we understand the stories behind the foods we eat. In fact, he says we should know the story of everything. Otherwise, he told HuffPost, "someone could put a blindfold on you and lead you in any direction they want."
But Jordan wasn't always this comfortable embracing his heritage, especially at the beginning of his career.
Jordan grew up in Florida, helping his mother and grandma in the kitchen. "We went to my grandmother's two or three nights a week and sometimes we spent the night over there. I started going through her kitchen, tasting her food, asking her questions, and eventually, she put a knife in my hand. I became grandma's little helper." This was how he first learned to cook the classic Southern dishes that would one day make him one of the most celebrated chefs in the country.
"When you think other careers like an engineer, no one says, 'I'm a great black engineer.' No. Just, 'I'm a great engineer.' My fear was that people would recognize me as a black chef instead of just a great chef."
Still, embracing his Southern roots wasn't easy when he began his career. When Jordan started out in the restaurant world, he went out of his way to avoid being too closely associated with Southern cuisine. His first restaurant, Salare, served a few Southern foods, such as greens, but the overall concept was originally more European in style, a nod to his education in French cuisine at Le Cordon Bleu in Orlando. This was what he believed he needed to do to be taken seriously as a chef. He refused to put items like fried chicken on the menu because he was afraid of being stereotyped, opting instead for an elaborately deconstructed duck leg so good it was featured on Netflix's hit series, "Ugly Delicious."
He explained, "It took me a while to feel comfortable cooking the foods I grew up with and find my voice as a chef. I didn't want to quickly and easily be labeled as a black chef. As a black chef, am I only supposed to cook the foods that people expect me to cook? You need to express yourself no matter what color you are as a chef. ... When you think other careers like an engineer, no one says, 'I'm a great black engineer.' No. Just, 'I'm a great engineer.' My fear was that people would recognize me as a black chef instead of just a great chef." And recognize him as a great chef, they did.
Salare was a hit. It opened in 2015 and quickly earned national attention, earning a spot on Eater's list of the best new restaurants in America and Food and Wine's Best New Restaurant Award. With a major success under his belt, Jordan opened his second restaurant, JuneBaby, in 2017. This time, he embraced his Southern heritage and foods he grew up cooking and eating in his grandmother's kitchen.
JuneBaby's theme is "food with roots." Jordan said, "I decided from a business standpoint to create something that made sense to me and that was comforting to me and wasn't going to be as daunting as the first restaurant which is a little bit more labor-intensive. And I felt good creating a restaurant that represented my history."
The menu features dishes like fried pig ears, hot chicken livers, gumbo and catfish. On Sunday nights, Jordan serves up fried chicken dinners, which have become so popular they often sell out in less than two hours. It isn't necessarily the type of menu one expects to see in a James Beard Award-winning restaurant, especially in Seattle, where the culinary scene is dominated by high-priced seafood restaurants. But if there was ever a restaurant to challenge stereotypes and misconceptions, it's JuneBaby.
Stereotypes abound in Southern food, and Jordan says the biggest misconception is that it's unhealthy, fatty and lacking in nutrition. He added, "Some of that is true because that's how you commercialize certain foods ... but Southern food wasn't always unhealthy, it was forced to be unhealthy by the slave masters because we had to get all the bad cuts of the animal or cuts that not everyone should eat every day." It's another lesson in history.
JuneBaby is about his Southern roots, but it's about so much more than that. It's about understanding the food on our plate was carried by here by generations of people who came before of us: some of whom were enslaved and oppressed. It's about not taking even the tiniest grain of rice for granted. It's about feeling thankful for how far we've come when you use a knife to butter your cornbread.
"It's important to know the good and the bad about the landscape of America," Jordan said. "And American food was built on the backs of a lot of people who made the best out of nothing."
Before You Go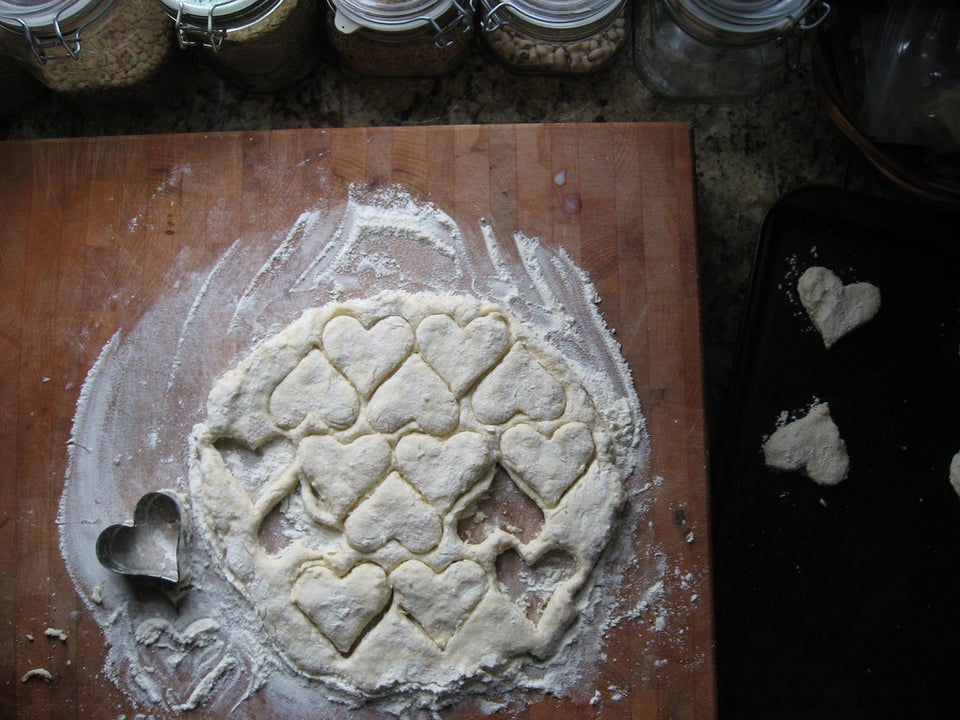 10 Commandments Of Biscuit Making