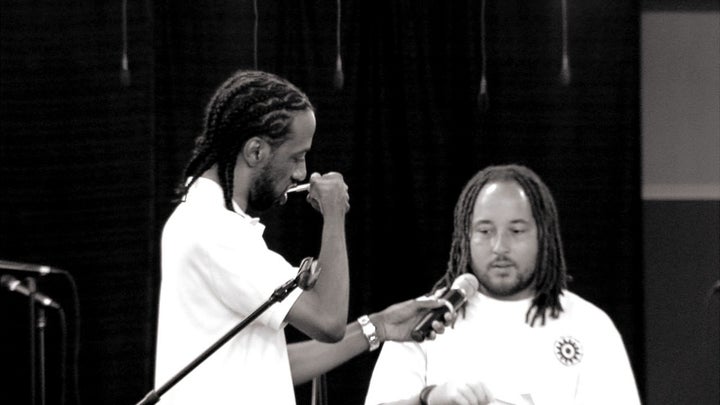 The black church has always been a place of power for the African-American community. It was where black leaders secretly preached the gospel of freedom to slaves meeting in underground churches. It was where clergy spoke against the injustices of segregation and rallied for the cause of civil rights.
And on Sunday, it will be the place where pastors preach in unity about the epidemic of HIV and AIDS among African-Americans.
The fourth national Day of Unity, organized by the NAACP, will bring the often taboo subject of HIV and AIDS to the pulpits of black churches across the country.
The Rev. Tony Lee, pastor of Maryland's Community of Hope AME Church, is one of several African-American clergy members who regularly gets tested for HIV in front of all his congregants during worship services. The powerful visual is a reminder to his members that HIV awareness is an important part of the fight for social justice in the African-American community. 
And for Lee, it's vital that the church is a part of this movement.
"Anywhere there are instances of people falling short of the fullness God wants for them, it's important for the church to step in," Lee told HuffPost. "Dealing with HIV/AIDS is a civil rights issue, but it's also a kingdom of God issue. It's about the work of the gospel."
African-Americans are disproportionately affected by HIV, compared with other American ethnic groups. According to the Centers for Disease Control and Prevention, black Americans accounted for about 44 percent of all new HIV infections among adults and adolescents in 2010 -- even though they were only 12 percent of the U.S. population. That means the rate of new infection in the African-American population is eight times that of whites. 
In Maryland, where Lee's church is based, the proportion of young people ages 20 to 29 newly diagnosed with HIV every year doubled between 2003 and 2012 -- jumping from 16 percent to 31 percent. The highest rate of new diagnoses is found in young people ages 20 to 24, according to Maryland's Department of Health and Mental Hygiene.
Lee said he's going to focus his Sunday sermon on these statistics. About 42 other pastors have pledged to join in the Day of Unity so far, although that number is growing.
When the NAACP started the Day of Unity program in 2012, some of the pastors who came in for training seemed influenced by the stigma surrounding HIV, according to the Rev. Keron R. Sadler, the NAACP's manager of health programs. People who don't know the facts wonder if HIV is a "curse from God" or if it's a disease that only affects lesbian, gay, bisexual and transgender people. Changing these misconceptions has been the campaign's main challenge over the past few years, Sadler admits.
"There's sometimes a lack of understanding and empathy for those impacted by HIV," Sadler said. "And there are also doctrinal and theological challenges relating to sexuality, concerned with how the disease emerges, how it's contracted and treated. It's about raising awareness and dispelling myths."
The key, Sadler claimed, is framing the campaign as a social justice issue. Putting the structural and racial disparities associated with HIV against the backdrop of civil rights makes pastors more willing to talk about disease prevention and testing in church.
The campaign also finds some black clergy members to act as ambassadors, traveling across the country to spread awareness. This word-of-mouth activism seems to be working. Sadler says that when the campaign started, she'd get eight to nine pastors in the room for a training session. Now, that number is closer to 30.
In 2013 and 2014 combined, Sadler says, the NAACP's efforts reached about 1,800 black religious leaders.
"For over 200 years, the black church has advocated for social justice," Sadler told HuffPost. "The black faith leader has been and is a trusted voice and they function as the social conscious of the community and, as a result, these leaders can be powerful forces for change."
At Lee's church in Maryland, the whole congregation has gotten involved in the effort. The pastor says a team of church members have a ministry that goes to local night clubs to hand out harm reduction materials -- often condoms or information packets.
Lee, who's an ambassador for the program, said over the years the pastors he's spoken with around the country have grown more open and willing to talk about HIV.
"The older parishioners may still be [hesitant about engaging in the topic], but I do think pastors are now able to have these conversations," Lee said. "It's not as hard a conversation, as long as they have been equipped with information to know what they're talking about and how they can connect it with the scripture."
PHOTO GALLERY
Community Of Hope's HIV/AIDS Ministry
Calling all HuffPost superfans!
Sign up for membership to become a founding member and help shape HuffPost's next chapter