When I handed my 8 year-old son a personalized, autographed copy of the children's book Black Day: The Monster Rock Band, I told him the author, Marcus Sikora, was a 25 year-old man with Down syndrome. I was anticipating some fixed response, as mothers are want to hope for--and are usually wrong about. Thorin, who also has Down syndrome, said: "Okay" then he sat down and said: "Read."
So much for Down syndrome. More on that later.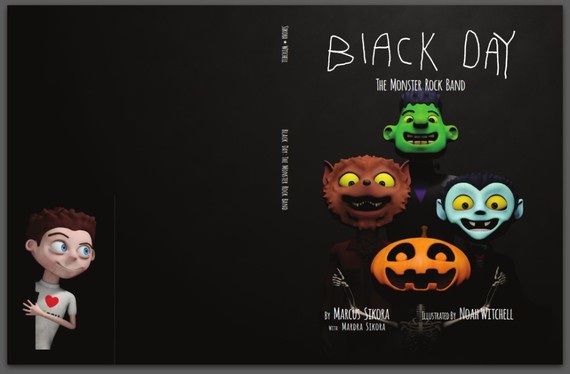 Black Day: The Monster Rock Band, released in June, is an engaging and humorous book that follows the Halloween Day exploits of a bass-playing paper boy named Brad and The Monster Rock Band he discovers on his route. Brad wants to join the band but the band's monsters have a different idea and send him away telling him, "No humans!"
The book is part homage to the horror genre, which both children and parents will get a kick out of. The monsters will be familiar to almost any reader: Dracula, Werewolf, Frankenstein as well as one new creation, Skeleton Pumpkin Head. My son pointed to the Gothic dwelling inhabited by the Monsters and their creator/keeper Professor Hammer and said: "I know that place" nodding his approval.
The marvelously quirky illustrations that accompany the story are motion graphic stills created by Noah Witchell. Look for an upcoming DVD of the book as well:
Black Day tackles the human condition of being different. But do not tell your children that. Instead tell them: "Halloween! Monsters! Rock and Roll!" which is what my son yelled after the first reading. By the 15th reading in two days, he said: "I want to be there," which is a great review of a book from a reader of any age.
I had the pleasure to interview, via email, the authors, Marcus and his mother, Mardra Sikora, who wrote the book with him. Mardra is an advocate and speaker who authors the blog, Grown Ups and Downs. She is also the author of "Essay Arguing Eugenics" on Kindle, and a collection of short fiction, The Future and other Twists. She is a contributor at Huffington Post.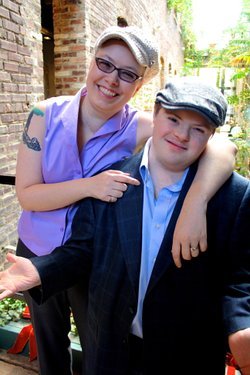 Marcus created the story around his father's real-life Rock band. The protagonist, Brad, even shares the name of the bassist in their band. Mardra tells me: "...our friend Brad is quick to take full credit for being "The Brad," and while I don't want to deny him this...like many authors, I can see bits of Marcus in every character in the book."
My son offered up a question regarding the fear-based Professor Hammer who warns the monsters away from humans: "Is Professor Hammer a good guy or bad guy?" Marcus response was: "Really both." Mardra agreed: "That is my favorite answer when we're working on villains. ...the best literary "bad guys" are actually both..."
When I asked what were the biggest challenges of son and mother writing together I found it came down to style. Marcus creates the story in his head refining it before committing and Mardra likes to work it out on paper. Mardra admitted she lacks patience and is quick to edit. Marcus shared on the whole: "It's not hard." Spoken like a patient son and co-author.
I asked Marcus how important it was as an author with Down syndrome that he published a book. Did he see himself as a role model for other people with Down syndrome? He responded: "My syndrome is fine." He also "It doesn't have anything to do with the book." And, "People with Down syndrome should do what they want."
Apparently I also have incorrect expectations for individuals other than my son. Note to self: Stop with anticipating and be open. I also cannot think of better answers to those questions.
I hope you buy this book because it wonderfully captures the zany adventures that make-up the everyday world of imaginative children who love Halloween, Monsters and Rock and Roll.
You can purchase the book directly at: www.BlackDayBook.com where you can request your copy to be autographed in the PayPal notes at check out. The book is also available at Barnes and Noble.com and on Amazon. The authors can be found at: Facebook.com/grownupsanddowns
Kari Wagner-Peck is a frequent contributor at Huffington Post. She writes on disability and typical life at her blog: a typical son. You can follow her on Twitter @atypicalson.
Related
Popular in the Community