The creators of a doll line aimed at helping little girls of color see themselves represented in their toys just got a big investment in their company.
Angelica and Jason Sweeting appeared on Friday's episode of "Shark Tank" hoping to secure a $200,000 investment for Naturally Perfect Dolls, which they founded in 2015. During the episode, the couple told the judges that the doll line came to be after one of their daughters was profusely crying on a car ride home from a book fair.
"Finally when she calms down, we say, 'Hey babe, what's wrong with you?'" Jason told the judges in the video above. "She says, 'Dad, I'll never be beautiful. I need yellow hair and white skin so that way I can be beautiful.' And we were totally devastated."
Angelica explained that they saw the standard images of beauty their child saw on television and in toys and began searching for dolls that looked like their daughter and found nothing. So, they created a doll and over time found a change in their daughter's attitude.
The line includes four dolls with different hair types, skin shades and facial features that are true to women of color. The company also offers a T-shirt depicting the characters and an affirmation book.
"Naturally Perfect Dolls aims to change the standard of beauty one doll at a time while encouraging self-acceptance, diversity and letting girls know that they can be whatever they want to be," Jason said in their pitch on the program. "I mean look at us, right? We're all a little bit different. But our differences shouldn't be ignored. In fact, they should be accepted and celebrated!"
The judges liked the concept overall, but they were hesitant to invest due to the doll's high price ($84.99) and the failure of previous multicultural doll lines. But the couple's story resonated with judge and FUBU creator Daymond John. He proposed to invest $200,000 at 30% ownership, 60% for the founders and 10% for charity. The Sweetings accepted, ensuring that they'll be able to mass produce the dolls.
In a 2015 interview with Today, Angelica said it's important to let young girls know that "beauty comes in different shades."
"We want to make this more mainstream and ensure young black girls have a positive reflection of them in store shelves or online," she said at the time. "I love knowing my daughter loves herself and she's proud of who she is and what she looks like."
Before You Go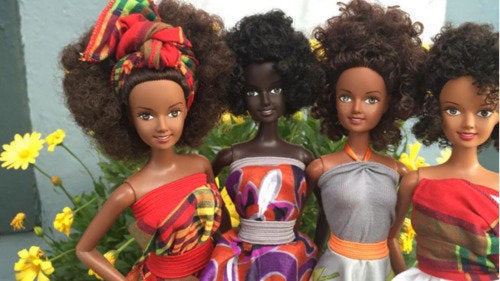 11 Dolls Besides Barbie That Celebrate Diversity