It seems almost obligatory that I should open with a few words on Ingrid Chavez's collaborations with ultra-famous rockers Prince and Lenny Kravitz. And how if you don't already know her by name, you are actually still familiar with her work via Madonna's chart-topping "Justify My Love" (co-written by Chavez). OK, done.
Now I would like to mention that if you are only familiar with those facets of Ingrid's career, you are missing out. Her 2010 release "A Flutter And Some Words" is ethereal and haunting. Now, this fierce poetess has teamed up with producer/artist Marco Valentin form Black Eskimo. The group combines Electronica and Hip-Hop with poetry and emotive song-writing, promising a fresh new sound to our eager ears. I had the pleasure of chatting with Ingrid about their recently debuted single and music video, "Escapology."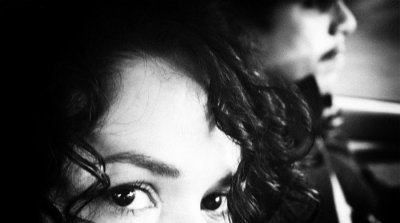 JG: Tell us about the inspiration for the upcoming album's debut single "Escapology"
IC: When I first heard the music to "Escapology" it sounded like it belonged in a spy movie. I always write in the moment so I had to bring my life into that context. Escaping a relationship, going undercover, starting over, it was all perfectly in time. I have a tendency to write my way into and out of relationships.
JG: This video is very different from others you've released in the past as a solo artist. The character you play is very mysterious. Is she wicked or executing revenge?
IC: She is like a super hero who has lost her power and has become a bit wicked to get it back.
JG: How did you and Marco meet?
IC: Hmmm, how do I abbreviate this story? Marco and I met through his music via a mutual friend in 2006. It was his music that got me writing again after many years of silence. I recorded demo vocals to three of his songs, which was enough to give me the songwriting bug again. The project never made it to the studio and we all lost track of each other. I went on to record "A Flutter And Some Words" with Lorenzo Scopelitti and released that album in January 2010. In March of that year Marco got back in touch with me through Myspace and I was instantly attracted to his music again and we just started sending files back and forth sharing song ideas. I was very inspired by his heavy Chicago style beats and moody synth lines. In four months we had an albums worth of material demoed.
JG: How did Black Eskimo come to be?
I knew after "A Flutter" was released that I wanted to make a new album that was more beat based and edgy. I was very inspired by Massive Attack's last album "Heligo Land" at the time. I also knew that I didn't want my next project to be released under my name as a solo artist, so, when Marco and I started working together again, finding a name to work under seemed the right thing to do for the both of us.
JG: How did the name for the group come about?
IC: Marco moved here to New England from Chicago last September to focus on finishing up the writing and recording of the album with me. I live in a cape style house built in 1748 that is really hard to keep warm in the winter and we often wear hats and even coats indoors. I have this long-ish black fleecy coat with a hoody that I wear when it is really cold in the house and one day Marco remarked that I look like a black Eskimo in it. After months of searching for a name and countless moleskins filled with ideas, those two words together seemed right, so we went with it.

JG: Another Black Eskimo song," Shine On Me", was just released as part of the "Artist Action" compilation benefiting disaster relief in Tohoku, Japan. Lyrically and musically the song is soothing and hopeful and seems so appropriate. Was it written specifically for this project?
IC: "Shine On Me" was not written specifically for the Artist Action compilation but when we were asked to contribute a song to the project it seemed right. It was one of the first songs that I wrote with Marco and we were so inspired and deep in it at the time that the emotion of the song is pure and honest. Sometimes we just need that little bit of light to get us through the hard times. Writing songs like this is cathartic for me.
JG: Whose lyrics blow you away?
IC: Sam Beam, Joni Mitchell and Saul Williams. I can't just name one. Oh, and David Sylvian is tops!
JG:What influences your writing most?
IC: The highs and lows of life are what move me to write. When I am in the middle, all goes quiet.
JG: You have already collaborated with some of the best. With what other artists would you (solo or as Black Eskimo) like to collaborate?
JG: Thank you for taking the time to answer my questions, Ingrid. I look forward to speaking with you (and Marco) in further detail about the album, once released, later this summer.
OH! One last, very important question...Eskimo pies: Yay or Nay?
IC: Chocolate and ice cream on a stick? Yay!
Calling all HuffPost superfans!
Sign up for membership to become a founding member and help shape HuffPost's next chapter