*Scroll down for photos and poll*
As an African-born, American-raised, black woman, I guess my knee jerk reaction is to be upset about white model Lara Stone being painted in blackface for French Vogue.
But alas, I am unbothered.
The fourteen-page spread, which was shot by legendary fashion photographer Steven Meisel and styled by French Vogue's equally legendary fashion editor, Carine Roitfeld shows Stone, arms akimbo, legs apart, in African-inspired garb. She is also painted black from head-to-toe. Sure, it's chic, but the hurtful, demeaning, insulting history of blackface could not have escaped the creative team behind this shoot, and so the ensuing outrage is predictable - and understandable.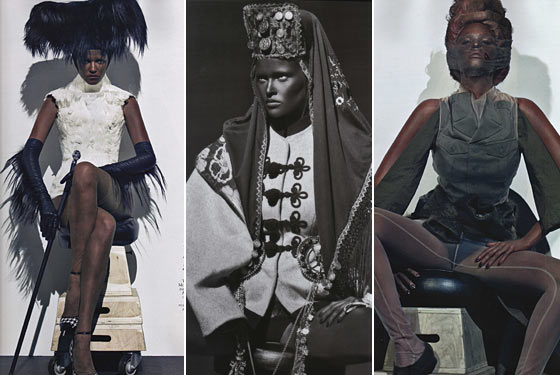 Yet, despite the cheap gimmick of white model/black face/"African clothing," I don't believe it was meant as racist or malicious, nor should it be interpreted as such. To do so - no pun intended - is painting the topic black and white. Carine Roitfeld doesn't hate black people - she probably doesn't know any. More to the point she likely doesn't have any on her staff, especially in an editorial capacity. And that points to the real issue: not a white model painted in blackface, but a dirth of black faces in a white industry.
Have you been to a fashion show lately? Be it New York, London or even Brazil, all places I've been fortunate enough to attend shows, you'll notice an eerie parallel between the runway and the audience: a whole lot of milk and very few chocolate chips. In other words, blacks and other minorities of color make up a startlingly small percentage of the editors, stylists, and buyers in the audience. Now there are a thousand reasons - or excuses - why and I'll bet you a meal at the Waverly Inn that I've heard them all. From "a lack of interest from blacks" for fashion/journalism positions to "not enough qualified minorities." Each sounds more hollow than the next.
As a serial chocolate chip in the proverbial bowl of milk - I wear my token badge with pride and a touch of humor
I was introduced to the pitfalls of a homogenous media, years ago. During my sophomore year at Syracuse University the student paper, The Daily Orange ran an editorial featuring blackface. The campus was outraged and the all white editorial staff plead ignorance: they had no idea it would be offensive and truth be told, hadn't known any blacks growing up. They also didn't have any blacks on the staff.
As long as this remains the status quo: silly, stupid spreads like this will continue to proliferate; black models will continue to be a rarity on the catwalk, and minorities will continue to be unrepresented in the pages of magazines
Read more from Zandile on her daily fashion blog, The Blay Report.
Related